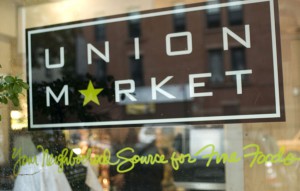 "Never do your grocery shopping on an empty stomach," goes the old wives' tale. And if you plan to shop at Union Market, you'd better make sure that you've just eaten a full meal, of the Thanksgiving dinner variety – and that you're stuffed.
Union Market's flagship store, on the corner of 6th Avenue and Union Street, is surrounded by other food stores: Key Food, Associated, and the infamous Park Slope Food Co-op. What might seem to be an odd choice for an independent grocery actually makes perfect sense, as Union Market is unique in the neighborhood. "Five years ago, there was nothing like this around," says Martin Nunez, one of three co-founders. "Our central location is key to our success."
Union Market provides one stop shopping – whether you need paper towels or prepared foods. Nunez boasts that Union Market provides restaurant quality food – without the restaurant price tag. "Our mission is to serve organic and natural products, with a few exceptions."
Nunez opened Union Market in 2005 along with Paul Fernandez and Marko Lalic. The three partners all have experience in the New York upscale grocery scene, and include stints at Gourmet Garage and Back to the Land on their resumes. "Marco and I call it our baby," says Nunez. "We spend a lot of time getting to know our customers," says Nunez. "We are set apart by our customer service, and we know that our customers want to eat healthy." While Union Market services all of Park Slope, the typical customer might be a young parent, someone who needs a quick meal, and might have a recipe in hand. The store managers are trained by the owners, and are even able to answer questions about recipes.
Immediately inside the door is a quirky cornucopia of seasonal and local treats: tomatoes, plums and hand-tied bouquets. Union Market's descriptions are witty takes on the expected norm, "drippy sweet" peaches and "The Four Ages of Gouda," to name a few. Union Market's bread selection is select and delightfully varied, with loaves from Eli's, Balthazar, Colson Patisserie and Blue Duck Bakery. Likewise their cheese case is hard to beat, offering Bucheron to Zamorano, and my own personal favorite, Petit Basque. You can pick up a pint of Vosges sweet Indian curry ice cream, but you can also grab a box of Corn Flakes. It's this combination of high-brow delights and practical staples that set Union Market apart from the crowd.  Union Market might just be the perfect picnic headquarters. Pre-packaged classics like potato salad and coleslaw sit next to Omakase sushi to go. The deli counter is stocked with Murray's Old Fashioned Fried Chicken and cupcakes from Lady Bird Bakery.  Union Market is also distinguished from the competition by its commitment to creating a sustainable business. This is not an expansive, over-air conditioned food warehouse; Union Market received a Green Grocer Award in 2010, and is seeking LEED (Leadership in Energy and Environmental Design) certification for its new location. The store uses recycled wood and low energy equipment, for everything from the refrigerators to the lights. Large skylights at their new Court Street locale provide natural lighting. Union Market is also proud to give back to the neighborhood, and their website provides a list of community groups that they regularly support.
Union Market has expanded to two other Brooklyn locations, at 7th Avenue and also on Court Street in Cobble Hill. "As we grow, we continue to use our buying power to make our prices more affordable," notes Martin Nunez.
I walked in hungry, and left ravenous. I bought that fried chicken, of course, and enjoyed every crispy bite.
Union Street:
754-756 Union St. at 6th Ave. Brooklyn, NY 11215
Tel: 718.230.5152
Fax: 718.230.5153
Hours 7AM–9PM Daily
7th Avenue:
402-404 Seventh Ave. Brooklyn, NY 11215
Tel: 718.499.4026
Fax: 718.499.4261
Hours 7AM–9PM Daily
Court Street:
288 Court St. Brooklyn, NY 11231
Tel: 718.709.5100
Hours 7AM-10PM Daily