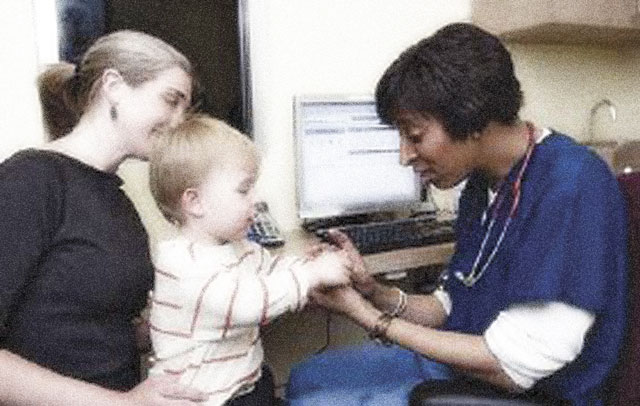 Cuts and scrapes usually don't require a trip to the doctor. With the proper care, these wounds generally heal quickly with home remedies. The first concern with open wounds is to control bleeding. Most small cuts or scrapes will stop bleeding in a short time. Wounds on the face, head or mouth will sometimes bleed a lot because these areas are rich in blood vessels. To stop the bleeding, apply firm but gentle pressure on the cut with a clean cloth, tissue or piece of gauze for 10 minutes.
The next step is to clean the wound so as to avoid infection. Water under pressure is the best way to clean a wound. The wound should be washed for 10-15 minutes. Make sure you remove all dirt and debris. Also, check to see when last you had a tetanus shot. If you haven't had at least three tetanus vaccinations with the last being within ten years, visit your doctor.
Once the bleeding has been stopped and the wound is clean, dab a bit of antiseptic ointment on it to prevent an infection. Then cover the wound lightly with an adhesive dressing.
Most wounds heal in an orderly set of stages and in a predictable amount of time. Wounds that do not heal within three months are considered chronic. If a wound is not healed and/or shows signs of infection (tenderness, swelling or inflammation around the affected area, fever, or numbness around the wound) consult a physician.
Any wound, especially those on the feet, should be of special concern to persons with diabetes. Diabetes may cause neuropathy, which affects a patient's nerves, so that he or she may be unaware that an injury exists. Since those with neuropathy may also have circulation problems, even a tiny cut or blister, unattended, may lead to infection and a chronic wound. "Individuals with diabetes, who have lost feeling or have poor blood flow in their feet should check them for calluses, injuries or blisters every day" said Judy LaLoie, R.N., an expert in wound care and director of clinical resources at New York Methodist Hospital (NYM). "Problems that are found early are easier to treat."
In addition, conditions like as cancer and clotting abnormalities, as well as the effects of steroids and chemotherapy also impact wound healing. If unrecognized and untreated, chronic wounds—including leg ulcers from a vein problem, a bed sore, or an infected cut—can result in serious health complications. People with hard-to-heal wounds need expert care.  "New York Methodist's Wound Care and Hyperbaric Center offers a multi-disciplinary approach to the treatment of chronic non-healing wounds that result from conditions like diabetes or poor blood circulation," said Theodore Gaeta, D.O., medical director of the Center.
The Center's wound care team assesses the whole person, aiding patients in taking control of their treatment and incorporating therapies that heal wounds over a period of time. A physician with wound care certification works together with members of the wound care staff to develop a treatment plan. The type of treatment recommended will depend on the type and severity of the wound and may include conventional wound dressings, antibiotic therapy, nutritional counseling, education/ prevention, surgery, and/or protective footwear.
In addition to the standard wound care treatment options, the Center also offers hyperbaric oxygen therapy (HBOT) for wounds that fail to respond to standard care because of low oxygen levels and impaired circulation. In addition to diabetic wounds, HBOT is used to treat compromised skin grafts/flaps, radiation damaged tissues and chronic osteomyelitis (bone infection). "Our goal is to heal wounds, reduce pain, improve quality of life and prevent amputations," said Ronald Soave, D.P.M., chief of podiatry and director of wound care at NYM.
The Center is located at One Prospect Park West. For an appointment or for more information on hyperbaric oxygen therapy and other treatments for wound care, call 718.622.2608.