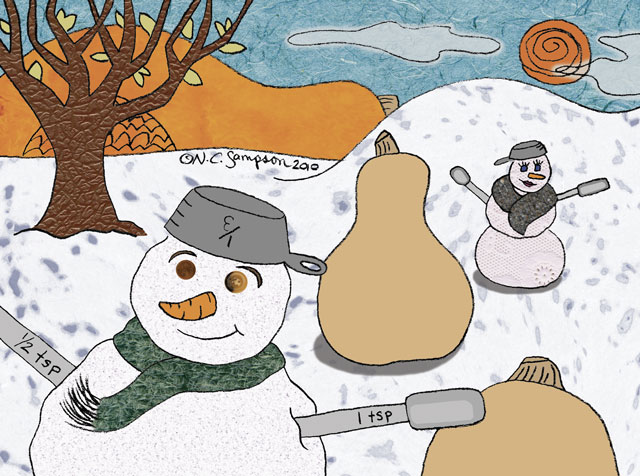 With its bright orange flesh and sweet flavor, butternut squash is an ideal ingredient for sweet and savory dishes. Rich in vitamins A and C, it is also a good source of fiber, potassium and magnesium. Choose squash that is free of blemishes, firm, and with a long neck. Perfect for a chilly weekend, pick up a fresh, local squash from the Saturday green market at Grand Army Plaza.  Fresh seasonal produce can also be found at Union Market.
---
THAI COCONUT SQUASH SOUP
–
Serves 4
A perfect antidote to winter, this soup combines coconut milk and Thai red curry with creamy butternut squash. Adjust spice level to suit your palate. Stop by Blue Apron Foods and pick up some butternut squash seed oil. Intense and nutty, this oil provides a great finish for this recipe.
3 tablespoons canola oil
1 large or 2 small onions, chopped
3 cloves garlic, chopped
1 large butternut squash, peeled,seeded and diced
3 1/2 cups chicken or vegetable stock
1 1/2 cups coconut milk
Thai red curry paste, to taste
Salt, to taste
Heat oil in a large pot. Add onions and cook till soft, about 5 minutes. Add garlic, then squash and toss. Add stock, coconut milk and 1 ½ teaspoons curry paste. You can add more paste after soup is puréed, if desired. Cover and cook for 35 minutes, or until squash is very tender. Purée till very smooth, taking care working with the hot liquid. Return to heat, season with salt and add more paste, if needed. Garnish with a drizzle of butternut squash seed oil.
---
BUTTERNUT SQUASH CLAFOUTI
–
Serves 8
Best described as a baked pancake, clafouti is a great cold weather dessert. Served warm, it is a cinch to put together and can be prepped in advance ensuring an easy assembly at the end of a meal. We've added roasted hazelnuts and crushed amaretti cookies to give texture to the silky base. Save prep time by using canned organic butternut squash purée from Union Market.
3/4 cup butternut squash purée
5 large eggs
3/4 cup sugar
1/2 cup whole milk
1/2 cup heavy cream
1 teaspoon vanilla extract
Pinch salt
1/4 cup all-purpose flour
1/3 cup chopped toasted hazelnuts
1/3 cup crushed amaretti cookies
Unsalted butter and sugar to prepare baking dish
If preparing squash purée, preheat oven to 350 degrees. Cut squash in half lengthwise, remove seeds, and place cut side down on a foil-lined baking tray. Roast for 1 1/2 hours, or until flesh is very tender. When cooled, scoop out flesh and purée till very smooth. Transfer to a cheese cloth-lined sieve and let drain for 1 hour.  Squeeze gently to remove excess liquid then measure 3/4 cup of the purée. In a food processor combine purée, eggs, sugar, milk, cream, vanilla, salt, and flour. Blend until smooth. Pass through a fine sieve and let rest for 1 hour. At this point you could refrigerate the batter for up to 24 hours. When ready to bake, brush a 9 inch pie plate with softened butter and sprinkle with a little sugar. Spread toasted hazelnuts and amaretti cookies on pie plate. Slowly pour batter over the nuts and cookies. Bake at 425 degrees for 12 minutes and then lower temperature to 375 degrees and bake for another 15 minutes, or until the middle is just set and does not jiggle when the pan is moved. Serve immediately, on its own or with ice cream.