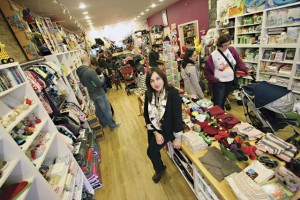 Brigitte Prat is the proprietor of the magical world that is LuLu's. Her enthusiasm permeates all three of the unique experiences she has created on Fifth Avenue: LuLu's Cuts and Toys, LuLu's for Baby and LuLu's Then & Now. Prat's enchanting shops are not conjured out of thin air. She has spent her whole life in retail, including work in the French fashion industry. But it is her passion for her work that has made LuLu's a neighborhood favorite, among both kids and their parents.
Prat cannot take all of the credit for her success. LuLu's was her daughter's idea, and so bears her name. Prat recalls when her daughter was three, and loved to get her hair cut at a salon just for kids on the Upper West Side. When they moved to Park Slope in 1998, Prat was surprised that LuLu's favorite Saturday morning ritual could not be duplicated in the neighborhood. Another subway trip on the weekend was just not an option. With her daughter as inspiration, Prat's interest in opening her own children's salon increased, and she finally took the plunge in 2001.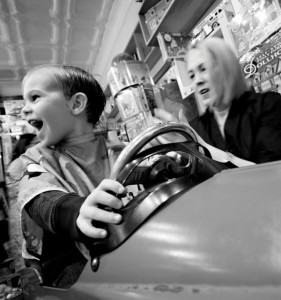 The original LuLu's Cuts and Toys was located on Fifth Avenue, between Second and Third streets. "There was no retail here then, and only one restaurant," says Prat. "It's amazing what Fifth Avenue has become." LuLu's was so successful that Prat expanded and moved north on Fifth Avenue, between Bergen and Dean streets, in 2004. The opening of the new space happened to coincide with the infamous MTA strike that winter. People who might normally have bypassed this stretch of Fifth Avenue now had to walk past. They bought locally, foregoing the big box stores across Atlantic Avenue. The stars aligned and, as Prat says, "It was a great opening!"
Prat muses, "I love kids, and Charlie and the Chocolate Factory has always been my favorite movie. I want LuLu's to be like this." Indeed, on a recent Sunday morning, LuLu's Cuts and Toys is bustling. It bursts with toys, which fill every space and are stacked to the ceiling. Every mini barber chair is occupied; there is a line that nearly goes out the door. Prat loves that kids feel as if LuLu's is "their" place, not their parents.' One of the most rewarding aspects of her job is hearing that youngsters want to come back soon after getting their haircut. Prat, who also lives on the block, often sees children at the door, asking to go in. "It happens all the time," she laughs. LuLu's has become a destination, and Prat's pint-sized clientele come from all over the borough; some even make the trip from Manhattan. LuLu's Cuts and Toys now features five haircutters. "They all love what they do," she says.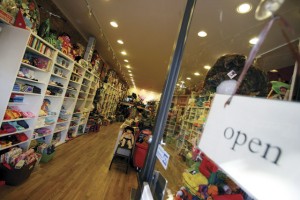 The LuLu's empire has recently expanded and now includes LuLu's for Baby and LuLu's Then & Now. All three shops have this in common: their commitment to customer service. "Our goal is to make sure our customers' needs are fulfilled, whether they are buying Play-Doh or a stroller," Prat says. It is this type of personal attention that continues to make LuLu's a go-to spot for savvy shoppers. LuLu's for Baby is stocked with safe, non-toxic products that are made in the U.S. "I always try to find another price point for Park Slope's diverse community," she says, pointing out that quality baby products can be expensive; so LuLu's offers options. LuLu's for Baby carries baby supplies, such as carriers and bottles, not just toys and clothing. Prat knows that today's parent is very knowledgeable about baby products, so her staff have to be just as informed. If requested, a specific product will often end up on LuLu's shelves, but only after Prat has done her own background research. She says, "We have a lot of repeat customers who trust us."
LuLu's Then & Now is the newest emporium in Prat's triumvirate. Then & Now is a resale store for gently-used clothing, books, toys and supplies, from newborn to age eight. Prat is joined by business partner Ann Marie Romanczyk on this latest enterprise, and the theme of recycling informs every aspect of the resale shop. Prat and her husbansd, an architect, found a way to re-use all existing fixtures and lighting in the space. Some fresh paint and a healthy dose of creativity did the rest. Fittingly, Then & Now does not provide any boutique extras such as wrapping, which also helps to keep prices low. The resale shop has been so popular that Prat has had to set appointments for parents looking to sell their "gently-used" items – and they are booked two weeks in advance. Quality, used designer items can be found for less than they would be new at a large retail store. Behind the register is a quirky mural of Queen Elizabeth that reads "Mom Save The Clothes," a tongue-in-cheek homage to a Sex Pistols song. It's an edgy witticism that sets Then & Now apart from the competition.
Brigitte Prat says she feels fortunate to be a member of Park Slope's "incredible community that supports local shops." She also loves the connections she has made with other nearby businesses. About the marvelous niche she has crafted in LuLu's, Prat is "incredibly passionate. This is not a hobby, but how I choose to support my family." It's just this attitude that promises to keep the small-fry set entranced at LuLu's. And that's no hocus-pocus, just pure magic.
LuLu's for Baby
44 5th Avenue
Brooklyn,NY 11217
718.399.2540
www.lulusforbaby.com
LuLu's Cuts and Toys
48 5th Avenue
Brooklyn, NY 11217
718.832.3732
www.luluscuts.com
LuLu's Then & Now
75A 5th Ave
Brooklyn, NY 11217
718.398.LULU