Celebrate Diversity at Brooklyn's Summer Day Camps

Even with mounting anecdotal evidence touting the effectiveness of immersive learning, many youngsters still spend countless classroom hours feeling disengaged. That is among the reasons why making the most of a child's time away from the classroom is so important.
Summer day camp offers children a chance to capitalize on their interests in targeted learning environments. Many participants show a marked improvement in their social skills, or even a greater ability to tap into analytical thinking processes, prompted by the tasks of solving specific problems. Once out of the classroom, and beyond the rigors of test taking, children blossom in unexpected ways, unearthing new talents and interests.
Fortunately, living in a major city affords parents plenty of day camp options no matter their schedule or income level. We've rounded up some of Brooklyn's most diverse choices.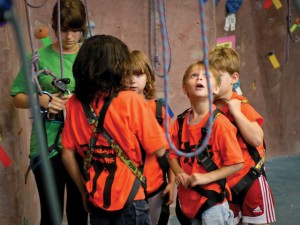 Brooklyn Boulders
575 Degraw Street | (347) 834-9066 | www.brooklynboulders.com
Gender: Coed
Ages: 6–12
Activities: Yoga, roped climbing, slack-lining, bouldering, belaying (top-roping), crafts
Description: Summer Adventures is a unique day camp for energetic kids seeking something different. With plenty of individualized instruction (the staff to child ratio is always 1:5), kids are taught the fundamentals of rock climbing in a safe, fun-filled atmosphere alongside fitness enthusiasts who love what they do. Healthy snacks and refreshments are included
Availability: Runs biweekly from June 27– August 26 (9AM– 3:30PM)
Cost: $495 per week
Brooklyn Cultural Adventures Program (BCaP)
789 Washington Avenue | (718) 638-7700 | www.heartofbrooklyn.org
Gender: Coed
Ages: 7–12
Activities: Hands-on activities, arts/crafts, field trips, swimming, structured learning
Description: Parents rave about the Brooklyn Cultural Adventures Summer Camp program, which was recently recognized with a National Arts and Humanities Youth Program Award. Campers visit cultural institutions each week where instructors reinforce curricula organized around a theme. This year's theme is "Food is the Fuel of Life," so expect lots of gardening, cooking, basic biology, and life cycle concepts.
Availability: Three two-week sessions: July 5–15, July 18–29, and August 1–12 (9AM-3:30 PM with early morning/after camp extensions available)
Cost: $600-$650 per session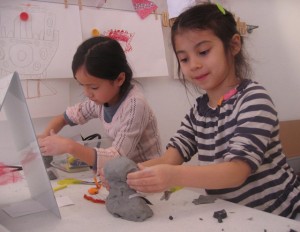 Brooklyn Design Lab
413A Seventh Avenue | (917) 657-7441 | www.brooklyndesignlab.org
Gender: Coed
Ages: 5–12
Activities: Sketching, designing, painting, sculpting, printmaking, field trips
Description: Amy Yang, founder of Brooklyn Design Lab, loves the arts and has an enthusiasm for teaching that's infectious. While imparting the fundamentals of design, she enables kids to express themselves visually in ways that develop skills in spatial relationships and the processes associated with making art. Kids develop the language to discuss their work and display it in the studio window and around Park Slope.
Availability: Weekly sessions (organized by age group); K-2: July 18–22 (Paper), 25–29 (3D), August 8–12 (Painting), 15–19 (Clay) 9AM–11AM; 3-6: July 5–8 (Lego Architecture), 11–15 (Information Graphics), August 1–5 (Toy Design) 9AM–3PM
Cost: $220 per session
Brooklyn Friends Summer Arts
375 Pearl Street | (718) 852-1029 | www.brooklynfriends.org
Gender: Coed
Ages: 8–14
Activities: Sketching, painting, ceramics, woodworking, photography, songwriting, film making, field trips, swimming
Description: Taught only by professional working artists, children will enjoy intensified study in distinct arts disciplines and practice and interact in the state-of-the-art facilities of the Brooklyn Friends School, which includes dance studios, music rooms, high-tech technology labs, and two massive gyms. Field trips include visits to professional studios and discussions with artists, such as sculptor Tom Otterness and musician David Byrne, as well as to major cultural institutions.
Availability: Three two-week sessions June 15–July 1; July 5–July 15; July 18–July 29 (9AM-3PM with early morning/aᴀer camp extensions available)
Cost: $792–$1,144 per session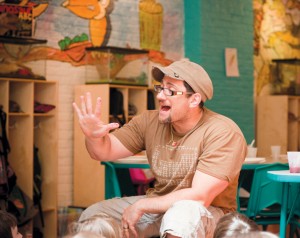 Carmelo, the Science Fellow
300 Atlantic Avenue | (718) 722-0000 | www.carmelothesciencefellow.com
Gender: Coed
Ages: 5–11
Activities: Hands-on learning, structured age-appropriate activities, Ḁeld trips, swimming
Description: Every Brooklyn parent knows Carmelo Piazza, the cool science teacher who lets children play with mealworms, build dinosaurs, and create their own silly putty. Piazza's talent for seamlessly teaching basic concepts in science, however, is his best trick. His popular day camp is themed, with each week focused on specific curricula, such as geology, biology, chemistry, and physics. Field trips reinforce learning and days are structured around a lively schedule that includes plenty of hands-on activities/experiments.
Availability: Weekly from July 5–August 25 (9AM–3PM, with early morning/aᴀer camp extensions available)
Cost: $275–$425 per week
Creative Arts Atudio
310 Atlantic Avenue | (718) 797-5600 | www.creativeartsstudio.com
Gender: Coed
Ages: 5–13
Activities: Dance, theater arts, visual arts, swimming, field trips
Description: While investigating weekly themes, campers will be encouraged to express themselves as individual artists and as a group. Teachers specializing in specific media help guide instruction, which includes lessons in ballet, tap, and modern dance, drama, singing, puppet-making, writing, and the visual arts. Weekly swimming lessons are provided at the St. Francis College Aquatic Center in Brooklyn Heights. Availability: Two four-week sessions: July 11–August 5 and August 8–September 2 Cost: $425 a week; $1620 for a four-week session; $3,080 for an eight-week session
Kim's Kids Summer Camp
378 Third Street | (718) 768-6419 | www.kimskidscamp.com
Gender: Coed
Ages: 4–11
Activities: Hiking, swimming, running, daily field trips
Description: Flexible scheduling and instruction by certified teachers make Kim's Kids Camp—now celebrating its 31st season—a welcomed member of Brooklyn's day camp family. With vigorous activities planned for each day, such as visits to the New York Aquarium, Bronx Zoo, or hiking in Prospect Park, campers are always engaged. A special end-of-the-summer visit to Sesame Place is also a big hit.
Availability: July 5–August 12 in daily or weekly sessions (9AM– 3PM, with early morning/after camp extensions available)
Cost: $780–$2,015
Park Slope Day Camp
241 Prospect Park West | (718) 788-7732 | www.parkslopedaycamp.com
Gender: Coed
Ages: 3–14
Activities: Sports, swimming, arts and crafts, horseback riding, rock climbing, gymnastics, martial arts, drama, climbing wall
Description: This long-time day camp leader offers plenty of flexibility, transportation options, and a varied schedule of activities that are targeted to specific age groups, such as the Cirque d'été acrobatic camp for its Pre-K group. Weekly field trips for all campers keep boredom at bay.
Availability: June 29–August 26 (8AM–4PM, with after camp extensions available)
Cost: Prices vary depending on child's age and desired session with daily, weekly, and multi-week rates available, starting at $90 per day.
Willie Mae Rock Camp For Girls
87 Irving Place | (347) 599-0716 | williemaerockcamp.org
Gender: Girls only
Ages: 8–18
Activities: Instrument instruction, workshops, songwriting/band practice, live performances by visiting artists
Description: Intensified instruction makes Willie Mae Rock Camp one of Brooklyn's most popular day camps. Girls form bands, write songs, and gain first-hand exposure to visiting professional musicians like Amy Ray (Indigo Girls), Kathleen Hanna, Kimya Dawson, and Martha Wainwright. The end of the session culminates in a performance at the Music Hall of Williamsburg.
Availability: Two weekly sessions July 11–16 and August 22–27 (9AM–5:30PM, 11AM–3PM on Saturdays)
Cost: $525 per week