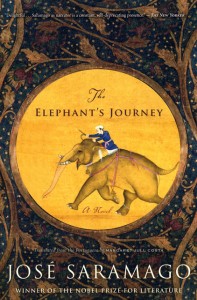 Something new:
The Elephant's Journey, a novel by José Saramago (translated from Portuguese), is an account of the extraordinary journey of an elephant from Lisbon, Portugal to Vienna, Austria during the sixteenth century. Although based on real events, Saramago asserts that the author "must be forgiven for taking certain liberties." In 1551, Dom João III, King of Portugal, and his queen, Dona Catarina of Austria, decide to give their neglected elephant to their cousin Archduke Maximilian of Vienna as a wedding gift. Solomon, the elephant, and this mahout (keeper), Subhro, along with an entourage of royal guards, porters, horses, and oxen traverse the rugged terrain of Portugal and Spain, cross the sea to Italy, climb the treacherous passes of the Alps and travel up the Inn River. The reader often sees the world through Subro's eyes as he siteshigh atop the elephant and are privy to his "elevated thoughts," despite his low rasnk.  Sometimes, we're shown the empathy of Solomon himself as when he says goodbye to his Portuguese porters, "(Solomon) touched the man's head and shoulders with his trunk, bestowing on him caresses that seemed almost human, such was the gentleness and tenderness implicit in every movement." Saramago considers the many hazards of travel, whether from real or imagined enemies, dangerous terrain or lack of food and shelter, but what I loved most about this book are his many keen and often playful digressions on power, on service, on friendship, and on the absurdity and complexity of human nature.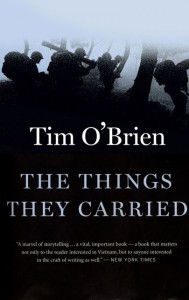 Something old:
I feel pretty far removed from the trenches of warfare but The Things They Carried, Tim O'Brien's collection of short stories about his experiences as a foot soldier during the Vietnam War, powerfully conveys the emotional reality of war. O'Brien writes, "I want you to feel what I felt. I want you to know why story-truth is truer sometimes than happening-truth." So while we may not learn exactly what happened in Quang Ngai Province, we really feel it. In the short story that names the collection, O'Brien easily moves from the mundane to the profound, "They carried Sterno, safety pins, trip flares,….Taking turns, they carried the big PRC-77 scrambler radio, which weighed 30 pounds with its battery. They shared the weight of memory. They took up what others could no longer bear. Often, they carried each other, the wounded or weak….They carried the land itself….They carried the sky." In the story, "On the Rainy River," O'Brien shares his struggle as a twenty-one-year-old and explains why he decided, finally, to go to war. In many of the stories, we learn about the horror and brutality of war and how some of the men of O'Brien's Alpha Company persevered and how some of them died. The book also focuses on less tangible things like memory, guilt and forgiveness. Written with honest, insightful prose, O'Brien wrestles with the contradictions of war and of life, "War is hell, but that's not the half of it because war is also mystery and terror and adventure and courage and discovery and holiness and pity and despair and longing and love."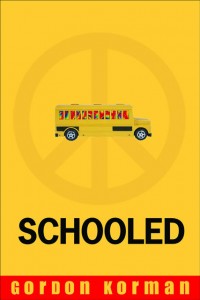 Something for preteens:
Schooled by Gordon Korman is the engaging, funny and even poignant story of thirteen-year-old Capricorn (Cap) Anderson who has lived his entire life with only his hippie grandmother, Rain, on an alternative farm commune. Sometimes, Rain and Cap criticize modern consumer culture, "We wanted to avoid the low standards and cultural poison of a world that had lost its way." When Rain breaks her hip and needs to be hospitalized, Cap who was homeschooled moves in with a guidance counselor and starts attending Claverage Middle School, aka "C Average" by the students. Cap has never been to public school, never watched television, never handled money, and never had a friend. "Cap is like a space traveler who just landed on Earth and left his guidebook on the home world!" The first person narrator changes for each chapter, a nice device that highlights the comical clash of cultures between Cap and the students at "C Average." Cap is tall and skinny with long, uncut hair, homemade clothes and cornhusk sandals. With his strange looks and cluelessness about middle school, Cap is a target for ridicule and pranks including the biggest prank of all, to be nominated and elected president of the eighth grade. Zach Powers, leader of the popular crowd and mastermind of Cap's presidency comments, "Never before had anyone screamed for the job of eighth grade president like Capricorn Anderson."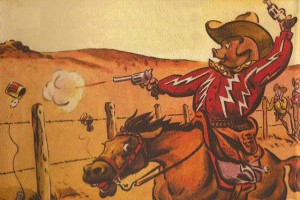 Something for you and a younger reader:
I love the Freddy the Pig books by Walter R. Brooks. Mr. Brooks is best known for the television show that he wrote in the '50s, Mr. Ed, but Freddy is more appealing and fun. The twenty-six Freddy books, written between 1928 and 1958, are wonderful and wise and not quite politically correct. The series features, of course, the clever pig, Freddy. As a master of disguise, Freddy assumes many roles: detective, reporter, cowboy, pilot and politician. Throughout the books, Freddy enjoys belting out a bad song or poem:
"The weather grew torrider and torrider,
And the orange-blossoms smelt horrider and horrider,
As we marched down into Florida."
Start with the first book, Freddy Goes to Florida, in which Freddy and a group of animals who live with him on the Bean family farm decide to travel to Florida to escape the long, cold winter in upstate New York. Then, try to follow the books more or less in order as they reflect the politics and history of the time. More complex than Winnie the Pooh and less serious than Charlotte's Web, the Freddy books are filled with loveable, multi-dimensional characters like Jinx the resourceful cat, Charles the pompous rooster, Mrs. Wiggins the practical cow, and Mr. Bean, the farmer who is too embarrassed to acknowledge that Freddy and the other animals can talk! The books include lovely line drawings by Kurt Wiese.
In addition to classic and current fiction, Michele enjoys reading many of her children's favorites. For over twenty years, Michele has been art directing and designing books and magazines for kids of all ages. You can see her work at www.micheleweisman.com