For the early decades of my life, my only awareness of coffee was the stuff my father let percolate every morning. If black and bitter had a smell, what filled his mug was it.  Sweetness came in the form of a slice of cake, homemade pie or the old fashioned honey bun. Until even today, when I return home, I can still find my dad performing this morning ritual. Like him, many others within the borders of our neighborhoods include coffee in their morning ritual. While I default to a soy latte, others have minute ounces of caffeine concentrated into an offering of ristretto. Given that a new and cooler season is upon us, I decided to taste test our local offerings of the black stuff. To my pleasure, I found five demitasse options worthy of a pit stop that might just become a new fall habit.
Café 474 | 474 4th Ave | www.cafe474.com
Commuters are an earshot from the F/R train when within feet of Café 474. The African-French themed outpost has an exterior porch that doubles as a sitting station for the lingering coffee drinker or a momentary lookout point for patrons on the go. Inside and beyond the island, where spoons, milk types and tear-able sweeteners coexist, you'll find a straightforward menu including the dark or medium roast espresso as options. The barista pulls me a medium roast which is then pressured by the La Marzocco. A couple of dollars buys me a tempered shot of caffeine with a smooth finish to set me on my morning way.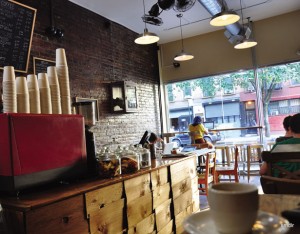 Konditori | 186 5th Ave | 347-384-2028 | www.konditorinyc.com
At the northern end of the Slope, the six-month old, Swedish inspired Konditori defines itself in name and bean. This is where you come to enjoy friends and coffee. Arrive in early morning and you will find one of the owners, Per, near the Nuova Simonelli energized and chatty. Perhaps, it's his own consumption of the Peruvian beans produced locally in DUMBO and slow roasted over dry heat. I have the choice of a liten (single shot) or stor (double shot). I opt for the former and consume it while sitting on a wooden stool towards the back of the shop. I look up and see Konditori's definition and realized I've just been defined; "noun: where one goes for a coffee break." This becomes one of the best mid-day nouns I've tasted.
Crespella | 321 7th Ave | 718-788-2980 | www.crespellabk.com
Crepes and coffee have become the quite the pair for foodies and third wave connoisseurs in Park Slope. From the Italian words imprinted on the store's wallpaper to the ownership of a Rolls Royce-esque espresso machine, the Faema E61, Crespella is an authentic piece of Italy in an American borough.  The beans are from local roaster Stumptown in Red Hook. I order the $2.50 cent Illy, a two shot espresso arriving Italian proper in a ceramic cup. It is an intense yet sophisticated few sips of chocolate-dominated notes, Afterward, I must concur with co-owner Maria Bucca, "this is an Italian place with a timeless espresso, it's a real pick-me up."
Dub Pies | 211 Prospect Park West | 718-788-2448 | www.dubpies.com
This Australian outfit is a small package that packs a strong punch. Situated a block from the circled entrance where Prospect Park South meets West, Dub Pies is an ideal drop-in spot. Its certified, organic sustainable beans hail from North Carolina's Counter Culture. While my feet stand in line upon minimally designed tiles, the smell of freshly ground beans is almost enough to perk me up. And when it comes in its black demitasse, I hurry to consume it before the crema settles. The $2.50, two ounce darkened shot is worth my now happily wired state.
Crop to Cup | 541A 3rd Ave | 917-531-8754 | www.croptocup.com
Slightly beneath the dividing line of Park Slope and Gowanus this bean importer is a fair trade multi-purpose shop that roasts locally with Real Coffee Roaster. Upon entering, a flood of light – natural and incandescent – welcomes you to Crop to Cup's coffee bar. Their three-part espresso blend is comprised of 50% Uganda Sebie, 40% Ethiopian Harrar, and 10% aged Indian. The $2.00 ounce and a half triple ristretto shot arrives "light, minimally tart and pillowy." If you're looking for a real pick me up, order the large "alarm clock," an iced espresso twice the price and just as nice.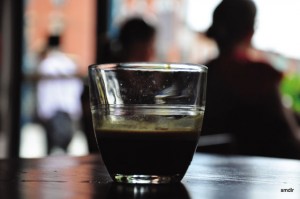 Couleur Café | 435 7th Ave | 718-788-6600
All here is a result of intentional improvisation at neighborhood newcomer Couleur Café. The décor includes counter-placed vintage records, French inspired wallpaper and a reclaimed 1928 wooden door which serves as the bars horizontal front. The Turkish born and French native owner, Murat Ozcan, sources beans from local Brooklyn Roasting Company because of the "mocha java flavor, couleur of the bean and its ability to produce a fresh grind." His semi-automatic Simonelli offers old school espresso French style in a duralex glass of nearly four ounces.  At first taste, it's strong but a pleasant bitter chocolate, leaving nothing else to be desired. It's black and perfect.
After drinking liters of water to clear the taste of black coffee out of my system, I realize I missed the black coffee that I became acquainted with. So, as fall comes and shakes our leaves bare, I'll be among the locals making a pit stop for the good, black stuff.