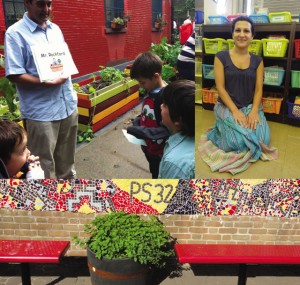 We met two neighborhood teachers to learn what's in store for Park Slope students this year and what makes teaching in our neighborhood unique.
The school year is now in full swing, and Park Slope's many teachers have returned to their classrooms to begin a new year of lessons, games, and projects with their students. We met with two neighborhood teachers, Ilana Dogim from P.S. 321 and Chris Rochford from P.S. 39, to find out what's in store for Park Slope students this year and what makes teaching in our neighborhood unique.
"I see my role as helping students fall in love with learning, themselves, and their community, from our classroom to the entire planet," says Ilana Dogim, who has taught at P.S. 321 on 7th Avenue for the past thirteen years. "I am a huge supported of project-based learning. Students get much more out of their education if they get to actually 'touch' it and 'create' it for themselves." Throughout the school year, Ilana's classroom transforms into the Amazon Rain Forest, Plymouth Plantation, and a "Canstruction" exhibit, and her students get to experience life as everything from pilgrims to the Yanomami tribe. "These activities span the curricular areas through research and publication as well as measurement, painting, and community building," she says, noting that in addition to keeping content exciting for students, it also allows her to meet the needs of each individual student based on academic levels and interests.
In addition to Ilana's knack for making hands-on learning fun, she also knows the importance of the parent-teacher relationship. "I am in constant contact with parents via e-mail. I believe these communications are incredibly important to my students. Having them see their parents working with me as a team can make a huge difference when dealing with any obstacles that can come into play as well as giving students a stronger sense of the support around them. In the end, I believe my classroom is a family, and that family includes myself, my students, and their caregivers."
Constant availability and communication between parents and teachers is also key for Chris Rochford, who teaches kindergarten at P.S. 39 on 6th Avenue and 8th Street. "It's easy for me to quell a parent's concerns when they're thinking of them as opposed to having to wait a night or write me an email and I have to get back to them," he says. Beyond being just an e-mail or phone call away, Chris also likes visiting his students and their parents at home. "When I was in first grade, my parents had my teacher over for dinner, and that's such a vivid memory in my head," he says. "I wanted to make that opportunity available for my students. I really enjoy it."
Instead of keeping P.S. 39's three kindergarten classes self-contained, each room claims a different learning space. "We've combined everything so we have a reading and writing environment, a math and science environment, and a dramatic play and social studies environment, and we switch with our class into the different rooms for the different lessons of the day," Chris says. "It's one way that's great for camaraderie – they all get to see each other, and we really get to know everybody in kindergarten. So it's really a fantastic setup." The P.S. 39 building is railroad-style, so Chris says it's a very close-knit community: "There are no hallways, there are doors that have been subdivided. It's very different than going into your classroom and closing your door. I'm constantly seeing and interacting with my fellow teachers." P.S. 39's collaborate environment also extends into the community, and the students take field trips to Prospect Park, the Brooklyn Public Library, and local businesses ranging from ice cream parlors to print shops both in Park Slope and surrounding neighborhoods.
Both Chris and Ilana find teaching students to be both a rewarding and mutual learning experience. "Watching my students fall in love with learning, begin to discover their own unique strengths and weaknesses, and grow into more independent thinkers is incredibly rewarding," Ilana says. "Being part of the creation of a safe and supportive community where students respect and support each others' differences in addition to their similarities is also very rewarding." As for learning from the students, Chris says the process is daily "because you're constantly modifying your approach. You can make the best lesson plan in the world, but when it's delivered, it's all based on how the students receive it and their ability to follow that lesson plan. Sometimes it works, and sometimes it's an absolute disaster – I mean we learn something, but it just didn't flow the way that we planned, and then you regroup and you revamp. So I'm learning a significant amount from the kids, even in kindergarten." Chris also knows the lasting impression he makes on his students and brings that awareness to his teaching every day. "That weighs on my mind with the way that I speak and the words that I use. I absolutely want to leave them with the happiest kindergarten experience. I can set the tone for their entire educational career – every teacher can."
School has been in session for weeks now, but back in August, Ilana told us she was looking forward to countless things about her job as a teacher. "I can't wait to create our messy art projects.  I'm eager to hear about my students' unique interests and experiences.  I can't wait to make them laugh for the first time.  I can't wait to see the look on their faces when they achieve something they thought was beyond their reaches.  There's so much more I'm looking forward to, but I think this is a good start."