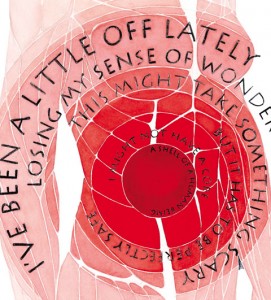 I've been a little off lately. Like I have to jab a pencil in my thigh to stay alert. My dog is strangely mirroring my condition. I throw the ball he just softly gazes upon me. "You want to me to go get it just so you can throw it again? Really? We're still doing that?" And that's exactly how I feel.
We're still doing that 'get the kids to school, eat breakfast, work, eat lunch, work more, do laundry, go shopping, make and eat dinner, put the kids to sleep' thing? I can't really call this feeling depression. I've been there and this bares no resemblance. I can still get out of bed and take a shower without crying. So, what is it? After looking through a few of my old psychology textbooks I've determined I'm losing my sense of wonder. Why now? After reading a little more I'm confident in the diagnosis of something mid-life crisis-ishy. I've been on the planet a while and tradition says I should either purchase a sports car or contact my first love and tear two families apart. Neither of these seems appealing. The accepted prescription for mid-life crisis of an aging hypocrite is to try new things that don't disrupt your home life. Ugh. How tedious.
If you know me, you know I've been very open to trying new things. I've dabbled in bookbinding, unicycling, string art, kim chee making, claymation, tennis, reiki, running, canning, caning (chairs, not kids) and dog grooming. I am serious. That list is real. In the past year I've paid people to teach me glassblowing, piano and life drawing. Currently, I don't do any of that shit. So even though I've exhausted the new stuff route, if that's what it takes to get the pencil out of my thigh, I'll try it again, begrudgingly.
So, this might take something scary but it has to be perfectly safe. I broke my wrist last year in a ridiculous skateboarding mishap that was hellishly awful. Although I really loved my hand surgeon (small, safe crush) I don't want to see him professionally again. I am hoping I will run into him at the new Fairway in Pelham where he lives but my schedule only permits me getting out there two or three times a week. I think I saw his wife, though. She's pretty but she feeds her kids waaaaaay too much sugar.
I wrote the above a month ago in the dermatologist's office while waiting to get a mole removed. Here's an update:
I decided to take aerial silks classes. It's the thing they do at the circus sometimes where they climb up a long piece of fabric and wrap themselves up in it and tumble down inches from the ground. I took two classes at Heliummm (google it) and I really recommend them if you're interested. But here's the thing I discovered about myself that was kind of a heartbreaker. I'm not completely sure, but I might not have a core. My instructor kept telling me to work from said core that I couldn't locate. I know where my one remaining stomach muscle is and I know where my spine is. The core, if I have this right, is somewhere lurking between the two. I imagine it's like the green glowing radioactive rod that lands in the back of Homer's shirt in the opening credits of The Simpsons. Mine is not there. Or if it is, it's like that old carrot that you find in the back of your fridge on moving day.
Finding out you have no core is strangely metaphorical. Imagine if someone said to you, "You have no backbone. Seriously. Your backbone is gone." You'd feel horrible in at least two different ways. Like you were a colossal wuss and you were missing a fundamental body part. That's how I felt. Not having a core made me feel like a weakling and a shell of human being.
Needless to say, the class didn't work (I did, however, strengthen my lats). For a good three to four weeks later I was still pretty much left with a sense of wonder-less. I somehow managed to refrain from contacting my old boyfriend and buying a candy apple red Chrysler Town and Country. And thank Christo with a combination of time and a few small changes to my routine, the malaise has lifted. What exactly did I do? I am now reading Anna Karenina (it's really good once I got over that I'll be reading it for the next two years). I'm making and drinking a lot of iced tea (perhaps an undiscovered natural serotonin reuptake inhibitor?). I've stopped washing my hair (suffered from over washing anyway after the lice gifted to me by the thoughtful Kindergartners in K-117). I'm listening to Heavy Metal music. I put Iron Maiden on my Pandora and man, does it take the edge off of scrubbing the bathtub. Or it gives it more edge. My bathtub is so clean I'm going to make pudding in it after the kids go to bed. Or gin (anyone know a local source for Juniper berries?). Not sure yet. I'll keep you posted.
And with this simple odd prescription of little things, I'm right again. Still a hypocrite, of course. But if someone were to throw a ball right now, I would go get it and bring it back. No questions asked.
I've reached the point in the column where I'm sick of talking about myself. Let me now turn to the sack full of letters I've let pile up over the summer. Your therapist went on vacation, right? I might be too late with my free hypocritical advice but I need to fill a couple more inches on this page in order to get paid so let's see what we've got.
Dear Hypocrite,
I am 44 and married with two adorable kids and I am a foodie. A woman I work with is married with kids and a foodie, too. We started having lunch together. At first, the lunches were quick but now we've been picking fancier restaurants farther away from the office. Suddenly, it's feels like we are dating. On the days I know we are going to lunch I find myself dressing up and combing my hair and I've noticed she's doing the same thing. On our dates, we talk about our families, our marriages and our plans for the future. The conversation is so easy. Just recently I've noticed there is some sexual tension. And I've started always picking up the check even though she makes more money than me. I really like our lunches and enjoy her company but I'm aware this might be a dangerous thing. What should I do?
— Foodie in the South Slope
Dear Foodie
First, don't refer to yourself as a foodie. Just say you love good food. Foodie rhymes with doodie and you shouldn't ever willingly call yourself something that rhymes with a word for poop. Unless your parents named you Judy. Or Meces.
Now, as for your situation: Go for it! You're both married with kids? No problem! She sure sounds awesome. Have fun! And am I to believe from "Even though she makes more money than me" that she's your boss, too? High five! You're awesome!
Unfortunately, this medium prevents me from slapping you across the face with all my might. You're honestly asking me for advice? Good Lord, are you that dumb? Okay, I'll assume you are and you're not just wasting my time. Pay attention. Here it comes: Stop, back up the truck. Get out of there now. Unfortunately, that thing that Hermione used to go back in time so she could attend two classes and save Hagrid's hippogriff is not real or that's what I would have suggested. Oh, but the sexual tension is unbearable, you say? Having sexual tension with someone is not an open invitation to sleep with them and suffer no repercussions. Sexual tension is everywhere. I have sexual tension with a pair of shoes that my daughter's dance teacher has. Extricate yourself from this foodie immediately. How? Tell her the truth. Use word couplets like "completely inappropriate" and "disastrous consequences." Phrases like "while I've enjoyed our time together" and "you are such a warm and wonderful person" can help soften the blow. Don't be afraid to suggest imperfect solutions like "perhaps you and your family could come to our house for a barbecue" or "never speak to me again unless it's regarding work issues." Under no circumstances should you include these chestnuts: "let's take whatever this is to the next level" or "what do you say we see if we can get away for a 'business trip' to Vegas to try out some of the restaurants there?"
Here's the thing. You are playing with fire. You are 44. Next to 25, that's the stupidest age there is. You're not thinking clearly. Whether you know it or not, you're needing a change. If you're like most of us, you probably have a less than satisfying job that doesn't pay enough. But starve your boredom and frustration in a less destructive way. I assume your marriage is not perfect, right? But are you considering leaving your wife? Maybe you should examine your relationship and work on making it more solid, shithead.
I have a friend who is a very good marriage therapist and she says most people come to see her seven years too late. SEVEN! So if you are flirting with disaster because you need to get out of your marriage, you are not being fair to your partner or yourself. Find a good therapist seven years ago. Get real and re-commit to your partner. Or don't. But take inventory. Maybe your partner wants a change too. The thing is, you want to be intentional about this. Not accidental. Then you'll be able to face yourself in the mirror and your kids won't hate you and your wife's friends won't cross the street when they see you. (I like to hide in the bathroom when my friend's ex comes to pick up the kids.)
Now, I do have one friend who had an affair who claims that it was all she needed to reinvest in her marriage. It was her wake up call. But what if she got caught? Were the three nooners with her son's Super SoccerStars coach worth the damage it would do to her family? I bet not. And by the way, next time you write me it better be about how to get your whites whiter and your colors brighter. Advice to future letter writers re: Infidelity: I DON'T WANT TO HEAR ABOUT IT.
That's it. See you next time.