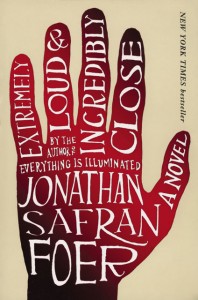 Something not to miss:  The tenth anniversary of September 11 inspired me to re-read Jonathan Safran Foer's masterful second novel, Extremely Loud and Incredibly Close —a story of love, loss and reunion set in the shadow of the tragedy at the World Trade Center. Since "the worst day" when his dad was killed in the terrorist attack, nine-year-old Oskar Schell has "heavy boots." Francophile, tambourine player and inventor, precocious Oskar specializes in imaginative creations that help protect the people he loves, even himself. For example, "I could invent a teakettle that reads in Dad's voice, so I could fall asleep…" One day, Oskar discovers an unusual key in his father's closet and it becomes his "ultimate raison d'être" to find the matching lock. From Harlem to Coney Island, Oskar travels the five boroughs of New York City on a mission to find the lock that he believes will connect him to his missing father. Many quirky and kind people help him on his quest including his reclusive 103-year-old neighbor who tells Oskar, "So many people enter and leave your life! Hundreds and thousands of people! You have to keep the door open so they can come in! But it also means you have to let them go!" A mysterious renter who lives in his grandma's apartment aids Oskar in another of his secret missions to bring the story full circle. At times hilarious, often heartwrenching, Foer's book is extremely original and incredibly wise.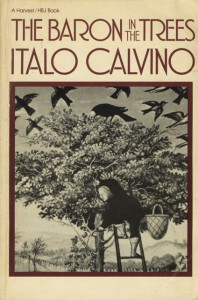 Something old:  Italo Calvino's The Baron in the Trees (translated from Italian) is the fantastic tale of Cosimo Piovasco di Rondò who on the fifteenth of June 1767 in Ombrosa, Italy, refuses to eat his plateful of snails at the royal family dinner table. Compounding his rebellion against parental authority, twelve-year-old Cosimo escapes to the trees and declares, "I'll never come down again!" And he never does. "The trees were so thick [Cosimo] could move for several miles passing from one branch to another, without ever needing to descend to earth." Narrated with love and admiration by his younger brother, Biagio, the rich life of the Baron in the trees unfolds. Cosimo hunts, forages and fishes to provide food, clothing and shelter. Though perched in the trees, Cosimo stays connected to his fellow man. He makes friends, adopts a dachshund, helps with irrigation projects, fights pirates and forest fires, aids armies and even has love affairs. By some considered crazy, by others thought wise, "This [Cosimo] understood: that association renders men stronger and bring's out each person's best gifts, and gives a joy which is rarely to be had by keeping to oneself…" Cosimo studies philosophy, reads voraciously and ponders the ideals of a universal society. He interacts with Diderot and Napoleon. By the end of his life, Cosimo understands "something that was all-embracing, and he could not say it in words but only by living as he did. Only by being so frankly himself as he was till his death could he give something to all men."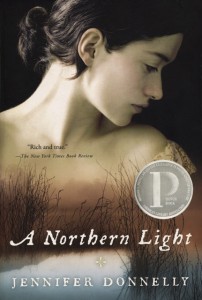 Something for young adults or older:  A Northern Light is Jennifer Donnelly's compassionate coming-of-age novel about Mattie Gokey, a sixteen-year-old girl living and dreaming on her families' farm in the North Woods of New York state in 1906. Mattie is a gifted writer who desperately wants to go to college but " [I] saw what was in store for me: a whole summer of drudgery and no money for it. Cooking, cleaning…feeding chickens, slopping pigs…doing everything that fell on the eldest in a family of four girls, a dead mother, and a pissant brother who took off to drive boats on the Erie Canal." Mattie astutely observes issues of class, race, and gender and the constraints put upon women by society at the turn of the century. Mattie acknowledges that she is "wanting things I have no business wanting, and what they call a gift seems to me more like a burden." Against her pa's wishes, Mattie takes a job at the lakeside Glenmore Hotel where a young female guest, Grace Brown, begs Mattie to burn a bundle of letters. The story opens dramatically with Grace discovered drowned then shifts between present and past as Mattie comes to understand her own life as well as Grace's. "Right now I want a word that describes the feeling you get—a cold, sick feeling deep down inside—when you know something is happening that will change you, and you don't want it to, but you can't stop it." With a love of language akin to Mattie's, Donnelly weaves together the yearnings of Mattie and Grace in this heartfelt historical fiction novel of deception, romance and self-awareness.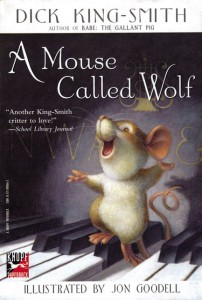 Something for you and a younger reader: Of his many delightful stories for kids, Dick King-Smith's A Mouse Called Wolf is one of my favorites. While the other twelve mouse pups had ordinary names like Tom or Ann, Mary, the mother mouse, decides "that the thirteenth and littlest must have not one but two names, and important-sounding names at that…" Named from a scrap of sheet music, Wolfgang Amadeus Mouse ("Wolf" for short) has the perfect name! One of Wolf's favorite pastimes is listening to Mrs. Honeybee, the lady of the house, as she practices the piano each day. "If only mice could sing, thought Wolf…Then to his total surprise, out of that little mouth came a high clear lovely little voice that sang every note of the melody to perfection." Gradually lured by chocolates to the center of the piano, Wolf comes face to face with the gentle and eager Mrs. Honeybee who wants the same thing that Wolf wants—to make beautiful music together. From nursery rhymes to classics, Wolf sings while Mrs. Honeybee accompanies him. Until one day, Mrs. Honeybee has an accident and can't make it to her usual place at the piano. Though small in size, Wolf relies on his enormous talents to help. "Bravo, mouse!" From his experience as a farmer and a teacher, King-Smith creates loveable animal critters. Other enjoyable tales by King-Smith include: Ace: The Very Important Pig and Babe: The Gallant Pig that became an award-winning movie.
In addition to classic and current fiction, Michele enjoys reading many of her children's favorites. For over twenty years, Michele has been art directing and designing books and magazines for kids of all ages. You can see her work at www.micheleweisman.com