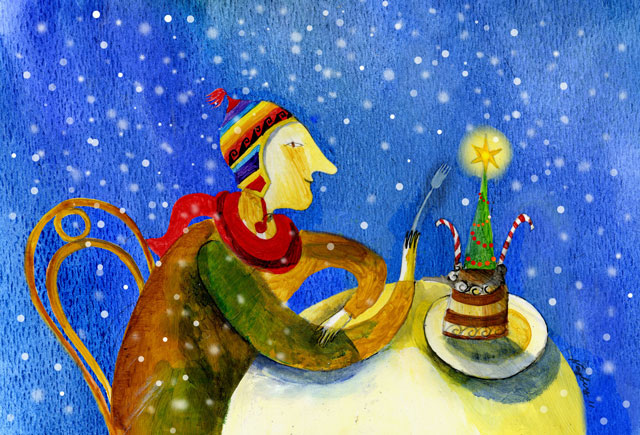 Somewhere along the line, the focus of the holidays shifted from all of the good things they bring to everyone arguing about what the most important of these things is. Is there a War on Christmas? Has it all become too commercialized? Is it about bringing ancient family feuds back up to the surface, who got the best presents, which type of tree to get, which charity to volunteer with? No. I think all sensible people can agree that the holidays are about dessert.
What is truly precious about this time of year is getting a free pass to eat as much dessert as you possibly can, in as many varieties as you are given the opportunity to eat. That's why I think it's important at this time of year to talk about what's happening in the bakeries of Brooklyn. Thankfully, they're giving us a lot to stuff our stockings with.
The Traditionalist With a Twist
Joe Monaco has not had a quiet life as a baker. In his thirty-seven years working at Veniero's Pasticceria in Manhattan, he baked a birthday cake for Elizabeth Taylor, a wedding cake for Marty Markowitz, and an anniversary cake for Mickey Mouse, along with being filmed by the Food Network and a crew that flew in from Japan just to watch him make his famous cheesecake. But his two-year-old bakery in Bay Ridge, Monaco's, lacks the flashiness of what one would expect from a new venture of a man with such an impressive resumé. Instead, you find the familiar, comforting feel of a mom-and-pop bakery, filled with a sense of community and nostalgia.
Monaco got his start in the kitchen of the Court Street Pastry Shop shortly after emigrating from Naples, Italy, eventually making his way to Veniero's. The owner's nephew saw potential in Monaco, and gave him his own kitchen to work in, and his innovations greatly expanded Veniero's repertoire. Along with introducing new types of cake and tarts borrowing from the French traditions of baking, Monaco was the first to suggest that Veniero's sell seasonal pies during the holidays. His first batch sold out by the end of the day, and when he left, the shop was selling 3,000 pies a week.  Monaco's simple, traditional baking style hit an emotional chord with his customers, and when they heard word that he was leaving Veniero's and opening his own bakery using the proceeds from selling his house, they followed suit. Calls started coming in asking for deliveries across the country, and one woman asked if he could have her favorite cake ready for her as soon as she landed in Brooklyn from Arkansas. Everything is baked in the kitchen next door, and you can watch the Monacos tinkering with their recipes through the window of the café. This homestyle baking is the kind you remember from your childhood, without any additives or substitutions and made with a lot of love, but it isn't simply the baked goods alone that keeps people coming back.  It isn't unusual for Bay Ridge residents to pop into Monaco's a couple times a week for a coffee and a treat, or just to catch up with Joe's wife, Elizabeth, whose friendly presence makes you feel instantly at home.
What makes Monaco's really stand out from the run-of-the-mill Italian bakery is that he serves up just the right amount of innovation with his goods. The cake that immediately caught my eye in the case was his rainbow cookie cake, which was constructed of an outer ring of rainbow cookies, held together with the thinnest layer of raspberry pureé, and filled with perfectly fluffy Bavarian cream, topped with a chocolate ganache. Thankfully, Monaco's has mini-versions of nearly every one of their cakes and tarts available, and I was able to devour one on the spot. In fact, this particular cake can be seen as a symbol for Monaco's as a whole: a slightly modern twist on a classic.  There is plenty to look forward to at Monaco's this holiday season. The usual will continue to be served – think breakfast pastries in the morning and Monaco favorites of cheesecakes, strawberry shortcakes, and tiramisu in the afternoons – as well as an assortment of pies, profiteroles, and the traditional Sicilian dessert, cassata. Even if you're not ordering up a custom cake, Monaco's would be the perfect place to pass a snowy afternoon with a cappuccino and a few of your favorite cookies, feeling like you're back in the New York of so long ago.
The Treats Truck Finds a Parking Spot
His name is Sugar. (A boy named Sugar? Yes, it's just how it is.) He's silver, inviting, and smells amazing. Perhaps you've seen him around in his favorite places to hang out in Park Slope, Queens, and Manhattan, shelling his homemade baked goods to hungry fans. He is, of course, the truck of the beloved Treats Truck, run by Kim Ima. They hit the streets together in 2007 after much encouragement from Ima's friends and family – who had been enjoying the results of Ima's love of baking her whole life – and has been a hit ever since. Without any professional training, Ima created her treats through years of simply having fun in the kitchen and responding to what her friends enjoyed most. "Not too fancy, always delicious" is her motto, and it rings true with her assortment of cookies, brownies, and cupcakes that can be found in the truck. These are the classics (sugar cookies, crème-filled sandwich cookies, rice krispy treats, and lemon squares) and fun unexpected specials, like cake sandwiches, pumpkin swirl cookies, pecan butterscotch bars, or poppy seed cake.
The Treats Truck's homegrown roots shine through with the sense of community between Ima and her customers. A favorite feature has always been that, upon ordering a brownie or other bar treat, you're asked whether you prefer a center, corner, or side piece. (Center is clearly the correct answer.) Ima also holds contests for customers to name new treats or help come up with new ideas. There is even the Coconut Mitch, named after the man who asked weekly if Ima was going to have anything with coconut in it soon. Ima likes picking up trends based on the tastes of different neighborhoods (Park Slope loves their oatmeal cookies), and takes care to stock up before making the rounds. In a way, the Treats Truck is still just like one of Ima's tasting parties that launched her career.
Fans and curious readers longing for more of a sense of permanence for the Treats Truck have had their holiday wishes come true. In November, Ima released The Treats Truck Baking Book which has recipes for all of the truck's greatest hits, along with a few new ideas, like ice cream treats. You'll be happy to know that these recipes even include how to make your ice cream cone cupcake, one of the most whimsical treats offered in the truck. One of the book's strongest features is how easy it makes it to create your own recipes with mix-and-match suggestions throughout the book, showing how to make even more versions by switching the frosting, filling, or crust, or slightly tweaking the flavor. Just like the truck's approach to no-frills eating, most of the recipes are easy to tackle and focuses more on fun than perfection. This perfectly designed and compact book is a perfect gift for both seasoned bakers and amateurs alike.
But if you'd still rather just be served a treat rather than make one yourself, Ima is also opening the Treats Truck Stop in Carroll Gardens, at 521 Court Street. The bakery and café will have all of the treats available for sale, as well as light breakfast and lunch options throughout the day. While baking has been done in Red Hook, now customers can watch production happening through a window in the back seating area, continuing to foster that connection between the truck and the community it serves. In contrast to the feel of the Truck, which is constantly in motion, the Stop will allow customers to relax and enjoy. In the end, it's about a simple kind of joy, one that Ima strongly believes can be created through the power of treats. So treat yourself, or treat a friend, with the Treats Truck, Stop, or Book.
Fool Them With a Vegan Option
The holidays can be a tricky time of year for restricted diets. Once again, your family "forgot" to serve a single animal-product-free dish at the Thanksgiving table, despite having been a vegetarian for the past ten years. Once again, you have to convince yourself that the one gluten-free option for dessert – this grapefruit – is just as delicious as the piles of cookies, cakes, and pies on the table. Thankfully, Sun in Bloom in Park Slope is around to remedy that this year. Inspired by her discovery of her passion for a healthy lifestyle, holistic health coach Aimee Follette decided to open a café and bakery to make those diets more accessible. Offering vegetarian dishes (all of which can be made gluten-free, most of which can be prepared raw), vegan and gluten-free baked goods, and a juice cleanse program, Sun in Bloom provides a warm and welcoming environment for those seeking out a healthier lifestyle, either by choice or necessity.
Many people are skeptical how vegan baking can be done at all, let alone done well, but put any assumptions aside. The cupcakes, muffins, and cookies offered throughout the year are delicious and incredibly moist. It should be noted that "gluten-free" is not akin to "sugar-free," so they are sweet without being overbearingly so. Last year, during Sun in Bloom's first holiday season, regular customers returning to the city after celebrations spent with their family raved about all of the compliments they got from their pies, without ever knowing they were eating vegan baking! It would be a great opportunity to introduce those in doubt to the concept that a vegan or gluten-free diet can be just as tasty and fulfilling. And if your family is visiting, take them to the increasingly popular weekend brunch, which has a menu that changes weekly depending on the season and Follette's whims. One weekend offered apple pie pancakes, a quinoa burrito, and a butternut squash and shitake mushroom soup, among other intriguing dishes.
But we've been focusing a lot on stuffing our faces with baked goods and brunch, like one tends to do during the holidays. Come New Years', losing weight is the most popular resolution for a reason. After indulging for months, perhaps it's time to test out Sun in Bloom's juice cleanse. Follette, who has cleansed at least twice a year for the past seven years and credits her introduction to cleansing as how she discovered her Celiac's disease, has developed a nonthreatening program meant to recharge your system, get back in tune with your body, and reevaluate your relationship with food. She works with people individually to create a cleanse that suits their needs (a much safer option than assuming the cleanses you read about are one-size-fits-all), usually for a choice of three, five, or ten days. The basic program is four green juices a day, along with a spicy lemonade, a watermelon juice, and a brazil nut milk. Options to include a raw food meal are available, and the supplies can be delivered throughout Park Slope and Prospect Heights.
What makes Sun in Bloom's cleanse stand out is their use of a Norwalk Press, an hydraulic press that has no oxidation effects on the produce it presses, creates a much smoother consistency, and extracts thirty percent more minerals and nutrients from the fruits and vegetables than a standard juicer. Believe it or not, these juices are filling, not to mention tasty. Even the intimidating green juice – consisting of collard greens, romaine lettuce, celery, parsley, and cucumber – is delicious and refreshing, and if I hadn't been told I was drinking the Sweet Lady Green, I would've believe it was the sweeter Green Lady Dream, which also has green apple, kale, and lime in it. This magical drink is the key to the detoxifying properties of a juice cleanse since it is packed with antioxidants and alkalizing benefits.
So, why cleanse? For starters, it has been found that eighty percent of disease starts in the colon, so it has the immediate benefits of ridding your body from any toxins that have been sitting around, unable to be used. But what Follette enjoys most about the cleanse, especially on a three-day time frame, is that it sets you up for success for a more permanent lifestyle change. It discourages the yo-yo effect of dieting and helps you pinpoint the struggles you've been having with food once you have a clean slate. Were you eating out of boredom? Were you unaware of an allergy? Now, you can start fresh knowing that it is possible to live without any unhealthy habits. But that can wait until New Years'. In the meantime, I'll be helping myself to another pumpkin spice cupcake.