Although Park Slope is hardly want for new and niche coffee shops, bars, and bistros— the past year has brought extensive development and growth to local small businesses. Do you know what this means? It means that despite the turmoil the economy has faced in recent years, Park Slope is still blooming and booming. Congratulations, y'all! We've effectively proved that spending our hard earned ducats in Park Slope has boosted our local economy.
And what better way is there to pat myself on the back for contributing to the "shop local" movement that Slopers have valiantly upheld then to buy myself a latte? As I traipse down 7th Avenue with a "liten" (small) soy latte from Konditori in my hand, I clock the handful of new eateries and small shops that have recently rooted themselves in our neck of the borough. Along 7th and 5th Avenues, it appears as if these fairly new businesses are reappropriating Americana fare and repackaging it with a taste customized to Park Slope— think: high-end hamburgers, downing a beer at a bar that boasts a manicurist on staff, and a classic cup of joe roasted Swedish-style. 2012 has ushered in a new wave of Mom and Pop, and its garnering significant praise from us all.
As such, I've decided to outline some of the neighborhood's new(ish) restaurants, cafes, and other shops worth note in the off chance that you haven't checked them out yet. And really, you should make it a point to visit as many of the new Park Slope eateries and boutiques as you can to continue to support our local economy.
TARO'S ORIGAMI STUDIO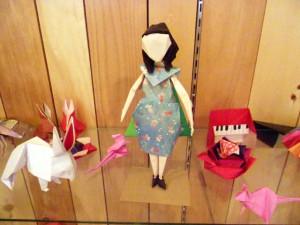 Origami is an art form that Taro Yaguchi, owner of Taro's Origami Studio on 7th Avenue says, "requires no cutting or messy pasting. However, it challenges you to have a steady mind and focus." This is awesome news for me, because finger painting and collaging are oodles of fun, but I'm getting sick of cleaning up after myself post art project. The newly opened Taro's Origami Studio will teach you how to make nifty origami animals like bears, fish, and rabbits in their "Drop in & Try out Corner", where a touch screen menu on a PC tablet instructs new origami artists how to fold their materials correctly in order to make tiny paper creatures. The "Drop in & Try out" experience ($10) takes about 30 minutes, and you can decorate your creation with stickers, stamps, and markers upon completion! Taro's Origami Studio also offers 45 minute classes for children and hour long sessions for adults Tuesday through Friday—which I am obviously signing up for in order to create my own origami zoo.
KONDITORI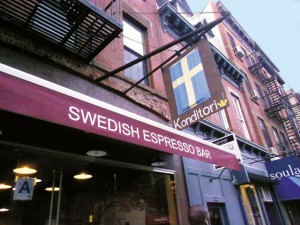 "Konditori", the name of the new coffee shop on 7th Avenue is actually the Swedish word for "Coffee Shop"—genius, right? Of course there are nearly a thousand cafes in the area, but Konditori is special in that all they really want is to combine the "hominess of Swedish Coffee Culture with the edginess of Brooklyn," They brew their coffees, a proprietary ground blend of three different central American beans, every hour on the hour to extend the pleasurable and hearty aromatics their coffee releases. I am prone to pair a "liten" (small) Swedish roast coffee ($2), fresh from Konditori's French Press, with one of their specialty "Coco Balls" (and at $2.75 these hand rolled chocolate, coffee, oat, sugar, and coconut delicacy is worth going back for seconds), but I am eager to try their hot cranberry cider ($4) with one of their authentic Swedish pastries—the cardamom bread ($2.75). They're also stocked with soy milk and vegan cookies, and run a sibling Park Slope location on 5th Avenue. Tusen tack (a thousand thanks), Konditori!
BAREBURGER
I'll spare you the "Wild Boar, and Elk, and Ostrich burgers… oh my!" pun that came to mind as I perused Bareburger's menu, but really, wild boar, elk, and ostrich are just three of the types of meats you can choose to stuff a brioche or tapioca rice bun with at 7th Avenue's fairly new burger joint. Bareburger places importance on local and sustainable farming practices, as is made apparent with their use of organic, all natural, grass-fed and free-range meats. Patrons may choose from an intriguing selection of 6oz. meat patties which includes, but is not limited to: organic bison, lamb, free-range Cajun chicken, veggie (dairy and nut free), and organic turkey, to implement in one of Bareburger's burger concoctions. For example, "The Roadhouse" burger's toppings include all-natural pepper jack cheese, hass avocado slices, blackened maple bacon, roasted red peppers, apple-smoked onions and a drizzling of tomatillo sauce; as noted on the menu, Bareburger suggests that you order this burger with bison meat, but you can just as well order "The Roadhouse" with free-range chicken. Who doesn't love options? Classic salads, like the Cranberry Blue Salad (baby spinach, cranberries, Danish blue cheese, almonds, and an apple cider vinaigrette) can also be topped with any of the previously mentioned burger meats, so all of you carb-concerned folks can breathe easy. Bareburger also makes scrumptious milkshakes and is stocked with a healthy array of craft beers (my advice to the carbohydrate weary: at least treat yourself to a beer)! I'll admit that I haven't been too adventurous in terms of my food intake at Bareburger, but I have to wonder how well an ostrich burger would pair with an organic peanut butter chocolate shake.
BEAUTY BAR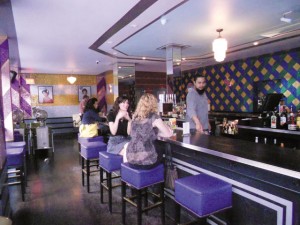 Consider yourselves lucky, Park Slope, because you'd never guess that the newly opened Beauty Bar on 5th avenue is owned by the same person as its seedy Bushwick predecessor. Beauty Bar Brooklyn 2.0 affords patrons the luxury of swilling highbrow cocktails while having their nails done in a kitschy glitter-ball of a space! And during happy hour (4p.m.-8p.m.) a manicure and a drink selection from Shane Tison's (of the Randolph at Broome Street) specialty cocktail menu will run you a reasonable $10. A happy hour indeed—I'm stoked that I can get my nails done somewhere in the Slope after hours and have drink while someone nips at my cuticles, too! Alas, those who keep their nails au naturale can prop themselves up at the massive, double-sided, bar, and order a moderately priced craft beer ($5-$7) or one of Tison's previously mentioned intriguing cocktails ($10, or $8 during happy hour). Say hello to the Elizabeth Taylor photograph for me on your way in!
THE PAINTED POT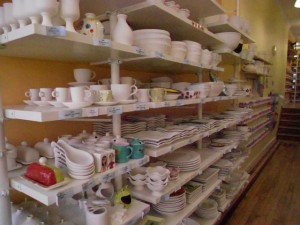 At The Painted Pot on 7th Avenue, you and your mini-Matisse can select any number of pre-made pottery objects to hand-paint and take home! In March, The Painted Pot opened their third location in Park Slope and since become a favorite creative hub for neighborhood kids. You can walk in and choose items like a menorah, a mug, a piece of cake, or a jewelry dish to paint; or mosaic a picture frame to put a picture of your cat in! What's special about The Painted Pot is that kids (ages 8-12 on Mondays and Thursdays, ages 5-8 on Wednesdays) can take clay handbuilding classes to learn how to make functional items like mugs, bowls, and wind chimes ($136 for four sessions). The next time I'm feeling crafty, I'm heading over to The Painted Pot to hand-paint one of the kitschy little gnome-guys I've seen grinning in the window!
BICYCLE HABITAT
Last spring, Park Slope was graced with the opening of a bicycle repair, service, and retail store, Bicycle Habitat. Frames and wheels flood the space as Trek, Specialized and other classic bike brands are displayed next to Brompton and the other "boutique" brands for sale at the store. Meanwhile, on-site specialists provide patrons with repair services that include basic flat tire fixing and bike tuneups, and they are also staffed with high-performance cycle experts to help you choose customized furnishings like aero bar installations and tubeless tires. I don't know what tubeless tires are, but I want them. Come to think of it, I'm sure the bike-babes at Bicycle Habitat can tell me what they are. They will work with any road, sport, or mountain bike, and provide customers with free estimates regarding the repairs they feel should be made to your bike. Needless to say, the folks at Bicycle Habitat are dedicated to fostering a bicycle-culture in the Park Slope community, and with summer on its way, what better time to fix up your old bike, or purchase a new one, and go for a ride in Prospect Park!
RIVET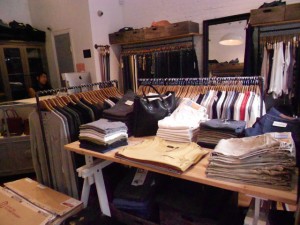 If you spend five minutes on 7th Avenue looking at what kind of pants the people who pass you by are wearing, you will quickly realize that jeans are the staple of every Park Sloper's wardrobe. As such, Rivet, a men and women's clothing boutique, opened for business on 7th Avenue last summer, and has since paraded an expansive inventory of specialty denim jeans. Normally I'd roll my eyes at the thought of having to shop for a new pair of jeans because, well, finding a pair of perfectly tailored jeans is always a stress-inducing quest, but the staff at Rivet aims to ameliorate any denim related anxiety with their knowledge of which brands, fabrics, and cuts, of their jeans are best suited for their individual customers' bodies. They carry high-end designer favorites like Joe's, Mavi, Paige, and Hudson, in multiple dyes, rises, and leg openings, so there's bound to be at least one pair that makes your tush look tighter. And although Rivet prides themselves on their collection of trendy jeans, they also sell basic men's and women's t-shirts and darling little dresses.
BLACK HORSE PUB
Even on a sleepy Sunday night, a decent crowd filled Black Horse Pub on 5th Avenue. Although this self-described "friendly neighborhood pub" has been open for the past two years, the introduction of the NFL Sunday Ticket and World Cup soccer viewings, catapulted this Park Slope spot into Sports Bar Heaven. Inside the unassuming, classic sandstone and deep wood decorated space, I chatted up the Pub's charismatic bartender, who attempted to give me the "real Black Horse Pub experience" (or as close to real as he could muster on a Sunday night). He started by serving me a carefully poured Boddingtons, an English beer and favorite of the Pub's Brit owner, followed by a shot of Jameson. A man seated next to me watched the Rangers game while devouring pub fare—"Meat On a Roll" ($6): a potato roll, creamery butter, and irish banger or bacon; and a cozy looking couple were seated at a table behind me, perusing Black Horse's healthy selection of craft beers from the chalkboard menu. Suffice to say, Black Horse Pub is a jack of all sports bar trades—I was told there is dancing and a DJ on Friday nights.
CULTURE
Last summer, Park Slope was treated with a rather alternative sweet-treat; a yogurt shop. Culture on 5th Avenue doles out dollops of fresh yogurt, made in-house, paired with in-season fruit toppings and baked good crumbles. The yogurt, which is crafted with skim, reduced fat, or organic whole milk and then strained with the shop's own probiotic cultures, is served at either room temperature or as a frozen yogurt dessert. A medium cup of true fro-yo swimming in fresh mango for only $4.75? and the strains used to create the yogurt can boost my immune system? Culture is certainly the sweetest and healthiest treat Park Slope has been given in a while.
DIZZY'S ON 5TH
The Slope's favorite "finer diner", Dizzy's, recently expanded to the corners of 5th Avenue and President Street! The signature tomato red awning of Dizzy's on 5th boasts the words "Cool Comfort" as their tagline, and that is just what hungry visitors will experience. Similar to the original, Dizzy's on 5th offers an expansive menu of clean and classic dishes; the breakfast bill of fare is served until 4p.m. and includes an array of breakfast sandwiches that feature eggs or sausage as their star ingredient ($3.25-$5.50), homemade granola ($6), and pistachio crusted banana stuffed french toast ($10). Meanwhile, Dizzy's lunch menu is full of diner favorites like the Tuna Mac Daddy ($11), Dad's Favorite Meatloaf ($15.50), The Hot Howie Reuben ($11) and a Salmon Burger ($12). Also, don't miss their daily dinner specials, a different "American Classic" every night for only $12. I'll be at Dizzy's on 5th next Saturday night ordering a Shepherd's Pot Pie, and devouring it in their al-fresco seating section (a prime spot to people watch).
HUNGRY GHOST
Atypical to the rest of Park Slope, coffee shops on Flatbush between 5th and 7th Avenues are few and far between… but now, Hungry Ghost, a new coffee bar and cafe, has opened on 6th Avenue! Sandwiched between two train stations (the 2 & 3 trains at Bergen Street and the B & Q trains at 7 Av), Hungry Ghost has become a local meeting spot on the border of Park Slope and Prospect Heights. However, I celebrate the new coffee spot for reasons other than its geographic desirability: they boastfully roast Stumptown beans and serve it as their house-brand, and their coffee menu features all the cafe classics like Vanilla Lattes, Red Eyes, and Machiatos ($2-$4.25). Meanwhile, Hungry Ghost's food menu transcends the trite pastry offerings of neighboring cafes; they serve cold sandwiches like Curried Chicken Salad with grapes, cashews, and shredded carrot on multigrain ($6.50), or hot paninis comprised of bacon, smoked gouda, roasted tomatoes and garlic mayo ($8.25)—and all of their meat ingredients hail from Paisano's! The owner of Hungry Ghost clearly places importance on selling artisanal, quality goods to his customers; this is made apparent by the vast array of baked goods on display inside the cafe. Molasses spice with crystallized ginger cookies? Vegan carrot zucchini with walnut and currant bars? Hungry Ghost is seriously a dream situation for both Park Slope and Prospect Heights cafe dwellers.
TALDE
Earlier this year, 7th Avenue was gifted with a "casual" yet "elevated" Asian-American restaurant, Talde, which is named after the eponymous chef and owner, Dave Talde. That's right, Park Slope has a hot new date-spot! Chef Talde (of Buddakan and "Top Chef" fame), and his partners David Massoni and John Bush (of Thistle Hill Tavern), have curated an impeccable menu that draws from Mr. Talde's Filipino heritage. The restaurant's cuisine incorporates local Brooklyn ingredients in unexpected ways; Talde's Pretzel Pork & Chive Dumplings with spicy mustard ($8) is both savory and zesty, the Crispy Oyster and Bacon Pad Thai ($16) is an appetizing marriage of Eastern and Western components, and the Korean Fried Chicken ($23) transcends street-cart status with spicy kimchee yogurt, grapes, and mint. For dessert, guests are encouraged to try the Shaved Ice Sundae with Cap'n Crunch and Coconut, a play on Chef Talde's favorite Filipino treat, halo-halo. If you're into sugary Saturday morning cereal for dessert, this one's for you. As for me? I achingly await my return to Talde for their Golden Beet and Silken Tofu Salad ($10) and their special side dish, #369 ($7), which is comprised of market vegetables and green sambal, a chili based Southeast Asian condiment.
If you have a new business opening in Park Slope, South Slope or Prospect Heights, let us know! office@psreader.com