I'm sitting behind the register at the lovely boutique where I work on 5th Ave with the door open.  Crunchy little leaf friends blow in from the sidewalk as mommy after mommy traipses into the store effortlessly swaddled in light-weight, oversized, sweaters.  They're drinking hot coffee and talking weekend apple-picking.  The kids are back in school, so, they've gotta run, they've gotta make it in time for pick-up.
It's fall in the Slope, and with every change in the season comes new bars, restaurants, and stores.  Now, you'll find at least four bars on every block, which means seasonal craft beers and hard ciders with every step.  And there's plenty of autumnal eats on the tables of the new bistros and cafes in the area.  Also thrown into the mix of new openings in the nabe? An urgent care walk-in center, so if you cut yourself carving pumpkins — you know where to go!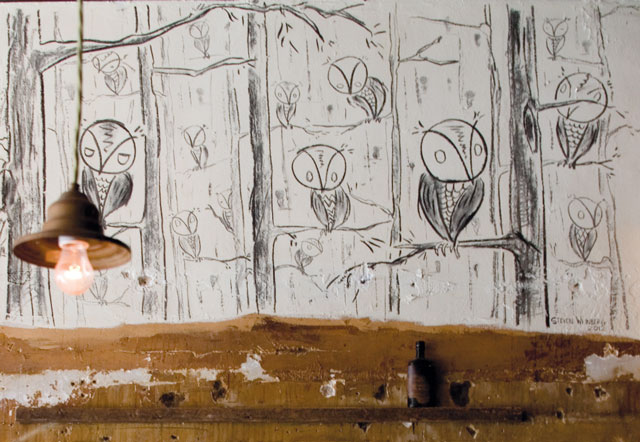 The Owl Farm
297 9th Street | 718.499.4988 | theowlfarmbar.com
A harsh reality: all of the Park Slope bars that I've made "memories" at are closing.  First it was O'Connor's (RIP) and I was forced to pour one out for Harry Boland's on 5th Ave and 9th St.  It's cool though, it's just the circle of life (Park Slope bar life, that is).  Anyways, the "idiots behind Bar Great Harry and Mission Dolores" opened up the The Owl Farm in the space where Harry's once stood.  If you appreciate beer (you do) then the chances are that you'll dig the new Owl Farm; they've got 28 beers on tap and two casks — combine that with their slammin' happy hour (well drinks/specified beers are 2/$5 until 7pm) and set up shop at one of their three pinball machines, and you'll be saying "Harry who?"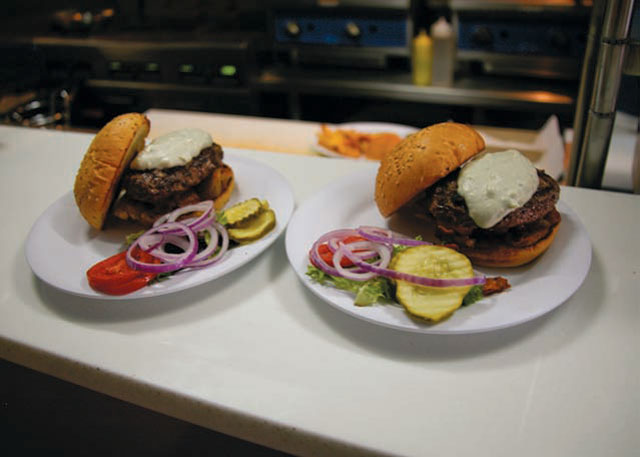 67 Burger
234 Flatbush Ave | 718.399.6767 | 67burger.com
If 67 Burger were a person, their heart would be made out of burger meat.  But seeing as this new Park Slope spot on Flatbush Ave and Bergen is a burger joint, not a hamburger-human, the owners still put their heart into serving the community a substantial variety of viciously delicious burgers.  You and yours can choose from a whopping 13 different styles of burgers at 67 Burger, and while I am more than partial to the Parisian ($8.25: hello white wine sautéed onions, mushrooms, and dijonaise) your order can really go a number of ways — try the Oaxaca ($10: avocado slices, homemade chipotle mayo, cajun spices, and cheddar cheese on a chicken patty) or the Italian ($8.50: fresh basil pesto and shaved parmesan).  Wherever your order takes you, you won't be disappointed.  Actually, you might be disappointed if you skimp on the fries; 67 Burger makes the most scrumptious seasoned curly fries I've ever had (and I've inhaled A LOT of curly fries in my time), so at $3.95 a serving, you really can't pass those spuds up.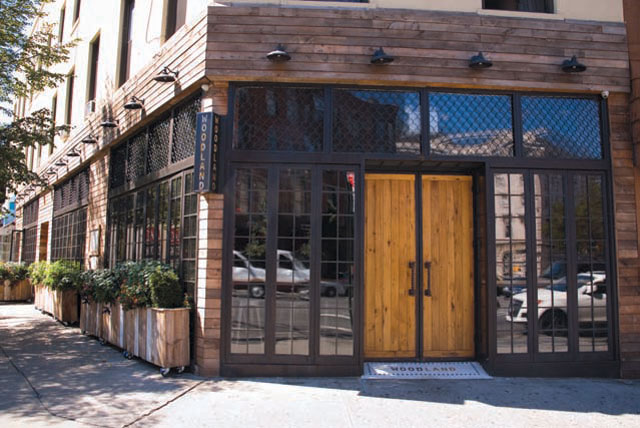 Woodland
242 Flatbush Ave | 718.398.7700 | woodlandnyc.com
I've always wanted to act like a Satyr in public.  You know, those half-man/half-goat creatures that prance within the canon of Ancient Greek mythology?  Satyrs were known to roam the woods guzzling wine, playing musical instruments — essentially just letting loose and relishing in life's pleasantries.  Woodland incorporates the ways of the satyr in their approach at a new American grill that opened in May on Flatbush Ave.  Before you're seated, take a moment to gawk at the interior of this bi-level Park Slope dream that features exposed brick walls, a 12-seat bar, a lounge downstairs (where the owners intend on hosting live music performances), and a spacious backyard.  The menu lists a number of meaty meals like the Lava Lake Lamb with cauliflower pencil leek gratin, Westfield goat cheese, and spearmint ($26), and the Riesling Braised Rabbit with yellow tomato bernaise and frites ($25).  Veg-heads can wine and dine at Woodlands too; take it from me, the Leaf Salad ($11) is nothing to scoff at when it incorporates intriguing ingredients like dandelion, mizuna, filberts, grilled Northfolk apricots, and rye bark in a pickled sunchoke vinaigrette. Beyond the woodsy fodder, however, is the opportunity you'll have to imbibe like Satyr, seeing as Woodland's drink menu is dripping with top wine picks, imported drafts, and even ciders!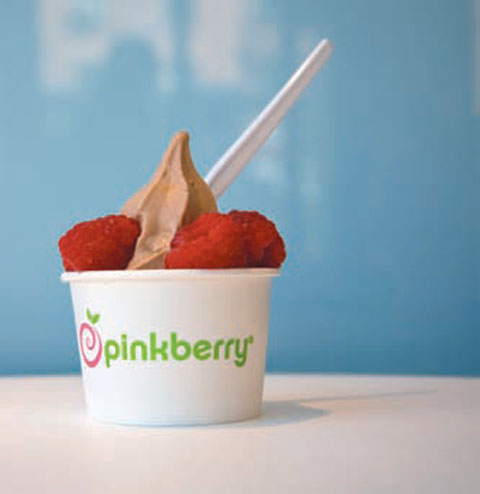 Pink Berry
161 7th Ave | 718.788-0615 | pinkberry.com
Breaking news on the Slope's frozen yogurt front! Last issue, I told you all about Culture, the new and niche fro-yo shop on 5th Avenue and 4th Street.  This time around, I'm giving you a sweet scoop (all puns intended) on not one, but TWO new frozen yogurt places in the 'hood!  This summer ushered in the presence of Pinkberry, the self-proclaimed "leading frozen yogurt brand for franchising" that has been publicly praised by Hollywood big-wigs, on 7th Ave and Garfield Place.  Rated #1 in their field by Zagat, those who are fond of fro-yo may select between Pinkberry's orginal flavor (best described as "classic" and "tangy") or a handful of "seasonal flavors" like chocolate hazelnut, pomegranate, peanut butter, mango or coconut.  The real draw here is their toppings bar, though: a peak behind the cold glass that harbors all of Pinkberry's toppings yields the magnificent sight of a rainbow of tiny treats like sliced kiwi, fruit loops, cheesecake crumbles, raspberries, and chocolate chips.  It's also worth note that I saw Brooklyn Borough President Marty Markowitz cut the ribbon (it was pink) for PInkberry's grand opening.
Yogurberry
77 5th Ave | 718.399.2898 | yogurberry.com
But wait, there's more!  Another frozen yogurt place opened up this summer on 5th Ave and St. Mark's Pl.  YogurBerry (also a chain) one-ups its neighboring competition with their self-serve frozen yogurt machines which, with just the pull of a lever, swirl out natural fruit sweetened product at 49 cents per ounce.  You can sample and then choose from their original, green tea, strawberry, peach, and raspberry flavors, and then sprinkle on the nutritionally satisfying toppings yourself (granola, almonds, fruit, cookies).  Essentially, this place successfully functions as a means in which the health-conscious can treat themselves to dessert; you can control your portions (the same goes for toppings) and can lick your spoon confidently knowing that YogurBerry's fro-yo is 100% natural, nonfat and low calorie.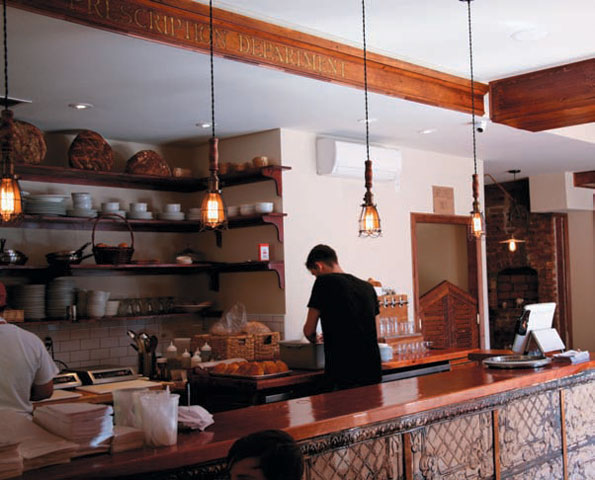 Cafe Dada
57 7th Ave | 718.622.2800
After a successful 18 years in the neighborhood, the caffeinated Park Slope institution, Ozzie's, has closed its doors.  But all is not lost: the owner is slated to open a new location, under a different name, a few blocks away from where Ozzie's once stood at 7th Ave and Lincoln.  Now, Cafe Dada has taken its place and they're calling for all the creative types in the area to embrace the atmosphere of old Dadaist cafes in early 1900s Budapest and 1920s Paris, where coffee shops were the breeding grounds for artists and writers to gather and create. Patrons are encouraged to grab a cup of coffee (they brew Blue Bottle and Brooklyn Roasting beans), socialize with other customers, and exist as a member of our community.  And when you're exhausted from exerting all your creative energy, Cafe Dada's French-Hungarian menu will impress and then fuel you with their unique offerings; when was the last time you had Potato Pogasca ($6.50, Hungarian style potato biscuit with ham, eggs, and asparagus) or a wood board of Padliszan Spread (10.50) at a cafe in Park Slope?  As an added bonus, their art-based philosophy is put into practice at poetry readings, which they host in the cafe from time to time.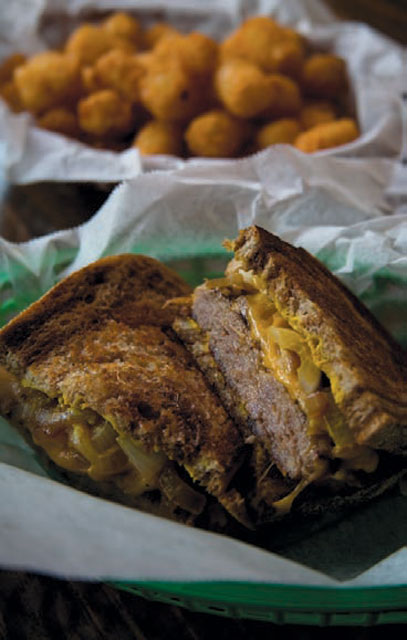 Pork Slope
247 5th Ave | 718.768.PORK | porkslopebrooklyn.com
Road houses across the states are typically situated on major highways and serve as a place for travelers to stop for a full meal and light entertainment.  In August, all of us weary travelers making our way down 5th Ave were greeted by Pork Slope, a new road house bar opened by Dale Talde and John Bush where you can grub on barbecue and sandwiches while simultaneously drinking beer and whiskey to your heart's delight (or until you run out of cash, because Pork Slope is cash only).  But don't judge a road house by its name — yes, Pork Slope serves pork dishes (they make a mean pulled pork sandwich at $8), but this is first and foremost a place to recharge (read: imbibe) after your grueling workday.  They offer a selection of 25 beers, three wines on tap, and place a passionate emphasis on American whiskey.  Pork Slope even has a coin-operated pool table on its premises, just don't let the taxidermied boar's heads and beer lamps lining the walls distract you from your shot!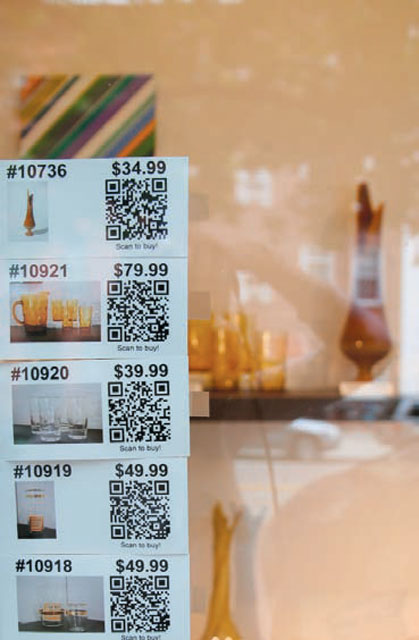 Robert Henry Vintage
683 6th Ave | 718.473.0744 | roberthenryvintage.com
In 2006, Robert Henry Vintage opened a storefront on 6th Ave and 19th street.  They sold furniture, objects, dishes, and glassware that they'd personally selected from an inventory of items from the 1940s to the 1980s.  In August, the duo behind Robert Henry Vintage converted their South Slope store into a storage unit, placing vintage tea kettles for sale in the space's window alongside none other than a prominently displayed set of…QR codes!  Their "new wave" method of sales takes "window shopping" literally: instead of interacting with a salesperson, customers walk up to the window with their smartphones to scan the QR code that represents the item they'd like to purchase.  Then, they are prompted to pay for their 1960s cocktail shaker using a credit card number, before arranging their pick up or delivery preferences. The concept behind Robert Henry Vintage's window-store is both novelty and innovative, and speaking from experience, when I walked by the "store" it felt as if that Waterford Crystal goblet in the window's QR code was staring back at me, screaming, "THE FUTURE IS NOW."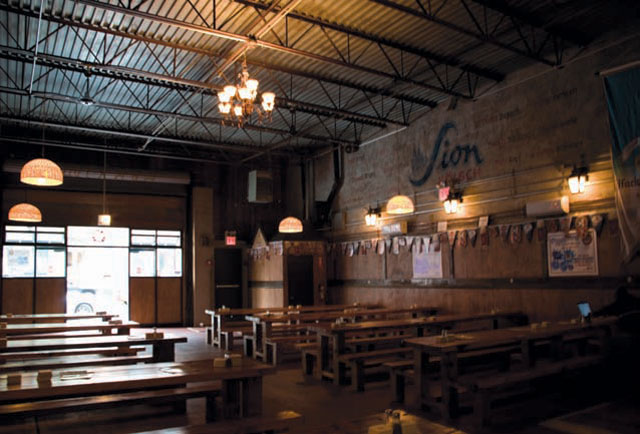 Die Koelner Bierhalle
84 St Marks Pl | 347.227.7238 | thekbh.com
When I first heard that a new German "bierhalle" opened up in August on St. Marks between 4th and 5th Aves, I gave a figurative "thumbs up" to Park Slope for ushering in yet another place for me to get drinks after work.  Die Koelner Bierhalle serves authentic German Kolschs, Hefeweizens, Lagers, Pilsens, and Ales at $11-17 a liter, warm bavarian pretzels ($6), the best 'wursts: bauenwursts, bratwursts, curry wursts, wiesswurts ($5-8), and all the other bierhalle favorites that make for a Deutschland dream.  Then, I heard that Die Koelner is hosting Oktoberfest from September 15-October 6, and you better believe that I used a whopping FIVE "thumbs up" emojis when I tweeted that I intend to participate in the most important event in the beer-guzzling world at Die Koelner.  My reason?  When you realize that most of the beers at Die Koelner are 300-500 years old, it makes pretending like you're at the real Oktoberfest in Munich so much easier.
Greenwood Park
555 7th Ave | 718.788.7850 | greenwoodparkbk.com
I recently read a yelp review that referred to the new beer garden/bar/restaurant that opened in June in "Greenwood Heights" as "Chuck-E-Cheese in South Slope" and stated that the space is overpopulated by children.  This is because parents are not only allowed to, but are encouraged to bring their children to the family-friendly Greenwood Park on 7th Ave and 19th.  Sure, the 13,000-square-foot space is wiggling with hoards of hyper kiddies skipping and singing from table to table, but come on!  The only people getting a Chuck-E-Cheese experience here are the parents of these children who, for once, are afforded the luxury of day drinking at a bar without spending big bucks on a babysitter.  Greenwood Park opens for business at noon and serves outdoor happy hour drinks ($3 drafts/$4 well drinks) until 7pm, which sounds like prime-time for mommies to gather and gossip over Fresh Basil Vodka Lemonades while their little ones keep themselves entertained nearby.  But if you're just not one to get tipsy in front of toddlers, head to the beer garden after 7pm, when the bar is 21+; they have 60 beers on tap, 24 of which are local, and a fairly priced bar menu with limited vegetarian/vegan options.
Premier Care
420 5th Ave | 718.965.2273 | premiercaredoc.com
Attempting to book an appointment with your primary care provider when you have the flu in New York can sometimes be a joke, a terribly unfunny joke.  Meanwhile, waiting for hours in the emergency room after you've sliced off your finger julienning sweet potatoes can feel like an actual nightmare. At last, we have Premier Care, a walk-in urgent care center that opened in July on 5th Ave at 7th, who will treat your little one's persistent cold and attend to your sprained ankle shortly after you walk-in, no appointment necessary.  They are open 7 days a week (9am-9pm during the week, 9am-5pm on the weekends), and accept all major insurances.  Premier Care's staff is friendly and boasts board certified emergency doctors, so you can utilize their full range of services with confidence.  And as a public service announcement directed at the select singles of the Slope: they provide full STD testing!  My only gripe is that Premier Care's facade is a top-to-bottom window that reveals the center's "waiting room", which means there's a real possibility that the next door neighbor you've been flirting with could walk by at any moment and see you sitting there, slumped over in your sick clothes, hair unkempt, with a runny nose.  HOT.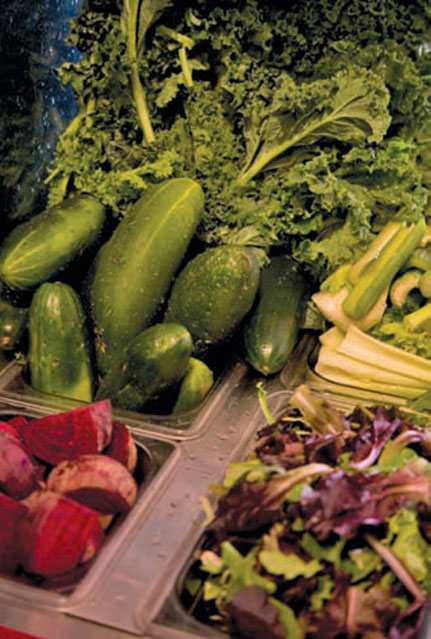 Brooklyn Crepe
169 5th Ave | 718.622.2849 | brooklyncrepe.com
File this under, quickie brunch options  — the popular Brooklyn Crepe and Juice on Flatbush has opened up a second Park Slope location on 5th Ave and Lincoln.  They've carried the same menu over to the new creperie/juice bar, which includes savory crepes like the Park Slope ($7.50, spinach, goat cheese, tomato), and the Bay Ridge ($9.70, smoked salmon, goat cheese, spinach, caramelized onion), or sweet crepes like the Gowanus ($7.90, seasonal fresh fruit, brie, honey).  They also allow patrons to custom order their crepes (salads and juices, too), and they can be made vegan and gluten-free, too!
If you have a new business opening in Park Slope, South Slope or Prospect Heights, let us know! office@psreader.com