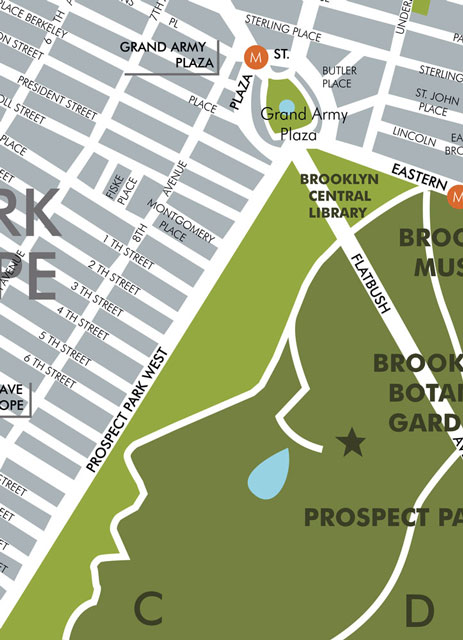 Dear Hypocrite,
I've never missed a column since I discovered you six years ago. New to Brooklyn, I ducked into a store (Diana Kane?) on Fifth to escape the rain. When the clouds cleared, I left with a new bathing suit and an issue of this magazine. Since that day, I've fallen in love, gotten married and had two kids (twins!). It's been one of the happiest times of my life. We've created a great life in Park Slope. Our kids have great friends, we have great friends, and we live in a sunny apartment close to the park.
Our landlords live in the duplex below us and we've always had a good relationship with them. About a month ago, they slipped a letter under our door telling us they have to increase our rent by $1500 a month in order to pay for increasing property taxes and maintenance costs. It was non-negotiable. We didn't think we were getting a deal to begin with, but when we started looking around to find comparable housing for our family we were shocked at the prices! We don't think we can afford to live here anymore. We might have to leave Park Slope and maybe Brooklyn. Our hearts are breaking. We can't imagine living anywhere else.
I'm not sure what I'm asking. Maybe I'm writing for sympathy. How do people do it? How do middle-class people survive here? My husband is thinking about quitting the job he loves to get another one that pays more so we can stay. I keep thinking we'll find a way to live here somehow. There has to be an affordable apartment somewhere near our school, near the park, right?
Signed, Heartbroken
…
Dear Heartbroken,
Move.
I'm sorry. I feel you. But move. We live in America and are not used to external forces deciding things for us. There's a lot of magical thinking we Yanks are guilty of, and your thought that you'll find the perfect, affordable place to relocate to in Park Slope: The Greatest Neighborhood in the World!™ falls into that category. I'm not saying it's impossible. There might be a huge two bedroom for $2500 on the park just waiting for you … if you could just get the final kinks out of your time machine.
But what do I know? Maybe there's a way. When I was telling Petal, my friend from Trinidad, that we were only going to have two kids because we couldn't afford another she said she didn't see the problem—all the kids can share one bedroom and my husband and I would take the other. That's what she did growing up and it was fine. Could I share our two-bedroom basement apartment with five, six, seven people and a dog? No. But for Petal, it'd be perfectly cozy. It's a personal preference issue. Could you downsize in order to keep your friends and your Coop shift? You could find a studio on the park for $2500. I think. Let me check The New York Times site. K. I'm back. It's not looking good. At 13th and PPW there's a one bedroom for $2700 but it doesn't seem to have any windows. Maybe there's a roof deck they forgot to mention? And if there is, do your kids like to camp?
The option of your husband getting a job that he could potentially hate is not an option. Stress kills. It kills healthy tissue, sex drives, and marriages. Having a job you love is insanely rare—winning-the-lottery rare. Protect this asset, its rewards are incalculable.
Let me introduce you to a new acronym. LAPS. Life After Park Slope. Park Slope: The Greatest Neighborhood in the World!™ is truly great. But it boomed before you even got here. Park Slope hasn't been affordable for a lot of people for a while now, and at the moment you received the letter from your landlords, it became unaffordable to you. So, what do you do? You can muddle through until things get cheaper/you get richer or, in my opinion, you get out with your shirt on.
The big question is: where do you go? Queens? Deeper into Brooklyn? Westchester, Jersey, Connecticut? Plan some weekend trips with the kids. Find hotels with a pool in commutable areas and try out restaurants, go for nature walks, visit the public library. Check out schools, parks, coffee shops—everything that's important to you now. And if you start to feel pulled in one direction, make sure you and your husband do the commute by train once or twice. If you both hate it, look closer. Yonkers, baby! If you're a Yankees fan, the convenience is unbeatable.
As far as outer boroughs vs. suburbs, you've got to ask yourself: Am I looking for peace and quiet or a vibrant cultural scene? I'll tell you, moving to the suburbs can be quite a shock to the system as far as integration goes. In the suburbs, colors tend to stick with their own, and for someone who's coming from Brooklyn, this can feel pretty awful. If you know that's not the way you want to live, that you value diversity above most things, then Queens is your new home. You and your kids will have friends and neighbors every hue under the sun. Plus, because there's such a racial mix, there's tasty food from every country at your back door. A huge complaint of those who move to the suburbs is that there's no good take-out. What'd you think? Your favorite Cambodian sandwich place was going to follow you to Larchmont? Sorry. At least you'll have a kick-ass birdfeeder.
I've written up a short letter to give your friends when you move. It's a contract of sorts. It's a little suburbs-centric, but with some creative thinking it can be altered to to suit any location (Queens/Ditmas/SI).
Dear Friend,
I'm moving out of Park Slope: The Greatest Neighborhood in the World!™ and I want us to stay friends. The change in our lifestyles and the physical distance between us will undoubtedly test what we experienced in PS as a natural, easy relationship. Below, I list some simple rules that I will follow in order to ease the transition so that we might find ourselves on solid friendship ground in no time.
What you can expect from me:
I will commiserate with you when your bike gets stolen, when you get a ticket for not alternate side parking and when your kids get lice.
I will make a valiant attempt (but ultimately fail) to come to your kid's school auction to increase the bid on the house in the Catskills for a week in February.
I will occasionally let you keep your car in my driveway when you go on trips so you don't have to pay for long-term at the airport. (Advance notice required.)
When in the city for cultural events (I have yet to see Wicked!), I will call you and ask you to meet me in Times Square for 6 p.m. drinks. You can say no every time without me thinking you don't like me anymore.
When we go to Chicago/Denver/Atlanta every year for Passover/Christmas/Thanksgiving, you can stay at our house if you promise to feed the dog and let him sleep in the bed with you.
Here's what I will not do.
I will not mention how we "got out just in time" or "escaped before it was too late."
I will not utter the phrase "Queens is the New Brooklyn."
I will not ask how you can stand living so close to the Barclays Center.
I will not ask how the middle school application process is going.
When visiting, I will not double park in the bike lane.
I will not complain about how shitty your Target is.
I will not ask you to stop at Sahadi's and pick up some capers and cumin before you come visit.
I will not encourage you to follow me on Instagram where I post way too many pics of my kids petting sheep at the farm where we do a CSA.
Heartbroken, I'm not pulling punches with you. Your days in Brooklyn might very well be numbered. Mine were. What's that? Oh. I moved two months ago. To the suburbs. And it's been pretty great.
But I miss my friends and seeing the people from my neighborhood. Terribly.
I considered leaving this column but what sort of hypocrite would I be if I stopped giving Park Slopers advice just because I now live in a quiet house near the woods where my biggest problem is the deer eating my hostas? That would make me one lousy hypocrite. And I'm not. Nothing's going to change. You write in your letters about life in Park Slope: The Greatest Neighborhood in the World!™ and I'll do my best to answer them.
And Heartbroken, like Mary Magdalene sang to Jesus before he was nailed to the cross: "Everything's Going to be Alright." Believe me. For once, I know. See you next time.  ◆