Winter is officially here…the brisk wind is plucking the last of the fall leaves from their branches in Prospect Park, and we're breaking out our long coats and stroller shades. Hey, look on the bright side—at least you can save a few bucks on iced coffee, right?
As you sip your hot cup of joe and stroll the avenues this winter, take stock of the familiar storefronts that define our community. But also get to know some of the new faces that are part of its evolution. From a Nutella-centric chocolate bar to a state of the art archery facility, there are plenty of places where you can go to maintain a reasonable body temperature this year, and with a refreshing array of products to offer. Here's a quick recap of some of the new places that have opened over the course of the past year, as well as a few soon-to-be neighbors who we're excited to welcome!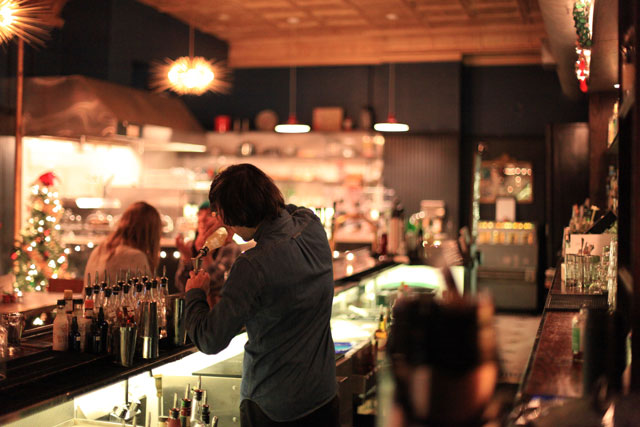 Spirited
638 Bergen St.
718.783.5700 | spiritedbrooklyn.com
Think Brooklyn has reached the heights of cocktail culture? With the addition of Spirited to the neighborhood we're one step closer to Hooch Heaven.  Kimberly Wetherell, entertainment industry veteran and master booze baker, has opened Spirited—a self-styled "dessert speakeasy," and a great spot at which to seek refuge from the cold this winter. The plush leather couches will invite you inside, where you can leisurely enjoy Spirited's eclectic cocktail selection ($12), alcohol-infused cookies ($3-4.50) and sweet specialties ($10-$12). With its Prohibition feel, you'll likely find yourself compelled to order a 1920s gimlet or an old-fashioned at this watering hole. Instead, stretch your taste buds and try the Tilden Toddy, which is spiked with Laird's Applejack and Sorel hibiscus, or a seasonal elixir like the Breukelen Zoo, made with Spring 44 honey vodka and Pernod absinthe. Don't forget to try something off of the impressive menu of booze-infused baked goods and sweet nibbles (craft-brewed churros or liquor lollypops, anyone?)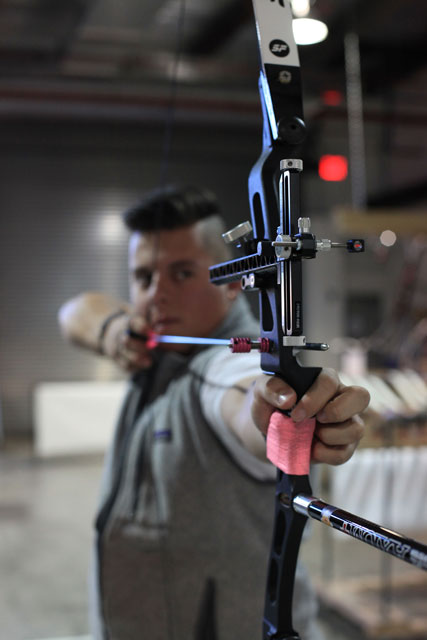 Gotham Archery
80 Baltic St.
718.858.5060 | got-archery.com
Calling all amateur hunters and Robin Hood fans: Brooklyn's own temple of target practice has opened and is already zipping with activity. Follow Baltic Street down to the mouth of the Gowanus Canal and you'll arrive at Gotham Archery, a full-service archery facility with bow and arrow instruction and practice for all skill levels. Gotham Archery is a great destination for birthday parties, or really for anyone else who has ever wanted to let rip a bow and arrow.  Archery can also be excellent for hand-eye coordination training and is a great way of flexing spatial intelligence. There are twenty lines available, and the bullseyes are beckoning, so step on up and test your marksmanship!
Bar Chuko
565 Vanderbilt Ave.
347.425.9570 | barchuko.com
Prospect Heights newcomer Bar Chuko is an izakaya—a traditional Japanese "after-work" drinks & tapas bar—offering yakitori skewers, Japanese whiskeys, and small-plate delicacies. Opened by the same Morimoto-expat owners as Chuko Ramen, Chuko's bar counterpart is delightfully reminiscent of the boisterous Japanese food and drink establishments in Flushing or Saint Mark's Place, yet has a more streamlined, modernist look. Take in the nonstop flow of humming culinary energy emanating from the open kitchen which works in tandem with the rhythms of nineties hip hop. Come with a group and order a bunch of meat, vegetable, or seafood skewers, like wagyu shortrib or pork jowl, eggplant, squash, chicken cartilage or prawn ($3-$6), followed by a heftier plate of chili/garlic wings ($8), jerk quail ($14), or soft and sticky rice cakes with kimchee, pork and mozzarella ($12).
Mrs. Dorsey's Kitchen
794 Washington Ave.
347.715.2507 | mrsdorseyskitchen.com
Quit fiddling with your weathered George Foreman grill and that plastic bag of shredded pepperjack in your fridge, and head right down to Mrs.Dorsey's Kitchen. Serving up both grilled cheese classics and those with a contemporary spin, Ms. Dorsey's Kitchen churns out many satisfying varieties. There's the Eggplant Parm sandwich ($8)—a classic combination of cherry tomatoes and smoky eggplant draped with molten mozzarella on bread from Brooklyn's Caputo Bakery. Or indulge in the Jam Goat sandwich, which marries goat cheese with strawberry preserve and fresh mint. Ms. Dorsey's Kitchen also carries a line of spicy onion jam and features bread pudding for dessert. It'll be sure satisfy all your nagging toasted-cheese cravings!
Two Boots
284 5th Ave.
718.499.0008 | twoboots.com
Like many in the community, I was nearly brought to tears when I learned that the longtime family favorite Two Boots closed its doors. No longer would the kids of Park Slope be able to watch the pizzaiolos in action or mold pizza dough with their hands while waiting for pies and shirley temples. However, with the closing of Terroir (a loss for the neighborhood in its own right), owner Phil Hartman resurrected Two Boots in the old Terroir Space on Fifthe Avenue. To this day, Two Boots is still the only neighborhood place where you can get a bowl of Jambalaya for an appetizer and a plate of Ravioli Veronese for dinner without having to hop from one restaurant to another. Be brave: try the crawfish pizza. It's a triumph of Creole and Napolitano flavors!
Choucroute
162 5th Ave. (coming soon)
The word on the street: Longtime neighborhood seafood joint Mary's Fish Camp is being replaced by Choucroute, a new "Vietnamese gastropub." To be run by Lien and Edward Lin (according to Eater.com), ex-employees of San Francisco's James Beard award-winning restaurant Slanted Door, Choucroute will bring fresh, vibrant flavors of modern California-Vietnamese cuisine, as well as masterfully blended craft cocktails, to Park Slope. Although we already have a couple of solid Vietnamese sandwich shops (Hanco's and Bahnmigos), Choucroute is sure to be a great new sit-down Vietnamese spot. We haven't seen their menu yet, but considering the Slanted Door's reputation, we're excited about the newcomer.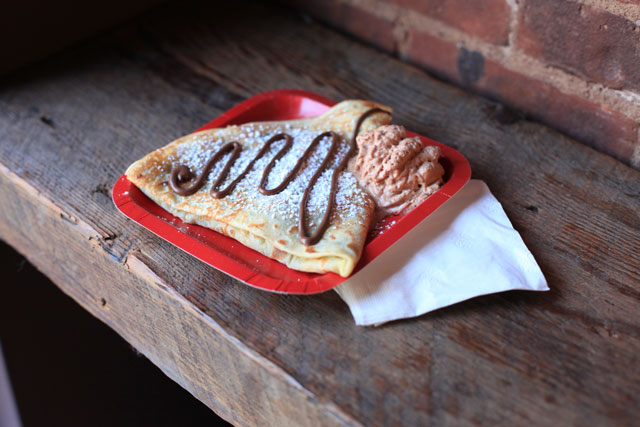 Nuteria
82 5th Ave.
347.370.4444 | nutelleriany.com
Kids and adults alike crave the wonder that is Nutella, so we're confident that Nuteria will quickly become a popular after-dinner spot. We're also confident that it will become a popular pre-dinner spot for those who simply can't help themselves. This chocolate and hazelnut wonderland offers crepes, toasts, and waffles lusciously slathered with Nutella. You couldn't possibly go wrong with Nutella hot chocolate or a straight shot of the spread either. Eataly has their own version of a Nutella bar in Manhattan, which has also been getting plenty of attention, but now that Nuteria is open for business locally, you won't have to hop on the subway. You can just stroll down to Fifth Avenue in your sweatpants and spread love the Brooklyn way—with a generous schmear of Nutella!
Buttermilk Bakeshop
339 7th Ave.
347.689.4376 | buttermilkbakeshop.com
Buttermilk Bakeshop is the quaintest, sweetest bakeshop around town. Its pink, sugary set-up may even persuade you to host a cupcake party for your five-year-old niece. Owner Kate Rosenhaus has a slew of impressive titles and awards: she was formerly the head pastry chef at David Burke Restaurant Group, she took home the gold on Food Network's "Sweet Genius," and her recipes have appeared in seemingly every food-centric publication on the stands. Buttermilk has a plethora of baked goods available, everything from freshly-baked breakfast croissants to Nutella Lovebits (cookies topped with a spoonful of Nutella and flecked with sea salt), and from home-made granola to seasonal pies. The open kitchen lets you peer into the inner-workings of the baking process where Rosehaus and co. are hard at work on the shop's set menu of sugary treats, as well as customized options. We'll bet you fifty-bucks that someone has asked for sriracha-frosting cupcakes.
Brooklyn Flea at PS32
180 7th Ave.
Saturday and Sunday 10 a.m.-5 p.m. | brooklynflea.com/markets/park-slope-p-s-321
Eric Demby's Brooklyn-branded empire has expanded to The Slope. Set on the backdrop of an elementary school playground, the PS 321 Flea seems to encapsulate some serious Park Slope stereotypes. Think: slides, heirloom nicknacks for your brownstone, and twee locavore eats. In addition to numerous vendors that sell vintage clothing, furniture, and photographs of random families from 1910, the flea hosts "Smorg Junior," which is "a sort of minor league for startup vendors to test and tweak their menus before graduating to a larger menu." Those Vietnamese hotdogs had to start somewhere, right?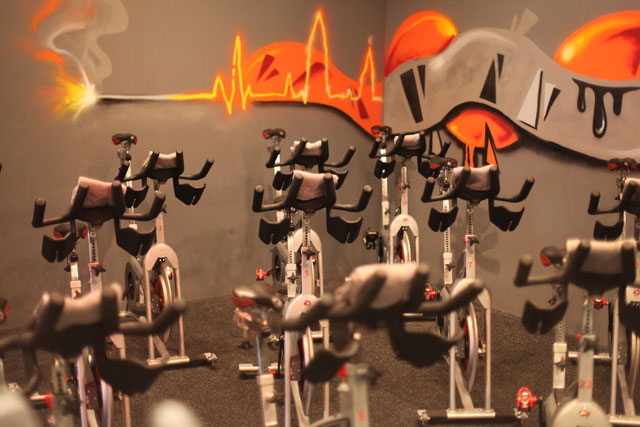 BYKlyn Cycle
258 Flatbush Ave.
347.987.4771| byklyn.com
After eating at all of the places above, you'll probably be looking for a way to burn off all those carbs and booze-infused desserts. It may be too chilly to run around Prospect Park; bike lanes are potentially icy; and taking the DIY approach with a YouTube workout series is not really a sustainable strategy. So, grab your gym bag and earbuds, and head down to the new BKLyn Cycle location on Flatbush, where you can spin your heart out in an energetic yet comfortable (and dog-friendly!) environment. Having recently moved to Park Slope from Bed-Stuy, fitness enthusiast Amy Glosser's new studio BKLlyn Cycle offers a local value alternative to the popular SoulCycle. It is also a much-needed replacement for the recently closed Cycle Bar on Fifth Avenue, which was a favorite workout locale for many a Slopian stationary-biker. So: whether you decide to use it for your regular workout routine or even as a training facility for the Montauk Century, BKLyn Cycle is a great place to let off some steam and get fit. ◆
Have you opened a new business or spotted a new face in the Park Slope, South Slope, or Prospect Heights area?  Send your tip to office@psreader.com