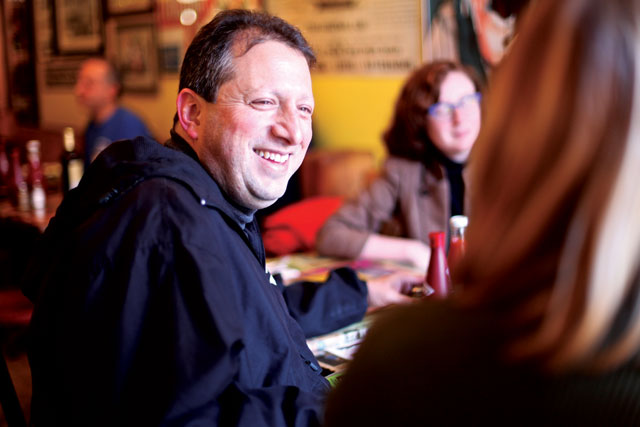 Progressive Leadership in District 39
The Park Slope Reader had the great opportunity to speak with New York City Council Member Brad Lander who represents the 39th District in Brooklyn that includes Park Slope, Columbia Waterfront, Cobble Hill, Carroll Gardens, Windsor Terrace, Kensington, Gowanus, and Borough Park. Prior to joining the City Council he was the Director of the Pratt Center for Community Development where he led campaigns to expand affordable housing and create NYC's "inclusionary zoning" program. Before that he spent ten years leading the Fifth Avenue Committee, an organization responsible for redeveloping neighborhood buildings facing abandonment in the early 1990s, creating and preserving affordable housing, and launching job training and economic development programs. He lives in Park Slope with his wife and two children.
We spoke just after elected officials and community leaders, including him, announced the release of the draft community-planning framework, "Bridging Gowanus," that details shared values and planning recommendations for the future of the Gowanus Canal area. Priorities of the plan include investments in sustainable infrastructure, strengthening manufacturing, maintaining the mix of uses, and preserving and creating affordable housing.
PS READER: Congratulations on the release of "Bridging Gowanus!"
CM Lander: Thank you, it's been a lot of work and a long time coming; we're excited for the next steps. I come from working on community planning and community organizing and love the idea of getting people as involved as they can and helping inform the decisions that affect the neighborhood. Obviously, I'm lucky to represent neighborhoods that people really care about, and want to spend time thinking about a planning force.
In 2009, together with Melissa Mark-Viverito, now Council Speaker, you founded the City Council's first ever Progressive Caucus, "with the goal of advancing policies to build a more just and equal New York City." Can you describe some of what the group has been able to accomplish in these years?
We have to think about last term and this term, because they're fairly different. Last term we were able to do some meaningful things. The biggest ones being passage of the Community Safety Act, which created the first ever NYPD Inspector General and adopting a prohibition on bias racial and other bias based profiling by the NYPD in a way that required us to override Mayor Bloomberg's veto and make progress in the wake of the growth of "Stop and Frisk."
Obviously those issues of policing are still with us, but the CSA was a really good step forward and came out of organizing with communities all over the city in very powerful, encouraging ways.
We passed a big expansion of paid sick days, and while I was very encouraged by the additional expansion in the beginning of this term, the bill that we passed last term took four years to pass, we also had to override mayoral veto, and at the time a speaker who didn't even want to bring it to the floor, that was also a great campaign, something we were proud to do.
The NYC Living Wage Law was passed. It expanded the requirement for a business, corporation, or developer who gets a subsidy to pay a living wage to their workers.
Those are our three big legislative wins.
This term the accomplishment of growing the ranks of Progressives in the Council in the 2013 election and then working together to help Melissa Mark-Viverito become the speaker, the first person of color, the first Latina, the first Puerto Rican to hold citywide office, the first person of color, first Latina to lead the council, was obviously a very exciting accomplishment.
In 2011, New York City history was made when you and three other Council members joined the Participatory Budgeting Program. The program allows residents to vote directly on the allocation of part of the discretionary capital dollars in their district. Since then almost all of the City Council Members have joined the process. Can you talk about some of the District 39 projects that have benefitted from Participatory Budgeting?
The nice thing about Participatory Budgeting is it brings out great enthusiasm and energy and activity and, in my opinion, the projects are better as a result. We've made a number of intersections substantially safer. The intersection at Ocean Parkway and Church Avenue was one of the highest vote-getting projects. We've made some big investments in public libraries. The Kensington Public Library now has a community room that was made into a much bigger space for performances, and rehearsals, technology, and a dance floor. We have new technology both at the Carroll Gardens and the Windsor Terrace branches that people are using very actively.
There's the new community composting system at Salt Lot on the Gowanus Canal, the Gowanus Conservancy, and some great changes in Prospect Park such as fixing flooding along some of the pedestrian paths.
The highest vote-getting projects in the first two years were to fix some horrible school bathrooms. The first year people looked at the terrible bathrooms in PS 124 and said, "We have to do something about that." But because they were working and weren't dysfunctional, the SCA wasn't responsible. Participatory Budgeting is what got them fixed. The next year something similar at PS 58 happened and people said, "The School Construction Authority should really do more to fix bathrooms." And the Council, last year, allocated an extra $50 million to fix school bathrooms as a normal course of business. So that's a nice example of Participatory Budgeting helping to make a broader change in the budget.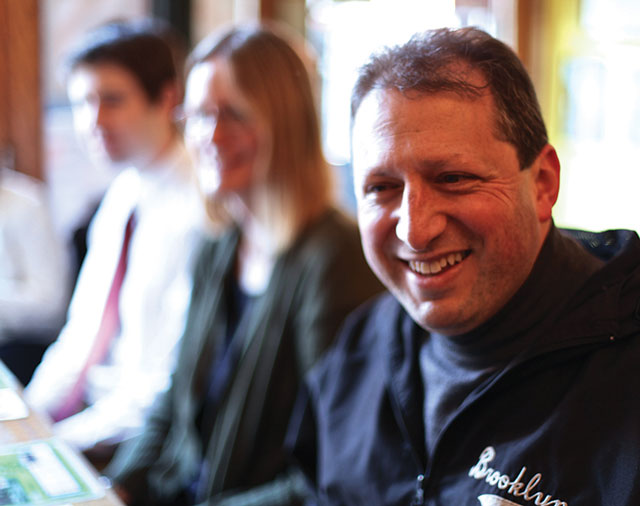 You've long been an advocate for affordable housing, the New York Times referred to you as an "expert." What do you see as some of the challenges facing District 39th in this arena? Please boast of your accomplishments here as well.
Affordable Housing, as everybody knows, is one of the hardest problems to solve in city as a whole and is very hard to solve in and around Park Slope. It's a great neighborhood, and people want to live there. We work on it a few ways.
This year, one of the biggest things is that the rent regulations, the rent laws, are up for renewal in Albany in the spring. And those are the laws that cover the rent stabilized and rent controlled apartments, making sure that people can remain in their homes. Because they will have a modest increase from year to year, it is essential that we maintain that strength.
The Mayor's new housing plan is also an exciting opportunity to create and preserve existing affordable units. In the neighborhood, back when I was with the Fifth Avenue Committee we were able to build and preserve several hundred units of affordable housing for families in the neighborhood. And those units, together with the public housing, the Wyckoff Houses and rent stabilized housing are what there is for low and moderate income people in and around Park Slope. I think the vast majority of people in Park Slope and, Brooklyn in general want diverse communities, but it's so hard to get without subsidy and regulations.
You were the main sponsor for a recently introduced package of legislation addressing segregation in the schools. Can you talk a little bit about what this legislation hopes to accomplish?
District 15 is a really good example here. The student body in District 15, which includes not only Park Slope but Red Hook, Carroll Gardens, Sunset Park, and Kensington, is a pretty good match to the student population of New York City. While the district as a whole is diverse, just like the city, the individual schools—especially the elementary schools—are highly segregated for the most part. The legislation would, within the relatively limited powers of the Council, serve to shine a spotlight on the goals of less segregated, more diverse schools and give the DOE some tools for moving forward. There would be an annual report—which doesn't exist now—that would track and measure progress toward school diversity.
The new PS 133 has a pro-diversity admissions process. It's not a zoned school; it takes kids from District 15 and District 13 so it already has a broader poll of students. And then it reserves the first third of the seats for kids who are either English language learners or eligible for free and reduced lunch. So even though it's in the heart of Park Slope, it's maintaining its diversity and we believe that will continue over time.
Your public safety record is equally impressive having been a lead sponsor in the Community Safety Act, which required the appointment of an Inspector General to oversee the NYPD. Can you talk about some of the positive changes that have come about as a result of this appointment?
Let me start by saying that I'm honored to work with our local precincts, and the commanding officers, and cops who are on the beat. It is obviously important that every family in every neighborhood have a productive relationship with the police and have safe communities. We have a relatively new inspector, Captain Frank Di Giacomo, who is great. The prior commanding officer, Inspector Mike Ameri, really helped lead the way for the whole city on Vision Zero policing and policing for street safety. Recently, the 76th Precinct took some guns off the street. Traffic violence and traffic crashes remain a priority. There is a lot to do and I'm honored to work with the NYPD to do it.
My work with fellow Council Member Jumaane Williams and Communities United for Police Reform to advance a package of legislation to ensure community safety and that people's civil rights are being protected led to the four-bill package of legislation known as the Community Safety Act.
You were an active proponent for Living Wage NYC that was set to ensure salaries of at least $10 an hour get paid to employees of projects that receive more than $1 million in city subsidies. It caused some contention with the last administration. Mayor de Blasio recently signed an Executive Order to Increase Living Wage and extended it to thousands more workers. How do you see this victory affecting the residents of District 39?
The Living Wage Bill specifically focuses on economic development projects where there's a public subsidy or public contract, so it's really about making sure that we spend public money in a way that people don't get paid poverty wages. The Brooklyn Navy Yard is a good example of a project that gets economic development subsidies. Over time it will make a difference in creating more jobs and making sure that when we do use public dollars that we're getting the best bang for the buck. And that will matter in areas around the Gowanus Canal where we're hoping to grow more businesses and provide good jobs. We'll make sure that we not only get more jobs, but that we get quality jobs.
Promoting Vibrant and Livable Neighborhoods has long been a priority of yours. What is your vision of the future for District 39?
We're lucky to live in a neighborhood that is my opinion is one of the best on the planet, in terms of being vibrant and livable and walk-able. It's not just me, the American Planning Association named Park Slope one of the top ten best neighborhoods to live in. We've got Prospect Park, such a diversity of small businesses, and a community that really cares.
One of things we've been working on for the last year is "Bridging Gowanus." In the wake of the superfund designation—the chance to really get a clean canal, what we saw after Sandy, and given how much redevelopment pressure there is—we have a really important opportunity to plan and make sure that the community's goals for the area around the Gowanus Canal guide the future there.
Editor's note: This past October CM Lander weighed in on the relocation of Brooklyn Parole Headquarters from Downtown Brooklyn to Second Avenue in Gowanus by saying that "the lack of transparency and community engagement in the planning for a facility of this scale has been deeply distressing. I have long been a supporter of ex-offender reentry and community-based justice programs (I started one when I ran the Fifth Avenue Committee), and I know the importance of meeting the needs of formerly incarcerated individuals returning to the community. However, the planning process for this facility has fallen far short of what any community deserves from their government.  Despite multiple requests and several promises, not one single written word about the facility has been provided by DOCCS to the community."
It's been speculated that you might be the next Marty Markowitz, what can your constituents expect from you in the future?
For now, I feel very happy with what I'm able to do in the Council. My current term runs three more years and I have the opportunity to run for one additional term, which at this point I plan to do. So I've got a while more on the Council and there's a lot more to do.
After attending graduate school in the 1990s at Brooklyn's Pratt Institute, you have made Brooklyn your home. What is it about Brooklyn, and specifically District 39, that energizes and motivates you?
What we've got in Brooklyn is something quite extraordinary. The diversity, the public and community spirit of a neighborhood where people really believe in solving problems together, in taking care of our public goods together are all things I love about Brooklyn.
When you are able to squeeze in some free time, what would a typical Sunday look like for the Lander family in Park Slope?
They're always busy! I'm lucky to have two wonderful kids and a wonderful spouse to whom I've been married coming up on twenty years. My son's a very active athlete in the 78th Precinct and other youth sports leagues, so there's almost always a baseball, or basketball, football, or flag football game to go to.
My daughter working together with a group of friends, my wife Meg, and some other moms organized this dynamite event called "Girls Read for Girls." It's a read-a-thon inspired by Malala Yousafzai in which they get mostly girls, some boys, together at the library to read for a couple of hours and raise money for girls' education around the world in places where it is challenged or in short supply. They had over 100 kids at the central branch of Brooklyn Public Library and together they raised, I think now it's over $12,000.
My diner is definitely Daisy's Diner, which is right over on Fifth Avenue between Ninth and Tenth Streets, right downstairs from my district office. That's usually where we can be found for our morning coffee or breakfast. We went for a staff lunch last week to Table 87, which is a relatively new coal oven pizza place at Third Avenue and Tenth Street. So if people haven't checked that one out yet I would urge them to, he's even starting to manufacture frozen New York slices! Obviously there are so many, the list of favorite local places is long one!