Brooklyn is the place to be this summer when it comes to free outdoor events. The cultural hub is offering chances to take in free outdoor movies, world-class concerts and unforgettable outdoor theatre performances. Delight in the best of the arts while relaxing and enjoying the sun, and even head to the Upper West Side in July for a rare ice cream festival!

A Summer Movie Under the Stars
https://nitehawkcinema.com/williamsburg/movies/a-summer-movie-under-the-stars/
There will be four outdoor screenings of family-friendly films starting on July 19th in Prospect Park. The movies will focus on themes linked to the park's culture – including baseball and the Prospect Park Zoo. Each screening will take place following a live music performance at 7:00pm. The films will be shown at sundown in the green space of Long Meadow, south of Grand Army Plaza. The series also marks the 150th anniversary celebrations of the Prospect Park Alliance, an organization which employs professional staff to ensure daily smooth operations of Brooklyn's largest park.
July 19th – 7:00pm – Music: DJ Jane Elizabeth                                   Film: The NeverEnding Story
July 26th – 7:00pm – Music: Doo Wop band                                        Film: The Sandlot
August 2nd – 7:00pm – Music: Morricone Youth                                 Film: Moonrise Kingdom
August 9th – 7:00pm – Music: Brooklyn United Marching Band         Film: Zootopia
BRIC – Celebrate Brooklyn! Festival
https://www.bricartsmedia.org/events-performances/bric-celebrate-brooklyn-festival
BRIC, a non-profit arts and media organization, is a leader in free cultural programming in Brooklyn. Founded in 1979, it has been bringing the community together and presenting work that reaches hundreds of thousands each year. BRIC is perhaps best known for its annual Celebrate Brooklyn summer concert series taking place at the Prospect Park Bandshell.
Now in its 39th year, the BRIC Celebrate Brooklyn Performing Arts Festival is one of the only free summer outdoor concert series in New York City. It will feature a wide array of musical artists and styles from around the world throughout the summer – as familiar as the hottest indie bands, and as unique as the greatest jazz artists. The series will also include several benefit concerts, including a performance by Grammy-winner Esperanza Spalding on July 28th with Andrew Bird.
Prospect Park is a historical location designed in 1865 by Frederick Law Olmsted and Calvert Vaux. The vision for the space was for it to become the center of Brooklyn's cultural scene. The Bandshell was added in 1939 and renovated in 1983 and is a popular site for outdoor concerts and has been the location of many live shows over the years. Through artistry and a sense of a shared identity the BRIC festival continues to showcase music from the many cultures that make Brooklyn a unique place to live.
For performance info: https://www.bricartsmedia.org/events-performances/bric-celebrate-brooklyn-festival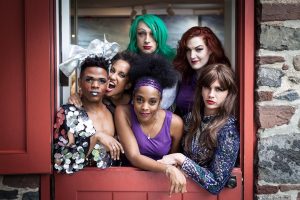 Piper Theatre Main Stage Productions:
http://pipertheatre.org/current-productions/
This year's Main Stage productions from Piper Theatre include the musicals Priscilla, Queen of the Desert, and The Brontës. Bring a blanket or low lawn chair and a snack to enjoy, and visit the concession stand for beverages. (No pets allowed).
Priscilla, Queen of the Desert
8:00 pm: July 6th, 7th, 8th; July 13th, 14th, 15th.  July 20th, 21st, 22nd
Based on the 1994 motion picture, Priscilla, Queen of the Desert uses well known pop favorites as its score – including hits like Downtown, I Say a Little Prayer for You, and I Will Survive. The story of two drag queens and transgendered women addresses homophobia as they ride a lavender-colored bus named Priscilla across the Australian desert. This musical has been performed all over the world and won a 2011 Tony Award for Best Costume Design.
The Brontës – A Musical
8:00 pm: July 9th, 16th, and 23rd
Theatre in Asylum's workshop production of The Brontës, a musical will be presented by a cast of seven. With music by Lucas Tahiruzzaman Syed and lyrics by Sarah Ziegler, the story is inspired by the line, "Literature cannot be the business of a woman's life," which served to reject Charlotte Brontë's attempts to be published. The musical portrays how she then went on to write Jane Eyre and incite her sisters' writing endeavours and careers.
Performances will take place at the Old Stone House in Brooklyn at 336 3rd street, between 4th and 5th Avenue.
Summer Ice Cream Blizzard
https://www.eventbrite.com/e/nyc-summer-ice-cream-blizzard-tickets-32053812817?aff=es2
July 16th 10am-1:00pm
The perfect way to celebrate National Ice Cream Day, the 2nd annual NYC Summer Ice Cream Blizzard brings out the best artisanal ice cream makers and creative flavors. Taking place at the Grand Bazar NYC market on the Upper West Side, the event will be free, with the chance to make a donation to public schools. The market is open every Sunday year-round and also features works from local artists, designers, antique dealers with artisanal food purveyors.