Chef Rafael Hasid opened Miriam in 2005, naming the contemporary Israeli restaurant after his dear mother. A native of Tel Aviv, his vision was to share his perspectives on what his country's food really represents: various cultures coming together to create one strong community. Or in this case, taste.
When you step into the quaint corner restaurant, the first thing you notice is the colorful, ornate lanterns hanging from the ceiling and the hand painted plates on the walls. The bar is a sort of focal point and displays the extensive wine collection offered to patrons. With mellow music wafting in the dimly lit space, relaxing comes natural.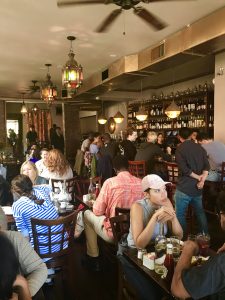 Fresh ingredients (some of which are imported directly from Israel) make these traditional plates outstanding. To start off the experience, the house made flatbreads are a staple and have a nice combination of crunchy burnt-bubbles and gooey centers. The Za'atar spiced flatbread is especially good. Several of the "meze" items, or appetizers, are excellent as well. Puff pastries filled with Swiss chard, leeks and feta make up the Burekas and falafels with green tahini are prepared with skill. But, the best meze is the Kadaif wrapped shrimp with spicy aioli. It is coated with extremely thin crispy noodles, adding delectable crunch to the juicy jumbo shrimp. You may recognize the distinct layering of these noodles from the Turkish dessert, Baklava.
The main courses represent the many cultures that have influenced Israeli cuisine. This is particularly evident in the Merguez selection of couscous, which features North African spicy lamb. Other couscous options include grilled chicken thighs, shrimp, all-vegetables and Dorado fish. They are complemented by zucchini, carrots, potatoes, celery, raisins and butternut squash, slow-cooked in a sweet brown sauce. In addition to fresh fish dishes and shawarma options, a must-try is the chicken schnitzel. With two huge cutlets served alongside creamy mashed potatoes, Israeli salad and beets, it is a definite crowd favorite. The breaded cutlet has just the right amount of crunchy sweetness and is complemented by spicy mustard served on the side.
Looking at the crowd, it seems that Miriam has become a relaxing local spot for people of all cultures. The friendly waiters are happy to explain the delicacies that you may not be familiar with. Chef Rafael Hasid, or "Rafi" as the regulars know him, has successfully created a restaurant that features great food that illuminates his views on contemporary Israeli cuisine. It seems that for him, community is everything, as he recently offered a special Rosh Hashanah menu that certainly brought comfort to many locals.
Whether you're looking for an adventurous change to your ordinary dining experience or a place to unwind with mezes and wine, Miriam is a must-visit gem in Park Slope.