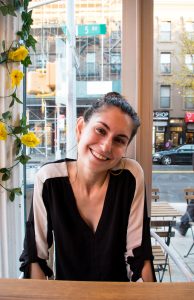 It takes a lot of courage to completely change career paths. When WILD's manager Marina Charny found herself frustrated with the PR business, she decided to take a 180 and dive head-first into the restaurant world, helping the small chain open a third location in Park Slope just last year. We chatted with Charny about the flip, how she found WILD, and what the South Brooklyn native loves about the neighborhood.
How did the company get started?
It's all kind of random. So Miki [Agrawal] founded Wild 10 years ago. It was called Slice at the time. It happened all kind of organically. There was really no gluten-free options at the time and she was having a lot of stomach issues and health issues and she was finding that a lot of the food she was eating was making her sick, and pizza was her favorite food. So basically she's really creative and an entrepreneur, and she was thinking, "I just wish there was an option for healthier pizza." I don't think she had celiac disease, but I think there was sort of a tolerance or something along those lines so she basically set out to create this great pizza. When she founded the restaurant it was called Slice and she opened it on the Upper East Side 10 years ago and it was just a regular over-the-counter pizza place. It was really cool for being one of the first 100% gluten-free places but there were other issues. She had never really run a restaurant before. So she ended up finding this great partner whose name is Walid Hammami, who's still involved with the business, and they sort of rebranded, which took a couple of months. They changed some of the things that were going into the pizza dough. They actually simplified it. They made it what it is now, which is thin crust. There's just a few ingredients that go into it. So yeah, long story short they basically rebranded, they changed the concept, they made it kind of the farm-to-table, sustainable organic simple from the earth ingredient type of place, which is what we do now. Changed the name. It's not an over-the-counter pizza place anymore. It's a full service restaurant. And then they moved downtown, so now Wild is open in the West Village. Together they opened another location in Williamsburg, and then shortly after that they came up with the idea to create a franchise.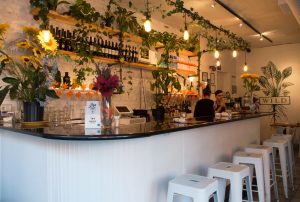 Where did you come along in the journey?
I have no restaurant background, so a lot of people have asked me how I ended up getting involved. I was working with this journalist named Gail. She met Miki and I met Miki through her. It was like a little sort of connection and I was just really interested. She's not even really directly involved with running the restaurant anymore. She founded this other company called Thinks, which is this period underwear company. So yeah, she's kind of like this serial entrepreneur. She just starts companies and then moves onto something different. I was just really fascinated with her and was interested in all the different projects she was working on and when I went to check out the restaurant in the West Village I thought it was so cute and I'm from Brooklyn. All I had was this idea that the restaurant would be a nice fit in Park Slope. I just thought it was a good demographic for gluten-free, for healthy, for vegan. I saw that they had just started this franchise and that was nice because it was really small, not like a McDonalds type of situation where there's a billion locations. I was like it might be nice to get to work closely together and just sort of pursue it, and I reached out to them and ended up getting in touch with her directly and they liked the idea of opening up a third location in New York because both she and her partner are based in New York. That was it. It was born after that. I immediately started looking for places and found this spot. It used to be a Spanish restaurant so it looks completely different. Fast forward 8 months and here we are.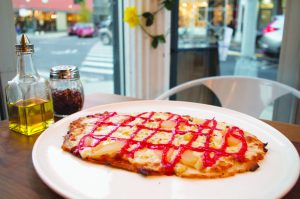 What was it like building up a restaurant without any experience?
I did have it easier than it could've been because I had some assistance. Like I said, Miki is not directly involved anymore, her partner Walid…he still runs the other locations so I would say I had some assistance from him and we have the same menu across all three locations so the hardest part, which is designing and building a menu, that's already been done. It was definitely difficult. I was sort of going off of my instinct and best thought process as far as designing the place, and… I don't know. I just wanted it to be, because it has these harmonica doors, I just thought it'd be nice to have a sort of open vibe, like inviting and airy. I thought with the whole farm to table concept it might be nice to have plants and stuff like that.
Is it similar to the aesthetic of the other places?
No, all the other locations look completely different, which is funny. People comment on that. All three locations look totally different, and we're the only location that has a full liquor license. The other ones only serve beer and wine, and then we also have the outdoor seating. So yeah, I was just navigating through the open waters as I went. I just thought I've been working in PR and just getting frustrated with that job and I wanted to do something different. I never owned a business before but I was thinking, now's the time to try. You know, you get to a certain point in your life where you're in your 40s and you have kids and you're married and you have a house and all these responsibilities. You can't just quit your job and chase a dream. That's literally what I did. I quit the job I was working in and was like, let me just throw myself into this full speed ahead.
Do you live in Park Slope?
No, I live in the City on the Upper East Side. I grew up in Brooklyn. I lived in South Brooklyn my whole life. When I was finally ready to move out of my parents' home I was like, I can't wait to move to the city! And I lived in the city for two years before this whole restaurant thing happened and now I commute back, which is kind of silly. It's nice to kind of distance yourself because I'm here a lot. So when I go home, I feel like I'm home. I kind of cut myself off a little bit. I think if I lived nearby I would never leave.
Do your parents come here?
They do! They always come. It's funny because everybody knows they're my parents but they always pay for their meals and they like to be waited on and they just want to be treated like regular customers. It's really cute.
What's your favorite thing on the menu?
Probably the pizzas. I mean, definitely the pizzas. They're really good. I love pizza too. I've always tried to watch what I eat myself. I don't have celiac or anything like that. I just generally try to eat healthy. I eat these pizzas almost every day and it's nice to constantly be able to eat pizza and not feel guilty about it or feel like you're overwhelming yourself with fat and greases and stuff like that.
Which particular pizza?
The local mozzarella is our basic margarita pizza is really good. The caprino pizza, which is our vegetarian option, is really good, and the pear gorgonzola, which is what we call our dessert pizza, those are my favorites. The wild truffle mushroom penne is really good. That's probably my favorite pasta. The salmon is really good. I'm biased but the pizzas are definitely there.
What do you like about Park Slope as a restaurant owner?
A lot of things. We get a lot of regular customers. It's really nice to see the same people over and over, especially the customers that have been coming here since day one. We get customers that are like, oh we were here when you first opened and now everything looks different! We were here when your bar was empty. We were here when you had a different chef and things tasted different. It's nice that they've been here on this journey with us.
We've had customers that were like, "Oh it was a little rocky in the beginning but now everything is great and we waited it out with you and kept coming back." We had a customer whose wife was pregnant and now she's had the baby and it's like you feel like you know them because they come in so often. There's also a lot of events that happen on 5th avenue that all the businesses are invited to participate in. It's very nice. I know that at the Wild in the city, there's a lot of tourists so it's busy because it's Manhattan. It's not like that here. It's more community spirit, which is nice. It's a beautiful neighborhood, and there's so many different people.
It seems like the food scene changes here drastically? Some of which opened around the same time?
Some of those restaurants, within the time we've been here, which is about a year and a half coming up. Some of those restaurants have already closed, so I think two of them are already closed. It's very competitive and it's kind of nice that we're slowly but surely building up our customer base and it's nice. Challenging but rewarding.