One of my favorite memories growing up was my family's annual camping trip to the Poconos in August. The highlight of the trip was hiking with my older sister through the woods and down to the lakeside where the blueberry bushes were laden with plump berries at their peak. We'd spend the afternoons getting lost in the thick going from one bush to another, picking until our gallon jugs were full and we were thoroughly exhausted from the heat and mosquito bites.
Gorging ourselves on handfuls of berries on the hike back was the immediate reward, but the ultimate payoff was waking up the next morning to our mother's blueberry pancakes sizzling in a cast-iron pan on the campfire.
This summer nostalgia is recaptured in this recipe adapted from local personal chef, Olivia Williamson as a rustic buttermilk cake, brightened with lemon and complemented by grilled peaches—bringing those summer campfire flavors full circle.
To find the best summer fruit, head straight to any one of the local greenmarkets where bushels of peaches and cartons of blueberries are in abundance come August. Blueberries will not ripen after harvest, so be sure to look for cartons of dark, firm berries with no red tinges. Avoid ones with soft, watery, or moldy fruit. Ripe peaches should yield slightly to a gentle squeeze and have a delicate, flowery smell and skin without green patches or wrinkles. Peaches will continue to ripen after they are picked, so if you plan on making the recipe the same day, opt for the juiciest, as they will have the most sugar and caramelize the best.
Blueberry & Lemon Buttermilk Cake with Caramelized Peaches and Whipped Cream Recipe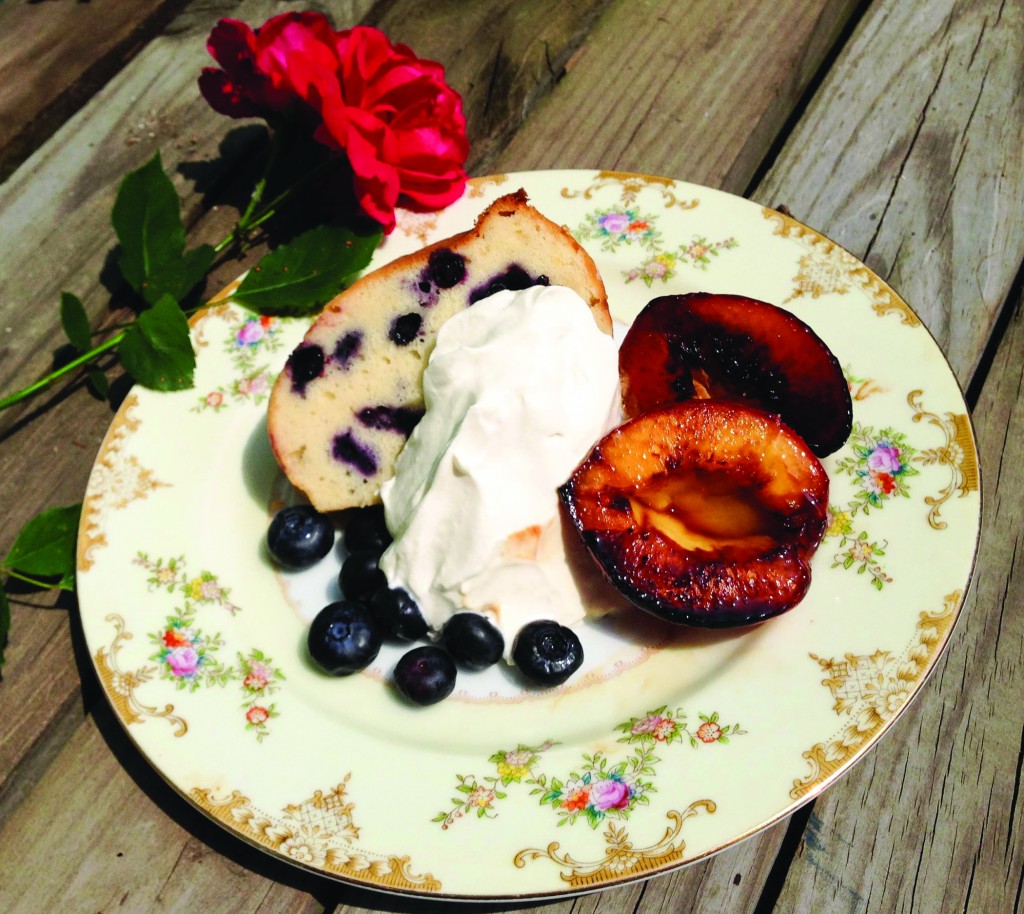 Ingredients:
1 1/2 cup sugar plus 1/4 cup for peaches
1 cup room temperature unsalted butter
4 large eggs
3 cups flour
1/2 teaspoon baking soda
1/2 teaspoon salt
1 1/2 cups buttermilk
Zest of one lemon
Juice of two lemons
One pint of blueberries, cleaned
4 peaches
Whipped cream (optional)
For the Cake:
Preheat oven to 350°F.
Liberally grease a bundt pan with butter.
Beat sugar and butter in a standing mixer until light and creamy.
Add eggs one at a time to butter-sugar mixture, allowing each egg to incorporate completely before adding the next.
In a medium bowl, sift together dry ingredients.
In another medium bowl, combine the buttermilk, lemon juice, and zest.
Begin adding the dry and wet ingredients to the butter-sugar mixture, alternating 3 times until all are combined.
Gently fold in the blueberries by hand using a rubber spatula.
Pour batter in a bundt pan and bake at 350°F for 1 hour. The cake is done when a skewer comes out clean.
For the Grilled Peaches:
Clean and wedge the peaches and dust them in sugar. Slowly caramelize the peach segments on medium-high heat until browned to perfection. (Alternatively, you could grill the peaches over an open flame, using the same method.)
To Serve:
Once the cake has cooled, slice and serve with grilled peaches and a dollop of whipped cream.
Serves 8.