When the days grow longer, and the mercury moves steadily north on the thermometer, excitement grows at Rose Water as we anticipate the arrival of summer's vibrant greens, beans, and berries. And our thoughts about wine (we're always thinking about wine!) start gravitating away from big, burly Cab Francs to the whites of Long Island and the cooler, lighter Jura mountain reds—preferably straight from the fridge! But, what really catches our wine fancy when the weather warms is rosé—in the whole, wide, wonderful world of wine, nothing says summer like pink wine!
Right around the time that spring ramps and fiddleheads arrive in our kitchen we introduce the first rosé wines of the season, starting with a couple of the better bottles from last year that we held in the cellar over the winter. By late June and early July, just as the early summer fruit and veg come in, we offer at least a baker's dozen: From lean, zingy Austrians at one end of the spectrum, to ripe, juicy Californians at the other. In between, there's fresh, fruity Beaujolais and a deliciously smoky rosé from the Canary Islands (of all places!).
Red wine gathers it's deep color when the juice of the pressed grapes spends days or even weeks on the skins, which impart not only those incredible ruby hues, but the tannins and the depth that we associate with red wine. Rosé, on the other hand, is usually made from the juice of red wine grapes that spends only hours in contact with the skins. The relatively short time that the juice macerates on the skins provides the pinkish color and a lighter body. Rosé lives in a place between white and red not just in color—in the best examples it marries both the fresh, mineral crispness of white with the lighter side of red wine's savory and spicy character. And it compliments the food of summer—grilled vegetables and fish, as well as roast lamb and even beef.
Here are three of our favorites for Summer 2015…
We offer a changing selection of rosé every year, but there's a few wines we return to again and again. One of our faves every vintage comes from one of our most loved Sancerre producers, Lucien Crochet. In addition to their white wine, we cherish their Pinot Noir Rosé. It's always stunning, year in and year out, and 2014 is no exception. It smells of fresh strawberries, and tastes it, too, but there's bracing minerality and perfect balance—complex and elegant. You can quaff this wine on a summer evening or at an afternoon picnic, but it aslo complements food beautifully—especially shellfish, crustaceans, and poultry. Available at RW, fairly widely online, and as of press time, at our great South Slope retailer specializing in natural wine, Slope Cellars (www.slopecellars.com, $29.99).
Lately we've been fascinated with red wines from the Canary Islands, the Spanish archipelago just sixty-two miles west of Morocco. The volcanic, porous soils on almost every island produce wines with intense minerality. One of our favorite wineries is Fronton de Oro on Gran Canaria Island. Their 2014 Rosado is made primarily from the ancient Spanish varietal Listan Negro, and it's fabulously unique and delicious. Like many Canary Island wines, the light, fresh berry fruit and minerality are complemented with a slightly smoky, savory quality, and a touch of salinity. We've been happily pairing this with grilled quail! Available at RW, and at Chambers Street Wines (www.chambersstwines.com, $17.99).
Heirloom varietal grapes fit in beautifully with our approach to food and bring an endless fascination. We're always trying to look a little beyond the everyday—whether we're talking tomatoes or grapes—and we try to support small farmers and agricultural traditions. Buying heirloom varietals often does both. An heirloom grape that we come back to nearly every summer is Ciliegiolo (chee-lee'ah-JOH-loh). The word for cherry in Italian is ciliegia, and when you see the 2014 Ciliegiolo from Bisson in Portofino, Liguria, it's easy to understand how the grape got its name—the bottle glows an intense cherry red, and the wine inside is a mouth-filling ode to its juicy namesake. Bisson's Ciliegiolo is actually a very light red wine made and marketed as a richer style of rosé. It's a rare grape, and like many heirloom varietals, it can be difficult to grow. Anyone can plant sauvignon blanc vines and expect to get a marketable crop. Heirloom varietals are often persnickety and fickle, but they reward the grower, willing to take the economic risk of a disastrous vintage, with what are often fascinating and beguiling wines. We support winemakers willing to risk hardship in pursuit of carrying on an agricultural tradition in their region by forgoing the easy way. 2014 Bisson Ciliegiolo is available at RW and at Slope Cellars (www.slopecellars.com, $17.99)
These are not mass market wines, so their availability can dry up quickly, but there's great stuff out there if you ask around at your favorite restaurant or bottle shop. Take a chance on something you haven't tried before!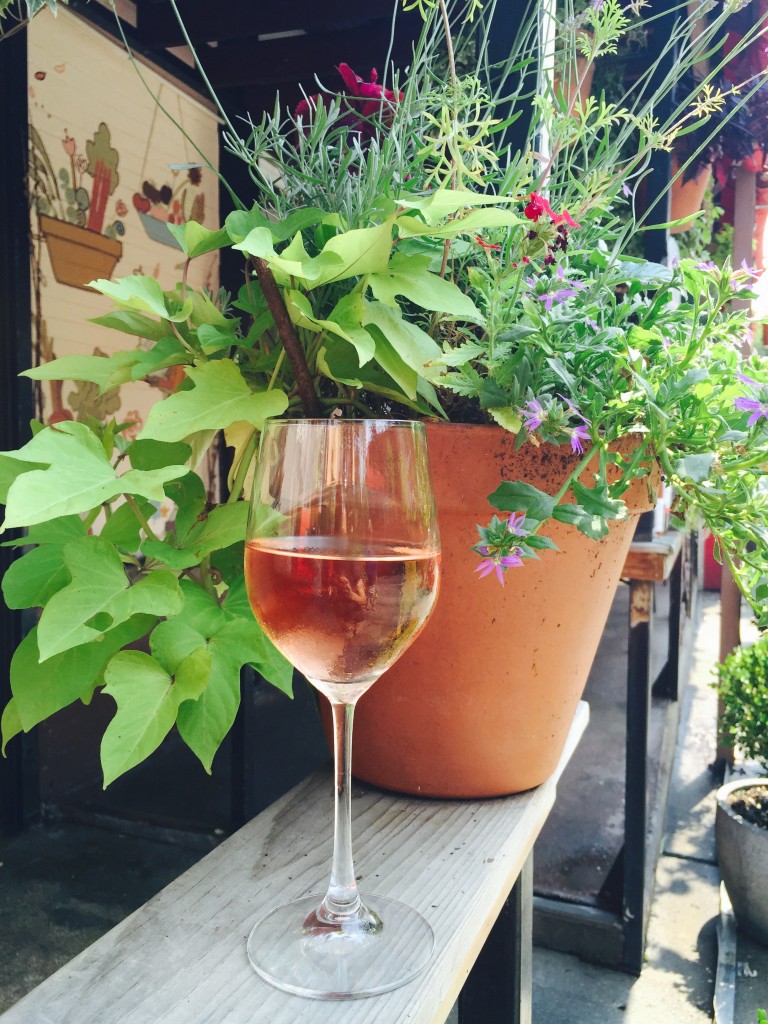 Here's hoping you share our summer passion—pink wine from around the globe—cheers!