Gallery 440 Debuts Group Show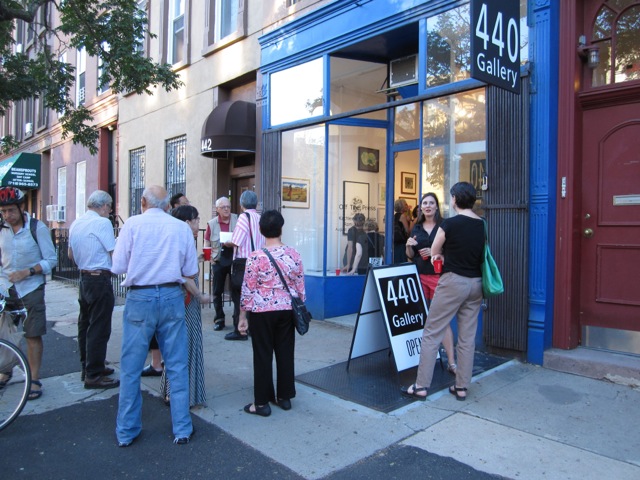 In the weeks following the mass shooting in Orlando, there have been countless displays of anger, disbelieve and defiance which have come in the form of protests and art. While this is the latest tragedy to effect the nation, it is one in a long list of political struggles that has come to light in 2016. With these larger issues in mind, the artist-run space Gallery 440, will debut their latest group exhibition, Personal is Political is Personal.
Gallery 440 is located in the heart of Park Slope and offers an eclectic mix of local and international artists. It is an artist-run space and has an ever-changing roster of exhibitions. The gallery also aims to feature mid-career to emerging artists. The upcoming show will run from July 7 to August 6, 2016 and is curated by animal-rights activist and artist Sue Coe.
Personal is Political is Personal aims to explore this particularly trying social state by considering the way politics informs personal agendas. The show explores the way everyday occurrences can become political. This includes everything from "routine traffic stops that turn deadly" or a "family house is destroyed at high tide." The exhibition features the work of twenty three artists including: Max Alper, Hannah Barnhardt, Lynn Benson, Eva M. Capobianco, Gordon Carlisle, Patricia Denys, and Elise Dodeles. Personal is Political is Personal showcases a variety of work ranging from photography, painting, video and more. Artist Eva M. Capobianco's mixed media piece, Self Portrait Circa 1958, consists of a hand embroidered square with a fabric frame, with the words "When I was about four years old, I got a cowgirl outfit for Christmas. The skirt got lost immediately; but the gun, holster and that red hat I wanted to wear everywhere". The red stitching of the letters are off-set by a small embroidered cowboy hat in the top left of the boarder and a gun in a holster on the bottom right. Capobianco's piece touches on issues of gender, gun control and to some extent violence which she brilliantly captures in the traditional feminine handy craft of embroidery.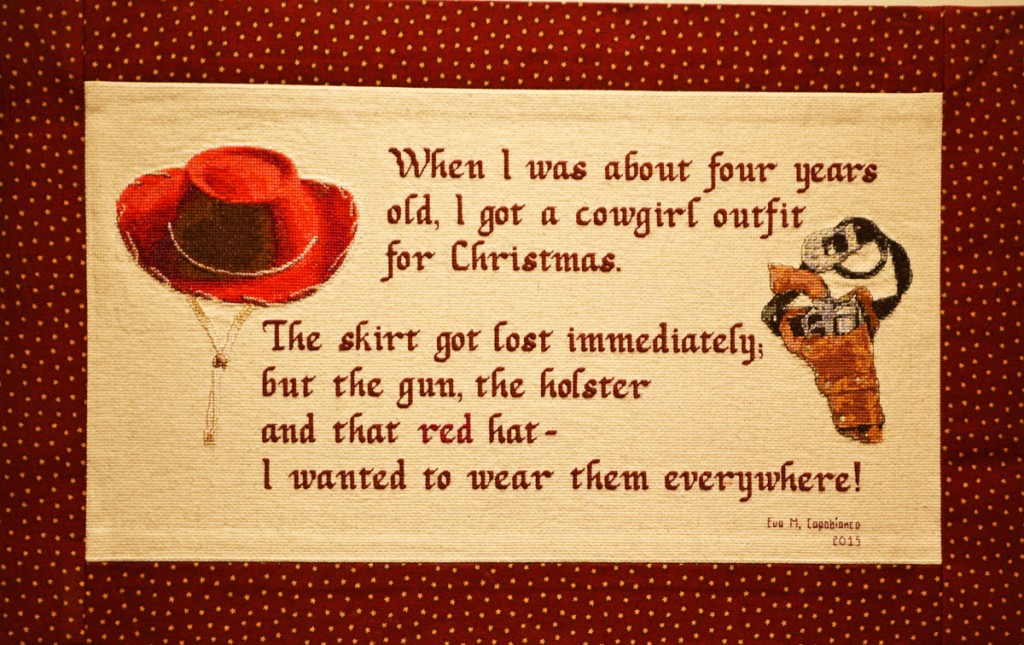 This is in stark contrast to artist Igor Gnedo's work, CollageNikoff, which are a series of collage images from various magazines. The images range from a photo of a single hand to the word's life at one end and terror at the other; all arranged into the shape of a gun. Gnedo's piece seems to be a larger comment on both gun issues and terrorism.
It is the range of artists' work and their interpenetration of "political is personal" that will make for an exciting exhibit. The gallery will host an opening reception from 6–9pm on Thursday July 7, 2016.