You are a treasure hunter who is being sent by the authorities to retrieve a magical gem from the jungle, which is full of dinosaurs. You find yourself fighting a T-Rex with a pitchfork over the magical gem. There are dying trees around you. There is a giraffe to your left and a stegosaurus behind you. The T-Rex lunges at you with its mouth open and its sharp teeth are filled with bones. You dodge right and the T-Rex swallows the gem and roars …
It's my first time volunteering at 826NYC, a nonprofit focused on helping students ages 6-18 with their writing skills. Founded as the second of seven chapters in 826, the organization is based in Park Slope and operates behind the Brooklyn Superhero Supply Company storefront. It prioritizes students with high financial or academic needs and Title I schools, which have large numbers of children from low-income families.
Today I'm helping out with a fifth grade class's "Choose Your Own Adventure" field trip. The field trips bring in classes of students grades 1-12 and take place during the school week in the Secret Library located behind the hidden door at the back of the store.
Miles Portek, the Field Trip Coordinator, stands in front of the class prompting the students as they build their adventure. "What do we need in a story?"
"Characters," one student offers."
"A solution," another suggests.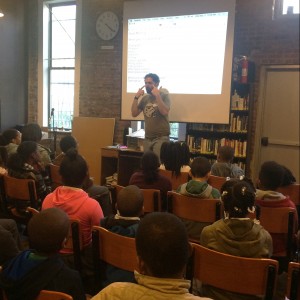 "This was the first thing I signed up for when I moved here," Portek, who worked with a similar organization in Sydney, Australia, told me. "Seeing these students have all these ideas, put them into a story, and add the details they love is amazing."
The field trips are just one part of the organization. 826NYC also offers after-school tutoring, workshops, in-school assistance, and college readiness programs. Volunteer and Programs Associate Liz Levine, who began working with the organization through AmeriCorps VISTA about two years ago, works on recruiting and leading volunteers.
"The really incredible thing about the volunteers here is that everyone comes for the same purpose, but not everyone comes through the same path," she said. Some people come through the publishing and literary world. Others want to be involved in education. Still others just think the superhero theme is cool.
So why exactly is there that superhero theme?
When Dave Eggers founded 826 Valencia, named after the address of the original organization in San Francisco, he was told that if he wanted to rent retail space, the organization had to sell some type of goods. Because the space resembled a pirate ship, the founders settled on a pirate theme for the storefront. 826NYC opened in 2004 and followed the whimsical model with its superhero theme.
"New York has such a rich history of superheroes," Joshua Mandelbaum, Executive Director of 826NYC, explained. "We're lucky superheroes are so marketable. We put a lot of time and energy into the store."
Along with books, posters, and maps, the store sells quirky goods like capes, masks, and—my personal favorite—cans of powers, including Chutzpah.
The store is staffed by volunteers, who serve as ambassadors to the program.
826NYC runs programs year-round and is always looking for volunteers. In addition to the Park Slope location, the basement of the Williamsburg Library serves as a tutoring center. In the fall, a Writer's Room will open in East Harlem. The organization will be hosting summer camps in July, including filmmaking and podcasting workshops. It will also run a STEM (Science, Technology, Engineering, and Math) workshop, in which students will learn about the flora and fauna of New York City and explore their community through a biologist's lens.
826NYC hosts orientations and open houses year-round on weekday evenings and weekends. While it especially needs volunteers during the school day, there are plenty of opportunities to get involved at other times. For instance, people with design and editing skills can work on the books on a freelance basis. And, of course, the store always needs staffing—as well as shoppers.
Volunteers and students are very dedicated, and the experience can be rewarding.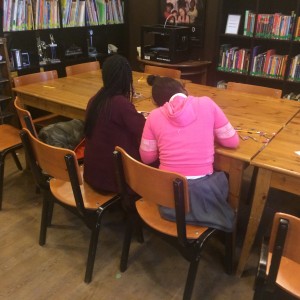 "Every time a student graduates, it's a really exciting thing," Mandelbaum said. He told me about a student named Alex, who began coming when the center opened twelve years ago. As a film lover, he remained with the program throughout high school, and made a documentary about his experience with 826NYC at Reel Works. Recently, Alex was accepted to the USC film school.
"The students are the most incredible, creative, weird group of people I could ever meet," Liz said. "A really shy student handed me a fully finished poem the other day and it was the most beautiful thing. To see that after eight months of working with her was amazing."
Levine said that watching student-volunteer relationships develop is gratifying as well. She told me a story about a volunteer who didn't have an education background and was nervous about working with students, and a native Spanish-speaking student who was self-conscious about her English and didn't open up to volunteers readily. "I watched as this new volunteer sat down with the student and very quickly picked up on the fact that she couldn't concentrate was because she was a dancer, who couldn't sit still because she's such a kinetic learner." As it happened, the volunteer was a dancer as well, and began teaching the student through dance exercises. "Even though she hadn't come from an education background she knew how to bond with this student at her level. They connected like that."
At the field trip, the students have voted on a location for their story and decided that it will take place inside a dinosaur. They divide into smaller groups to work out alternative routes for the story to take. Finally, they write their own resolutions independently. Then they take their stories to the printing station, where Portek binds the books for them to take home.
"The goal is to make sure students have concrete proof that they're authors," Portek explained. "They've really committed to something, and I think that's ace."
Brooklyn Hero Supply Company is located at 372 5th Ave, Brooklyn, New York.
Visit online at www.826nyc.org.