It's been a whirlwind year for Deva Premal & Miten. When the mantra music superstars released a new live album, Cosmic Connections Live, in May, it hit #1 on the iTunes world music charts in the US, Canada, Germany and Switzerland. They've toured Europe extensively, and they're coming to the US on September 2nd for the East Coast leg of their 2016 World Tour. Miten is releasing Temple At Midnight, his new album of intimate, original songs, on September 9th via the couple's independent record label, Prabhu Music (available for pre-order on iTunes and Amazon). And he has already received accolades from legendary record producer John Leckie (Dr. John, Radiohead, Stone Roses) and a host of folks from the yoga world, including Grammy-nominated kirtan wallah Krishna Das and Jivamukti Yoga co-founder Sharon Gannon.
Recently, Deva Premal & Miten sat down to talk to Park Slope Reader about mantras, music, and the magic of the moment.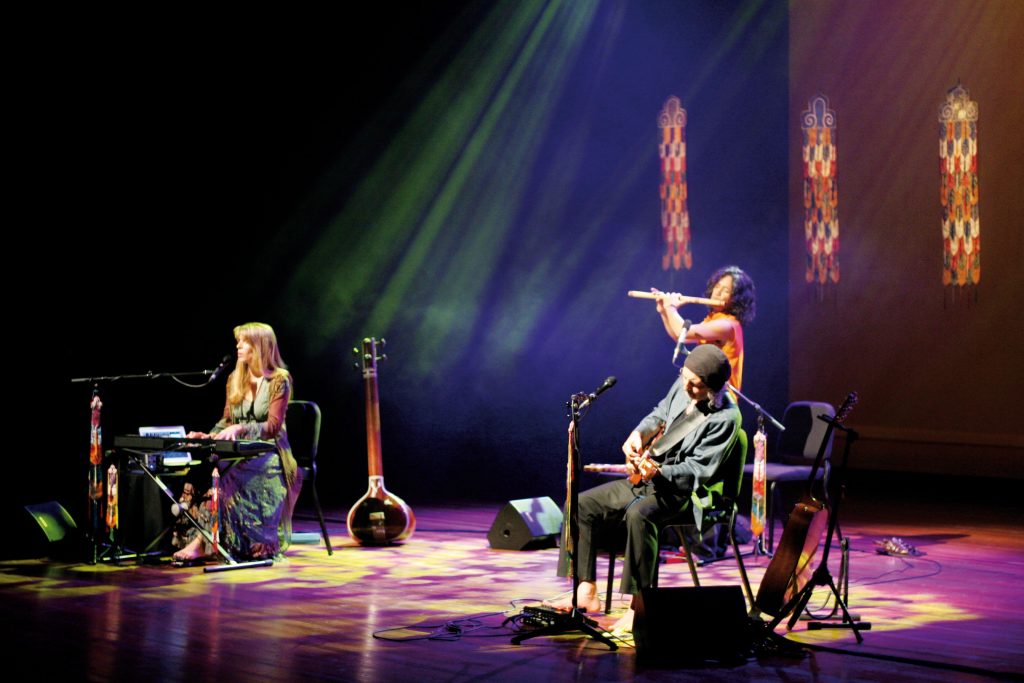 You're performing at The Town Hall in New York City on September 8th. What do you like about performing in NYC?
Miten: Well, first of all we don't "perform." We see ourselves as facilitating spiritual gatherings which, in this case, will happen at The Town Hall. As musicians we are there to provide a space that deepens the experience of meditation, which is basically the point of the mantras.
We're looking forward to filling The Town Hall with the mantras and with the voices of the people who come to chant and meditate with us. This situation of creating the experience of being in a temple wherever we play is not new to us. For instance, our gatherings in Moscow attract audiences of 6,000. We chant mantras in a rock arena—in Russia. That must be historic! It feels similar to me, in terms of bringing the mantras to The Town Hall.
Deva Premal: Although chanting mantras brings us together as one voice, one heart, I feel every city has a different flavor. I get a feeling when I think of New York but it's difficult for me to put it in words. It is a feeling of a rich, multi-cultural community and realness and very direct connection—
Miten: and communication.
Deva Premal: I'm really looking forward to it. Just to be together with thousands of people for an evening, where we have all arrived with the same intention: to enter our own inner space, to celebrate our own inner silence, through the mantras and Miten's songs.
Miten: We just get into it on a really deep level so that the magic can happen. We play from the moment, every time, so we are open to the magic in the same way that jazz musicians are. You work with a structure, and then you share who you are through your instrument. We're very much concerned with the feeling and the vibration in the room and how we can enhance that through the music, so we're also listening to the music for the first time. Every time we play, it is like the first time.
How would you describe the music on your new live album, Cosmic Connections Live?
Deva Premal: It captures the essence of the audience singing and meditating with us. You can feel the presence of like-minded souls. We have numerous emails from people saying, "We just love singing and chanting together with you." Because it's a live recording, the mantras go quite a lot longer and deeper than on the recordings we do in the studio, so it's really great to use as a practice tool for mantra chanting.
Miten, you're about to release a new album of original songs on September 9th. What inspired you to name it Temple at Midnight?
Miten: I wanted to create an atmosphere where you could put your headphones on and spend 50 minutes with Deva and myself and Manose and one or two of our friends in a beautiful imaginary cosmic temple. Maybe it would be in Tibet for Nepal or—
Deva Premal: New York City?
Miten: New York City. (Laughs). Wherever! I like to see our live events as gatherings of compassion and forgiveness, and that's my vision for Temple at Midnight. It's an invitation to step into the temple, close your eyes and hang out with some devoted musicians for a while and be inspired.
Your closing track, "Inescapable Love," is so emotionally moving. How would you describe the song's message?
Miten: My guru, Osho, once spoke of inescapable love. It really touched me because I felt the truth in it. Love is everywhere and in everything—even in the horror. It made me realize I have a responsibility to consciously shine and share whatever light I'm carrying, no matter how small my candle flame may be. It still destroys darkness.
So … I asked myself, why wait? We all have an inner light. Let's shine it on the world.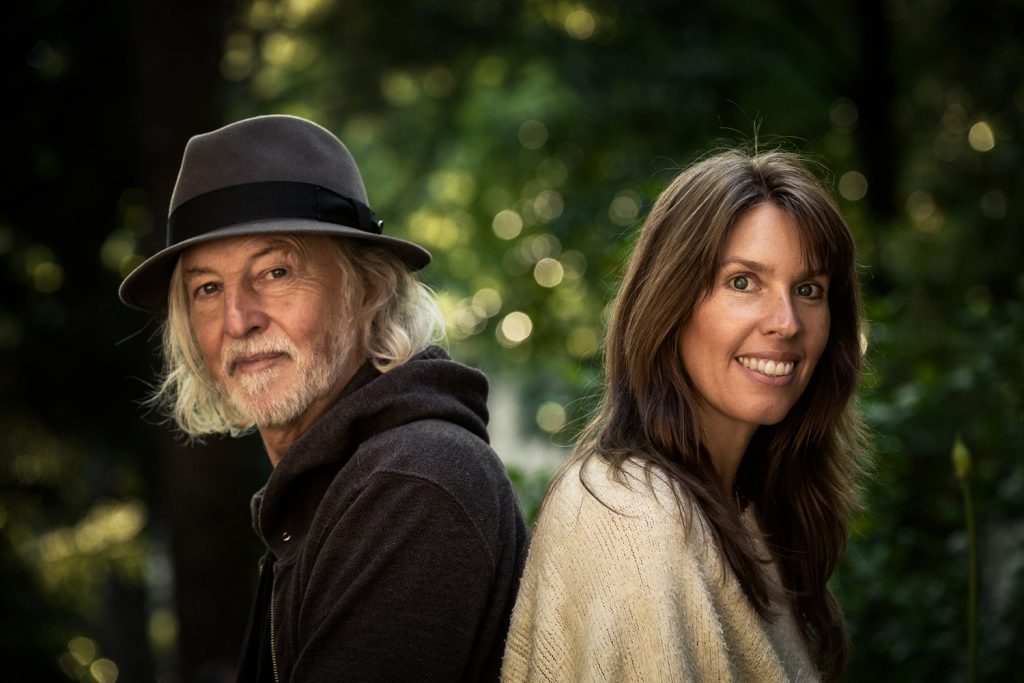 Tell us about your songwriting process. What inspired it?
Miten: My songs are inspired by the life I live. There is no set process. Sometimes a chord sequence, sometimes a sentence that touches something deep inside me—this can be the seed. But I don't write anything down anymore, when I write. It's very much stream of consciousness. If the song wants to come, it has to show itself. I don't sweat over the process any more. I did, years ago, when it was my career, but since arriving at Osho's feet 35 years ago, I just stay open to the magic and if the songs come, they come!
I have witnessed a huge number of people all over the world who are attracted to our gatherings because they want to experience a different kind of event. They bring their laughter and their tears, their busy lives. The people who make up our audience are no strangers to self-reflection. We want to enjoy real quality time together, where we can absorb and digest the music and the redemption it brings. In this space, a different dimension opens up. Magic happens.
Deva and I have been given a gift. Don't ask me why. But it is something tangible—the healing power of Sanskrit mantras—and we have a responsibility to share it with whoever cares to listen.
We see ourselves as flame carriers of an ancient tradition. That's more than enough … and that's where the songs on this album come from.
Are you involved in any causes?
Miten: Sure. We raised around $200,000 during our 2015 concert tour to help the people of Nepal after the earthquakes. This is the power of our community—the people and friends we inspire, who inspire us in return.
We take the mantras into prisons. The last prison we played at was San Quentin. I can't begin to tell you how that afternoon affected us all, musicians and inmates alike.
We like to share the mantras in intense locations, because they carry so much weight, they cut through the bullshit and create a true experience of goodness. Last year our schedule took us to Brussels just after the bombings there, and later, in Paris, and the year before in Kiev, Ukraine, after the troubles there. Other musical "acts" cancelled, but we felt the opposite. Now is when the mantras are most needed, so we just wade in.
Now is the time to share whatever uplifts the spirit and nourishes the heart. When we played in Tel Aviv, Israel, we played in a temple where Palestinian and Israeli people came together in peace and in the spirit of forgiveness and compassion. This makes more sense to me than chasing fame and fortune. And if we die on the way, at least we go out with a smile!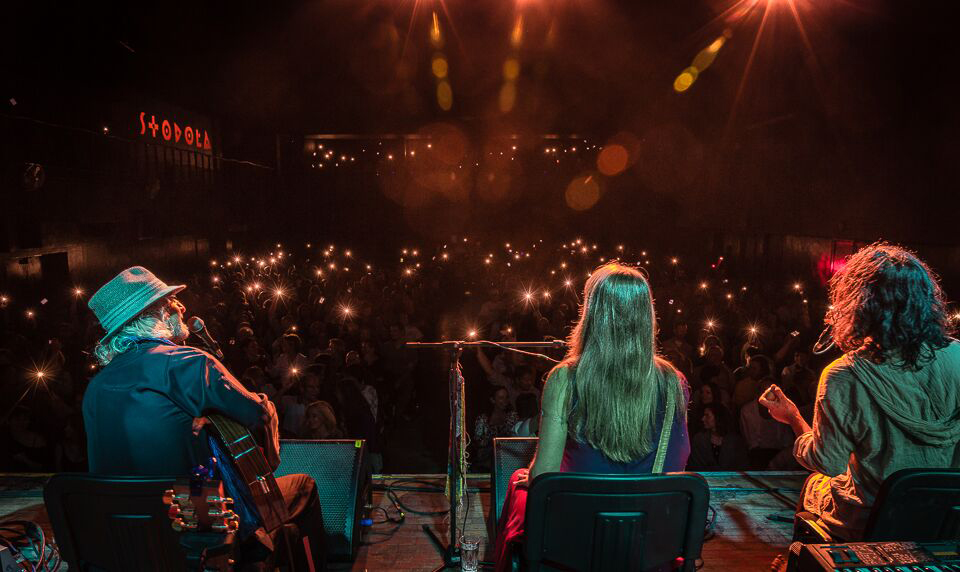 Deva Premal & Miten will perform at 7:30pm at The Town Hall in New York, New York on Thursday, September 8th. Tickets can be purchased through BrightStar Events. For more information DevaPremalMiten.com.