The pizzamakers of Park Slope
There's nothing quite as satisfying as a tasty slice of New York pizza. I chatted with three local pizzeria owners about why they do what they do, how the neighborhood has changed and what their favorite slice is.
Lorenzo Scotto, Pino's La Forchetta, 181 7th Avenue
Lorenzo Scotto, or "Larry," has been involved with Pino's since 2005.
"Almost 12 years," he said. "Wow, fast. Ohmygod, time flies."
Pino's opened in 1962. They had another store in Staten Island, which his father recently sold, before the Brooklyn location. The biggest change since 2005 is from lots of walk-ins to way more delivery with Seamless and Grubhub.
"I think that made people stay inside all day," he said. "They don't wanna move; they just play with their phones and that's it."
Pino's actually had its own delivery app for a while, but even with a 10% discount, people still used Seamless and Grubhub. Of course visiting a pizzeria has its own perks, including the potential for a freshly made pie right out of the oven.
"We just try to make it fun; service with a smile—we try very hard for it," he said.
"People ask for crazy things though. Sugar is a weird one. A sprinkle of mustard before baking?—Too far. Ketchup; I could understand once in a while, but mustard?!" he said.
Business-wise, this year was "exceptionally crazy," he said, partly due to the snowstorms closing roads in the winter. But it's been consistent otherwise, and new locations are definitely possible, probably in New Jersey or downtown Brooklyn.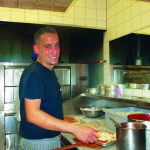 The pizza: "Old school straight up pizza."
Preferred slice: "Me personally I like regular and Sicilian – plain. I like the plain just regular old style."
Drink with a slice: "I'm addicted to water."
---
William Rubin, La Villa Pizza, 261 5th Avenue
La Villa has been in the neighborhood for 13 years. The biggest change Rubin has noticed is that people are here to stay, he said.
"There's more people making this home and sticking around and settling in," Rubin said.
There are two other La Villa locations, one in Mill Basin and the other in Howard Beach in Queens. The Howard Beach one opened over 32 years ago. Another location in Dyker Heights is on the way.
Rubin said La Villa had the first wood-burning oven in Park Slope when they opened.
"We actually flew out to Seattle, where they make the ovens, and we did a test kitchen. We brought our own water and flour and then we came back and made a decision to put wood-burning ovens in here. The other locations now have wood-burning ovens … I wondered what it was like transporting buckets of water through airport security. This was about 15 years ago though, probably right before 9/11″, he said. "What's the sense in using Seattle, Washington water when that product could be different? The water is 50 percent of the product."
His business partner's mother is from Italy and works at the Howard Beach shop. A lot of the recipes come from her family.
"We try to represent an authentic Italian feel as much as [we can]being an American restaurant," he said. The restaurant keeps the menu consistent, updating it maybe once per year, he said. They do have daily specials starting at 4pm.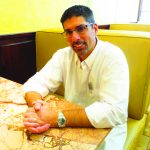 The pizza: "Wood-fired oven pizza. Personal and large size. Pizza cooked to high heat and charred to perfection. You're not gonna get a lightly baked pie if you don't ask for it that way."
Preferred slice: "Grandma slice; anything with pepperoni on it I can eat. I go traditional; I don't go out of the box."
Drink with a slice: "Coke. I like a coke and a slice."
---
Phil Castellano, Roma Pizza , 85 7th Avenue
Phil Castellano's father owned a pizzeria on 5th Ave. when he was a kid. His family is Sicilian. Back then, the neighborhood was very different.
"5th Avenue was horrible. You couldn't walk on 5th Avenue past sundown," he said.
It was particularly scary running a business there, especially since all the businesses were cash-only back then. In 1982 they opened Roma on 7th Ave. His pizzeria is still cash-only today.
"That's just the way it was, and no one really changed it. Now, people get a real kick out of it. It's like going back in time," he said.
Castellano remembers playing outside when he was nine or 10 and sneaking away to eat a whole pizza pie himself. There was no doubt he was going to go into the family business.
"Women were seamstresses, and men were cooks," he said.
The same recipes from his father's shop are used at Roma today. The shop now has a liquor license and serves more meals like veal, mussels, clams and handmade soups.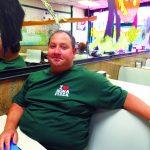 The pizza: "Traditional, classical NYC street pizza. What the city is built on."
Preferred slice: "Regular and Sicilian. Those are our biggest sellers."
Drink with a slice: "I drink a lot of water. Coke occasionally."