Restaurateur, devotee of local, seasonal food, and one of Edible Manhattan's "Dads We're Loving," John Tucker was the perfect fit for the Slope Survey's third installment. Here, the owner of Rose Water muses on a changing Park Slope, getting away, and the surprising qualities that make a hero.
What brought you to Park Slope?
I'm as Slopian as they come: my wife and I came over the bridge in 1999 with a two-year-old in tow, looking for square footage, green space, good school, and a community of like-minded tree-huggers. We checked every box, and within months many unexpected benefits appeared, like the Food Coop, and the notion that the neighborhood might support a restaurant like the one I opened in 2000.
What is your most memorable Park Slope moment?
Rose Water's opening day was big, but not specifically a Slopey moment. My most memorable moments are about coming together as community – happy times in the park at Celebrate Brooklyn and the PopUp dinners, or Halloween and baseball parades. Even sad gatherings, such as grieving together at Beth Elohim over the tragic loss of a wonderful boy. Handing out food at Green and Healthy Night at PS 321, and watching kids perform at MS 51 with Mr. McEneny's drama department. There've been many, many memorable moments for me in my village.
A good day for you is…
I own and operate a long-running Park Slope business that I'm proud of, and I help run a Brooklyn non-profit youth soccer program. A good day includes both, and also watching my sons play soccer. But, in the summer when the kids are away, my best days are spent upstate, swimming in the Plattekill Creek with my wife and our dog.
Describe your community superpower.
I'm very fortunate to have had the time and energy to be a volunteer youth sports coach, referee, and administrator for many years. And I'm proud to be considered an asset to my community as a small business owner that supports local schools, charities, and nonprofits.
If you could change one thing about the neighborhood, what would it be?
Diversity. When I moved to Park Slope in 1999 there was more racial, ethnic, and cultural diversity, which was a big draw for me. New York City is still a vibrant and wondrous place, but less interesting than when I arrived from Detroit in 1986. Particularly in this contentious election season, I'd love to be in charge of a magic wand that promotes tolerance, inclusion, and understanding.
What do you think Park Slope will look like in 10 years? in 20 years?
Wet? Hopefully it'll be many decades before the Gowanus Canal stretches from Fourth Avenue to Hoyt Street. Meanwhile, I worry the neighborhood will continue to lose interesting mom-and-pop shops in favor of chains, and become more pricey and even less diverse. I hope I'm wrong, because I want to keep living here.
What were your childhood nicknames?
Johnny.
What is your greatest extravagance?
I raid the Rose Water wine cellar fairly frequently and drink well above my life station. Or, perhaps it's my "country house," which is a travel trailer that never travels—it sits on a campsite near Saugerties, New York.
If you couldn't live in Park Slope or in Brooklyn, where would you go?
Besides Provence? A barrier island on the Gulf Coast of Florida that has no bridge, no cars, no roads, no commerce, and a beautiful, mostly unpeopled beach where I like to look for shark's teeth. I also love the Catskills, and I could see myself in all those places, but I refuse to imagine not having a home in Brooklyn, too.
Who is your hero, real or fictional?
My dog. We never disappoint each other, he's never told a lie, and he's always reliably and irrationally pleased to see me. Mostly, I feel like people are too human to be heroes. That said, I think ALL educators are the bomb!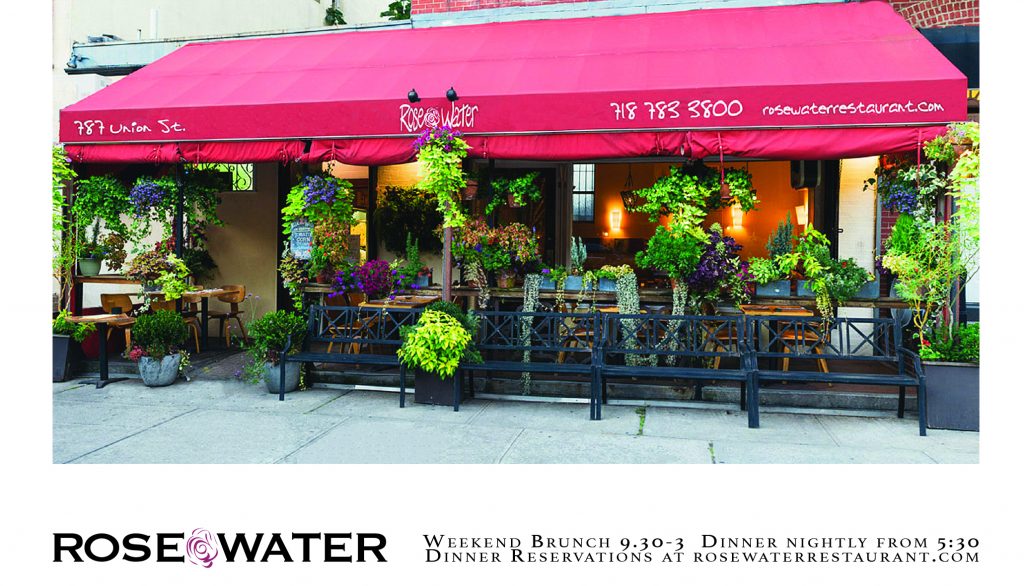 Check out the last Slope Survey: http://www.psreader.com/issue/issue-57/slope-survey/slope-survey-elise-long/
Check out our website: http://www.psreader.com