There were a lot of crappy things that went down in 2016 that made us all too eager for the fresh start of a new year. Last year especially was marked by a lot of loss — artists, thinkers, political optimism, faith in humanity. . . The small business world in Park Slope was not an exception, as many stores and restaurants on Fifth and Seventh Avenues — some having been neighborhood fixtures for more than a decade — shuttered permanently. It's sad when a much-loved business unexpectedly announces that it will close, especially if it was your regular joint (RIP Gorilla Coffee). After all, it's not just the coffee or the sandwich or the convenience that goes away; it's also the familiar faces behind the counters and bars. The upside — there's always an upside — is that vacancies always end up getting filled. Just as we all notice when a storefront goes dark, we also feel that excited curiosity when the windows are subsequently lined in butcher paper, permits go up, and rumors start to buzz about who is next up to bat. And who knows? There's always the possibility that whatever steps in next may become your new regular spot. Check out our list of promising new businesses, and then decide for yourself if any of them might be your new go-to in 2017.
Coffee Shops: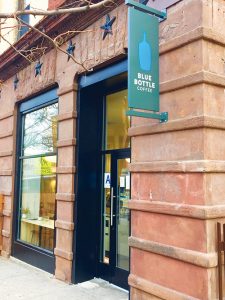 Blue Bottle Coffee 203 7th Avenue bluebottlecoffee.com Blue Bottle Coffee has expanded their famous pour-over empire to a new lovely tree-lined corner on Seventh Avenue just a couple blocks away from the park. This will be their third Brooklyn location, which they thoughtfully tailored to Park Slope's youngest generation by designating outdoor stroller parking and offering high chairs. Patrons will be able to enjoy a full breakfast and lunch menu in addition to their regular menu of coffee and espresso drinks.
Uptown Roasters 355 7th Avenue uptownroasters.com A neighborhood favorite in Harlem, Uptown Roasters will open their second location further down Seventh Avenue between 10th and 11th Streets. Dan Hildebrand and his wife have used their coffee sales to facilitate better wages for Peruvian farmers from whom they source their beans. The new 1500-square-foot space will provide even more opportunity for community building, as they have big plans to use it for local events, tastings, and talks.
Also check out: Everyman Espresso 162 5th Avenue
Retail: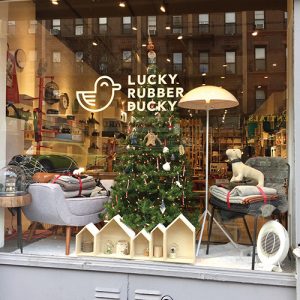 Lucky Rubber Ducky 194-196 7th Avenue tarzianwest.com With Good Footing having migrated to a new location, Judy Kow, owner of Tarzian West, seized the opportunity — and the adjacent space — to expand her specialty kitchenware store. The new landlord loved Tarzian West so much that she approached Kow about taking over the storefront. The extra room has now enabled the business to respond to increasing demand from their loyal customer base for more merchandise. Their product line has now expanded beyond the kitchen to the rest of the home to include linens, lighting, throws, and more in a spacious and well curated shop.
Father Figure fatherfigure.com This crowd-funded fashion line was born and grown here in Park Slope by former Google employee Andrew Bentley. After becoming a new dad, Bently identified a need from millennial fathers for fashionable and functional clothing and parenting accessories. The collection is designed to "keep babies comfortable and dads looking good." Customers can shop the locally owned, made-in-the-USA apparel online.
Also check out: Libra 1304 8th Avenue
Food & Drink: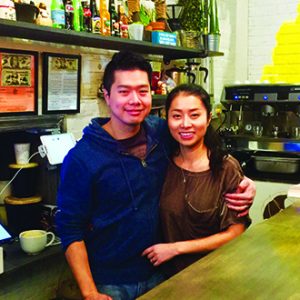 Gnarley Eats 447 7th Avenue gnarleyeats.com Does a burger, fries, and drink for under $15 exist in our neighborhood? Now it does. Not only can you score a sloppy cheeseburger, buttermilk-fried chicken burger, wings, tater tots and a slew of other savory delights here, but you can top off the meal with what is already becoming their signature dessert dish: rolled ice cream.
Salzy 505 5th Avenue salzybar.com Looking for some laid-back, grown-up fun? This new cocktail bar and live music venue is already a hit with the late-night crowd. Salzy serves quality craft cocktails but leaves out pretention. The warm service, inviting vibes, and solid tunes make this newcomer feel like an old neighborhood standby already. Owned and operated by comedian Jennifer Salzman, the bar also features live comedy and musical acts, placing it a notch above a regular old watering hole, but with the same comfort and approachability.
Los Nopales 191 5th Avenue There's never been a lack of Tex-Mex in the Slope. Unfortunately, if you wanted a taste of real-deal Mexican tacos or quesadillas, you were better off heading much further south to Sunset Park. Hopefully that will all change with Los Nopales opening in the old Bierkraft space on Fifth Avenue, which promises to feature "authentic Mexican spices and condiments" on their menu.
Atlantic Social 673 Atlantic Avenue Having closed both Pork Slope and Thistle Hill Tavern, the Three Kings Restaurant Group is already onto their next venture: an "old style New York tavern" occupying the 7,000-square-foot space. Their largest endeavor yet, the restaurant will seat up to 250 and feature and an eclectic menu by Chef Dale Talde, a cozy fireplace, and a game room.
Also check out: Mis Grill 370 5th Avenue Pig Beach Burger 480 Union Street Momo Ramen 78 5th Avenue Nargis Café 155 5th Avenue
Community:
FemGYN 175 7th Avenue femgynwellness.com This women's walk-in clinic opened back in May and is making female-focused healthcare affordable and accessible. Services offered include contraceptives, breast cancer screening, annual exams, specialist referrals, and more. Given the uncertain fate of the Affordable Care Act and threats to defund family planning organizations, FemGYN couldn't have come at a better time.
Park Slope Reading Circle & Storytelling Garden 431 6th Avenue bklynlibrary.org/locations/parkslope Thanks to funding from Brad Lander's Participatory Budget, construction of this public reading circle adjacent to the Park Slope branch of the Brooklyn Public Library is underway. The addition will provide a safe and beautiful space to encourage outdoor reading and play and will feature an amphitheater, pathways, gardening spaces, a water fountain, and a statue of Knuffle Bunny. Who's excited for spring?
The next New Wave is coming this Spring.  If you are a new business and want to be included, contact us at office@psreader.com