The Reader Interview with Jack Walsh of the BRIC Celebrate Brooklyn! Festival
Whether you're enjoying the afro-blues sound of Amadou & Mariam, waxing nostalgic with Talib Kweli, or taking in a film with live scores performed by the Brooklyn Interdenominational Choir, the Wordless Music Orchestra, or Brooklyn United Marching Band, you're sure to make some new meaningful memories, big and small, at the Festival this summer.
On a rainy afternoon in late-May, the people who make the BRIC Celebrate Brooklyn! Festival possible continued their preparations for the Festival's 39th season. Jack Walsh, who is Vice President of Performing Arts at BRIC and the Executive Producer of Celebrate Brooklyn!, welcomed me to the Prospect Park Bandshell as the staff closed out for the day. Walsh has been with the Festival for 35 of its 39 years. We sat down at Dizzy's Diner to discuss a changing Brooklyn, the Festival as a platform for artists' voices and activism, and Walsh's favorite BRIC Celebrate Brooklyn! Festival memory.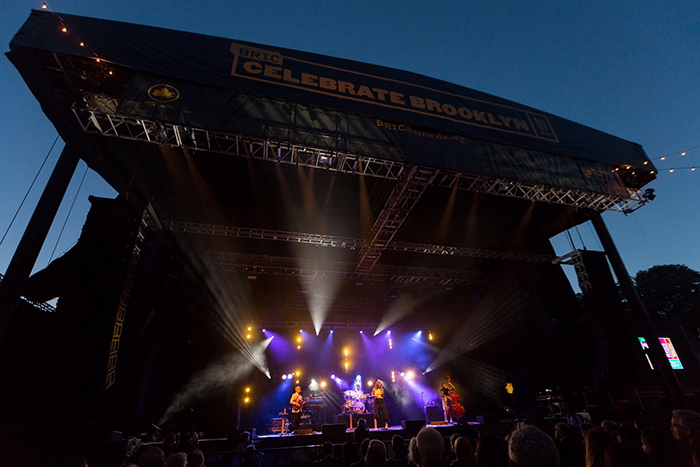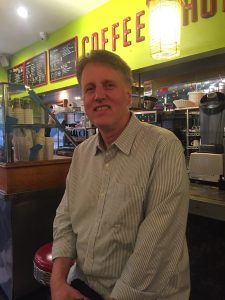 Can you walk us through the process of selecting the lineup for the summer? How is this summer different from other years?
Sure. We have a programming team. I serve as the Executive Producer and oversee the whole festival, but I really work in partnership with Rachel Chanoff, the Artistic Director. Under her there are one or two programmers. We feed all the ideas in through Rachel, and she leads the programming team that's doing the booking and reaching out to agents. Because of Rachel and our partnership over many years, we hope the Festival has an artistic, or programmatic, voice. Even if people can't quite put their fingers on it, they understand that the selection process is very thoughtful and intentional. That's broadly how it works.
This year is different in that, while we're not wearing our activism on our sleeves, a good many of us are pretty active, and upset about what's happening in the country and the world. There is a bit of intentional social justice activism in the lineup. That's a little different this year, and as we move into next year for our 40th anniversary season, we'll see a bit more of that intentionality through some commissioned projects. Every year we do a post-season assessment and talk about what worked, what didn't and why, looking at data, but it really boils down to artistic choices.
Brooklyn as a borough is becoming more gentrified, the city has some of the most segregated schools in the country, and the country is divided politically. What can the BRIC Celebrate Brooklyn! Festival teach us about bringing people of different backgrounds and ideologies together?
That goes to the heart of the Festival and its origins. We don't put it out there as front and center as we used to, but there is a mission statement for the Festival, and part of it is to bring people together in a safe, harmonious setting to experience each other's cultures. Brooklyn is still one of the most diverse places in the United States, but, as you say, it's getting more and more gentrified. While we have recognized that—we live here and see the changes—we have made a more concerted effort to not just program a Festival where you see diversity on stage, but to program the Festival so you see diversity in the audience. That's really important. So we put more of an effort on marketing and outreach to communities of color, and think about how it is we can make sure all feel invited and welcome. That's something we're very deliberate about, and we're more or less successful. We're trying all kinds of things to make sure that happens.
Part of BRIC's mission is to incubate and present new work by artists. Do you also think of the Festival as a way to incubate new work?
It is. Because of the scale, it's different. At BRIC, we have a fantastic, smaller-scale program called BRIClab. We give artists workspace for over two weeks to develop projects and present them in workshops. That's a way in which a lot of work is developed. Because of the scale of the Festival, the way we can incubate work is different.
Here's one example from this summer's lineup, which addresses the activism piece and also how we work with artists to help them with what it is they want to work on, or give them an opportunity to do something different. The film Selma, which has been out for over two years, is an incredible, well-done story. The music was composed by Jason Moran, a New Yorker and jazz composer, who's now the Kennedy Center Artistic Director for Jazz. He's an incredibly accomplished jazz musician whom we've worked with and presented before. This year we approached him and said we'd like to show Selma and have you perform the score live. He was intrigued by that, but then let us know it included a 35-piece orchestra. He doesn't get to do that often, so we said "why not?" and put a lot of resources into it. It'll be the only time that score will be performed live with Jason Moran's trio and a full symphony orchestra. That's a way in which you can say we incubate work, or at least give artists an opportunity to do something different. There are other examples, but that one really stands out for this summer.
Hopefully that performance will be a way we can get people to wake up and think about what's happening with voting rights in this country.
Is there anything you want the audience to be especially awake to?
We're here in Brooklyn. It's different here than it is elsewhere. We want to be a platform so that musicians and artists can speak their voice. Many times, they're the best activists. Beyond that, as citizens, we can all be thinking about voting rights, even though the restrictive voting rights measures taking place in other parts of the country aren't necessarily happening here in New York. But voting rights have been challenged on the federal level, which allows different states to do less to protect those rights, or to be more restrictive in states like North Carolina, which are now actively trying to make it harder to vote, in ways they couldn't until recently. Here in Brooklyn we can make a difference. We can try to get these rights reinstated on a federal level. It affects the entire country. Showing a film like Selma and celebrating its message is something we can do as a Festival.
We focus on performance, and the experience of performance. A lot of organizations would love to be at the Festival to solicit, fundraise, or get signatures. We don't do a lot of that, but we've consistently allowed voting rights organizations, like HeadCount. We feel voting is a baseline thing in a participatory democracy. Anything we can do to move the dial is a good use of our platform. We've embraced that for many years. This year, we're trying to lean into it more.
People in the neighborhood have a very personal connection to Prospect Park. What role has the park played in the 39 years of BRIC Celebrate Brooklyn! Festival's history, as a setting or even as a character?
I've never thought of it as a character. I was born and raised in Park Slope, and literally spent my life in Prospect Park. People use the Park in ways that are very personal to them, and it certainly is a setting for many stories and memories. That's something everyone can relate to. The Park has been designed to be and has always been a very democratic space. To activate it the way we do with music, dance, and film is an incredibly special way to use the Park. Most parks are designed to have a place for gathering and music. For me, having worked on the Festival for decades, Prospect Park is most especially a setting for music. But it is a setting for other things, like picnics and gatherings with family and friends, important moments big and small.
What was the most memorable concert in your time with BRIC's Celebrate Brooklyn! Festival?
I've been working on the Festival since 1982, every summer. I've worked on every single show, except for four. That's over a thousand performances. With that as the background, I have to say David Byrne in 2010 was one of the best shows we've ever done. For me personally, it was absolutely thrilling. He was on a tour where he was doing a lot of old Talking Heads music. That one is very much at the top of the list.
In terms of others that rise to being super memorable…it gets harder after that. David Byrne is at the top for me, and after that, there are so many other great ones, and it's hard to choose. Norah Jones was fantastic, in the pouring rain, and St. Vincent, and Sylvan Esso, who's coming back this summer. Going way back to my first year, 1982, when I was very young, Betty Carter left quite an impression on me. She was a jazz singer who lived here in Fort Greene. Her performance is up there on the "unforgettable" list, partly because it was my first year working the Festival. But she was also a legendary and influential performer with an impactful career. In the early years of the Festival, we presented a lot of jazz singers from Fort Greene, like Max Roach, Abbey Lincoln, and others, and I was there for that. Those are some of the more recent and earlier shows that are especially memorable.
In addition to the screening of Selma, what are you most looking forward to this summer?
The closing night show with Youssou N'Dour from Senegal will be extraordinary. Youssou is a global ambassador of culture. His music at its core crosses boundaries and borders. This show is emblematic of what we try to do at the BRIC Celebrate Brooklyn! Festival, to bring people together "under the big tent," if you will. He comes to New York every year or so, but this will be one of his first free shows in New York. We intentionally programmed it to close the season. We've been trying to get him forever and finally got him.
Is there anything you'd add for our readers?
You enter the park at 9th Street and Prospect Park West, so in many ways it's Park Slope's Celebrate Brooklyn! Festival. It is for the whole borough, but there is a real special connection to this neighborhood. Many people here support the Festival and become members. Our Friends of Celebrate Brooklyn! program has a thousand people in it who all support the Festival, and many of them live in Park Slope. It's gratifying to see that because it means we're really connecting with people. They feel that connection and want to repay the favor by supporting the Festival. There are a lot of people who come again and again, which is really special.
I'd say to everyone reading the Park Slope Reader, the Festival is there for you, come out, take advantage of it, make it your own, support it if you can. Otherwise, come and bring your friends, and spread the word.
Do you have any advice for artists who want to engage with those issues of displacement and gentrification?
Artists have voice, and a platform. What they choose to speak about is their choice. But I think that artists can move the needle on issues in ways that other people can't. If that's at the core of your artistic practice: good for you, keep it up, get stronger, do it louder. If it's not in your practice, and you're concerned about issues that affect your neighborhood or society, I would say, sharpen your pencil, get a bit of a tough skin, and start to put yourself out there more. Because, again, artists can say it in ways that can encapsulate the message for other people, and that has a unique multiplying effect. I just encourage it. If you're already doing it, do it bigger, better, louder.
It's interesting. We've talked about gentrification. The Festival was founded at a time when Brooklyn and Park Slope weren't such fine places to be. It was meant to bring people together to celebrate Brooklyn, and it was part of an effort to "revitalize" Brooklyn. "Revitalization" was a popular word then. Now, the tipping point has come and gone. Gentrification has almost come and gone. Now it's more like displacement. That's happened in Park Slope. This place we're sitting in has been here for a long time, but it wasn't always Dizzy's. I struggle with that; being born and raised here, I've seen waves of change.
Really, change is inevitable. Change is good. But being an active participant in the change is key.