Of all the apartment compromises we make in this city, our poor excuses for bathrooms may be the most egregious. I mean, honestly, where are all of the claw foot tubs? Thankfully, a needed respite from the too-cramped bathroom blues lies off the R train in Gowanus, where Liz Tortolani welcomes you into her boutique bathhouse, cityWell, with open arms and extra fluffy towels.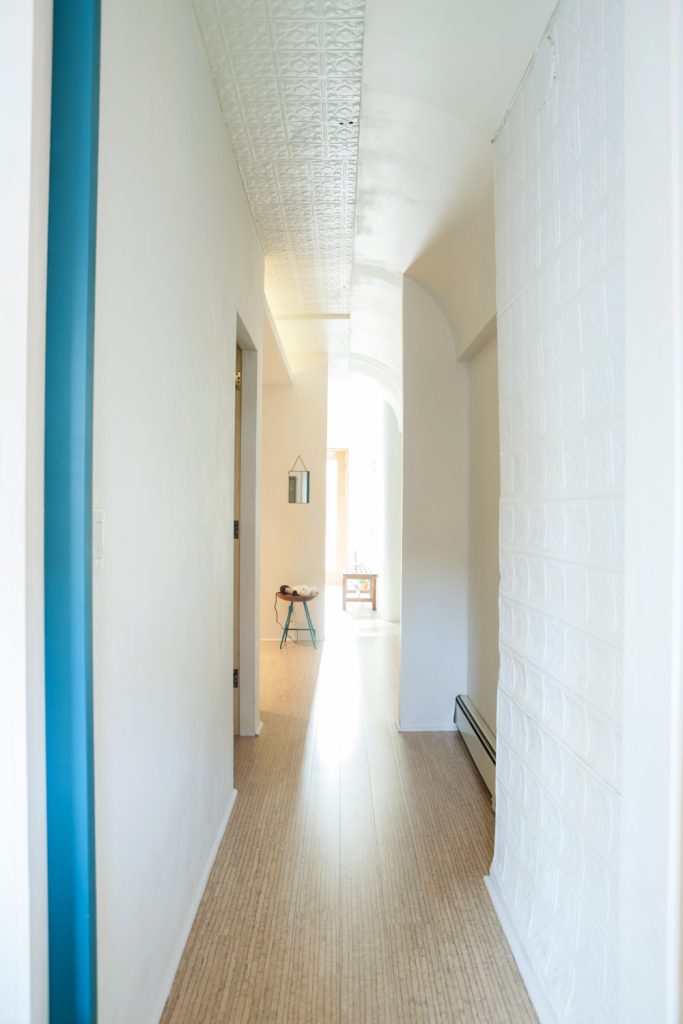 There was still snow on the ground on the Sunday afternoon scheduled for my hydrotherapy session, two hours set aside for full use of the townhouse-turned-bathhouse's wet and dry saunas, hot tub, and showers. I turned down a quiet block of President Street past Third Avenue towards the canal as a nearby church bells tolled three, and lo! a eucalyptus branch signaled the way. Soon I was standing in a small entryway, enveloped in a blend of ginger, peppermint, and tobacco, a signature cityWell scent.
"I bet you weren't quite sure where you were going!" Tortolani's boomed as I stepped inside. The creator and sole owner of the spa is a vigorous, constant presence in the space, greeting guests, fiddling with steam valves, spritzing aromatherapy here and there, toweling off a slippery spot on the cork floor. She escorted me in, and, after a quick tour of the space, I swapped my parka and sweatpants for a swimsuit and was soaking in an outdoor hot tub, observed only by (no doubt jealous) empty balconies of the surrounding townhouses.
Tortolani opened cityWell in late 2015, but her quest for alternative healing began long ago, stemming from a Chron's Disease diagnosis at age 13. While abroad in Sydney, Australia during college, she had a formative first experience at a Korean bathhouse. Years later, while studying massage therapy in Seattle, she began visiting Hothouse Spa, a women-only space that helped cement her belief in the benefits of regular hydrotherapy and proved an important influence on cityWell. "It really saved me," says Tortolani. "I found that place incredibly healing to my body."
When Tortolani moved to New York City in 2005, she wanted to find a Hothouse equivalent, but was nonplussed by what she saw as crowded, remote, or male-centric options. "I had just moved to one of the best cities in the world, and yet it didn't have any facility like I was lucky enough to have in Seattle. A place I could walk to, that was in my neighborhood, that was accessible, that was affordable," she shares. So she set out to build it herself.
Tortolani credits the Business Outreach Center Network as integral in her path to entrepreneurship because of their wealth of free resources and guidance for aspiring business owners. ""They keep asking you," she recalls, "What are your next steps?" Her mentors there also introduced her to the Brooklyn Public Library's Annual PowerUP! Business Plan Competition, which served as "a catalyst for propelling me forward." The competition also motivated her to put together an extensive plan, which in turn helped Tortolani connect with architect Deborah Mariotti of MariottiStudio, who would remain by her side for the next five years as they dealt with both the excitement of planning and disappointment of setbacks and spaces falling through.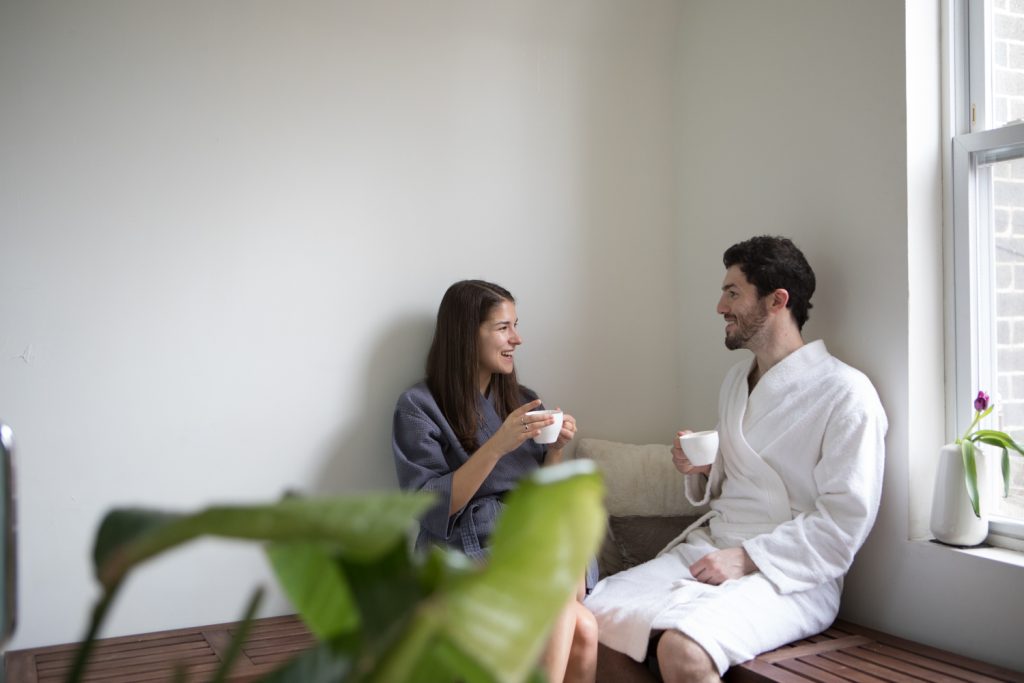 But eventually, Tortolani tapped the vein of two trends. First, she kept her eye on Gowanus, a neighborhood she'd lived in since moving to the city and loved for its grit and industrial feel. "As an entrepreneur you want to go into a place before it blows up. I was able to sense that this place was going to change."
Working as a holistic health coach, a massage therapist, and a yoga instructor, Tortolani also saw the way wellness practices — on both an individual and organizational level — were the first to go when the recession hit, but watched as there was a refocusing on self-care in recent years. With cityWell, she hopes to encourage wellness as routine. "That was part of my concept," she shares, "making self-care and wellness a part of everyday life, not just a luxury.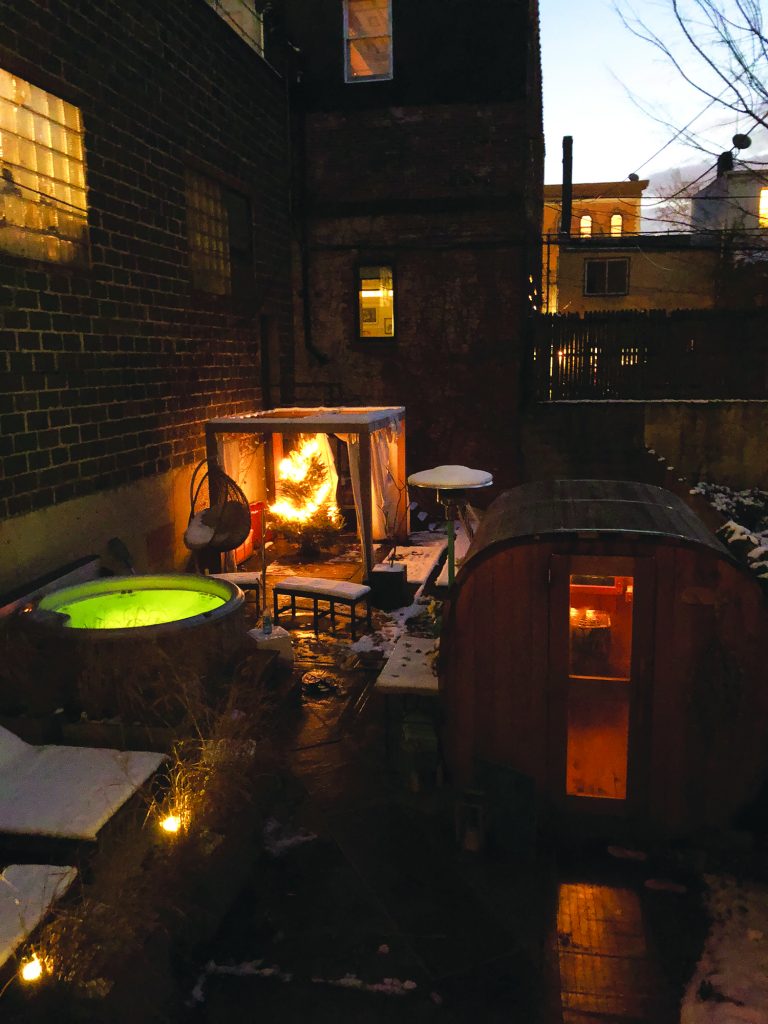 CityWell is not without luxury, though, catering to any number of boutique experiences. A la carte massages and body scrubs are offered, as well as elaborate packages such as the Mini Retreat, which includes private use of the space, a yoga session, a full body massage, a clay mask, and more.
But during open hours, which are currently offered four days a week, with two community hour time slots priced at only $20 for a two hour session, those with a limited budget are also free to escape from, as Liz puts it, "the fire of the city."
Most open hours are all-gender, but on Sunday's women-only hours, I and about a dozen other women roamed the space, pausing from our ablutions to sip tea or flip through books on yoga and meditation. Tortolani has picked each and every element of the simple, curvaceous space with care, from the deep blue of the rain showers, to the custom-built cement sink, to natural bath products (and the aforementioned entryway candle) from Brooklyn-based Apotheke. "This place came from my brain," says Tortolani with pride. "I was a part of every single part of that place being built. Down to the fact that we picked out every single material on our own, my architect and I."
As the clock ticked past 5 and I reluctantly prepared to leave my newfound sanctuary and venture back out into the cold, Liz was animatedly discussing massage with another open hour attendee who had inquired about sports massage. No, Tortolani wasn't a sports therapist… but could she just offer the woman five minutes of deep-tissue massage, free of charge?
Tortolani has a staff of four, including two massage therapists, and spends four days of the week tending to the wellness of grateful urbanites. "As a massage therapist, you work on one person at a time," she says. "You can't tend to as many people as you'd like. I felt like if I built cityWell, I could create a space where one can come and take care of their body. I don't have to actually physically be there." That certainly won't stop her from trying, though. Tortolani hopes to hold open hours on every day of the week and she has her sights set on cityWell Paris in 2020.
New Yorkers, bathtime just got a whole lot better.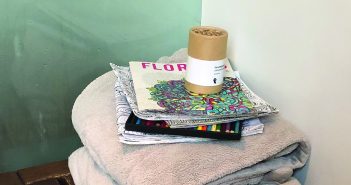 Visit cityWell brooklyn online: http://citywellbrooklyn.com